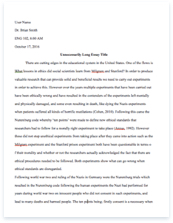 The whole doc is available only for registered users
A limited time offer! Get a custom sample essay written according to your requirements urgent 3h delivery guaranteed
Order Now
1. The company first should focus on hospitals consisting of many High Risk and very High Risk patients because they are most likely to have to pay for additional $ 8000 if there is any complication or death occurring. Therefore, if they can reduce the chance of paying additional money, they may be willing to try Angiomax.
2. The company should promote Angiomax in at least 2 ways
2.1 They should hire experienced sales people who have existing relationships with the doctors or pharmacists they wants to reach. They should be able to build a strong relationship with the hospitals in the long run and create stability over time.
2.2 They should educate the marketplace to draw attention to the drawbacks of Heparin and enlighten the advantages of Angiomax. They can do so by issuing publication of academic journal articles, presentation at trade shows or advertisements. They have to convince doctors and pharmacists to believe that Angiomax is the newest and best product for them to use.
3. The business model of "rescuing" abandoned drugs is not secure enough. Although the company has criteria of how it should choose drugs to rescue, it still faces the potential risk of failure. Drug companies have good reasons why they wanted to abandon these products. They conducted many surveys and analysis regarding the profit potential, product effectiveness or safety issues. Even though Angiomax may be successful, there is no guarantee that the other abandoned products will be successful as well.
Related Topics