Rhetorical uses in "Black Men and Public Space" by Brent Staples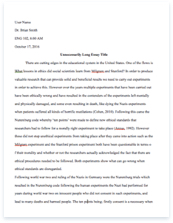 The whole doc is available only for registered users
A limited time offer! Get a custom sample essay written according to your requirements urgent 3h delivery guaranteed
Order Now
Race has been a word that is associated with many thoughts, words, and emotions for thousands of years. Throughout history, people have judged and mistreated just because they were born in the wrong race. Being under discrimination, there were many writers who struggled for the racial movement and gained many valuable results such as Martin Luther King Jr. (Letter from Birmingham Jail), James Balwin (Stranger in the village) and so forth. Brent Staples was one of them with Growing up in Black and White which won the Anisfield-Wolff Book Award in 1995. Beside that, "Black Men and Public Space" was also his interesting work with numerous rhetorical uses adding more effects in describing his experience on more than one occasion in his life: being perceived as a criminal simply based on his "unwieldy inheritance", the color of his skin.
At the beginning, as he puts it, "My first 'victim' was a woman." The word "victim" makes us surprise as well as curiosity because we know that the essay we are reading is of an educated person – or at least not a criminal. This surprise is a good effect that inspires the audience to continue reading with the purpose in decoding the message he sent to us. Although the author calls this woman his victim, he himself is the victim in the situation. He is the victim of her prejudice; the victim of discrimination just because of his "unwieldy inheritance." The distance between him and the women is "discreet," "uninflammatory." He has done nothing that deserves such mistreatment, but his race does for the reason that it's black. According to him, this is "the ability to alter public space in ugly ways." This "ability" is the main reason to make the author "surprise," "embarrassed" and even "fear," which is reflected clearly in his diction. The use of onomatopoeia is an example. "Thunk, thunk, thunk, thunk" is the sound of people shutting their car door as he passes by; it functions as a method to strengthen "the language of fear" of people.
The essay's structure is very well-organized. In the beginning, Staples skillfully constructs an essay that engages readers immediately with what appears to be an all too familiar scene of victimization. That is, the "black man" with "a beard and billowing hair" and "bulky military jacket" who "seemed menacingly close" in a late "evening on a deserted street." However, he effectively turns the table on his readers in the second paragraph, using this "mugger, rapist, or worse" scenario to prepare for a discussion of racial profiling–a different, more insidious brand of victimization. I think this way of organization is one of his methods to trigger our curiosity with the purpose of keeping us in reading this essay. In addition, the relationship between the conclusion and introduction is very tight.
The conclusion makes a connection to Staples' main idea and its corollary in the introduction – where he says that he is perceived as a threat by others, and this in turn puts him in danger. However, the ties between the introduction and the conclusion are established not by an explicit restatement of his ideas, but by a repetition of language such as "affluent neighborhood mean" and "impoverished area;" "discreet, uninflammatory distance" and "menacingly close;" "mugger" or "rapist;" "stalking" and "sleep." It describes the way he is perceived and the danger that this poses and also works as a mean to toy with our expectations and perceptions, thusly calling attention to our own biases as readers.
By his ironic uses of diction and his well-organized structure, his persona is created successfully. A black man is tall "six feet two inches" who is so good-natured that he is "scarcely able to take a knife to a raw chicken". Also, he is an educated person or even a professional journalist in New York. By his use of striking metaphor to describe a defensive tactic he has learned to use, his personality appears more clearly. Facing with the discrimination, instead of increasing anger day by day, he wisely learns to deal with it; he gives "a wide birth to nervous people" and avoids walking behind those "who appear skittish;" when dealing with the police, he is "extremely congenial." In addition, he is very humorous in using the "excellent tension-reducing measure" of whistling "melodies from Beethoven and Vivaldi" to "classical composers. " The reason is that, according to him, "a mugger wouldn't be warbling bright, sunny selections from Vivaldi's Four Seasons". It is so thoughtful.
However, inside this humorous, we can find a bitter or even sardonic smile. The smile criticizes the discrimination that he has to face; the discrimination can cause "anger", "outrage", "madness" or even "possibility of death." This vivid image of the last sentence makes us appreciate the conditions that Staples must cope with and enlists our sympathy by identifying him not with the predatory bear, that he is so often presumed to be, but with the vulnerable hiker, the bear's prey: "It is my equivalent of the cowbell that hikers wear when they know they are in bear county." Perhaps, as we can understand, the "cowbell" is his defensive tactic to keep himself as a "survivor," and "bear" is the white, women or men – whoever has the harmful action in discriminating other races.
Related Topics