"The Catcher in the Rye" by J. D. Salinger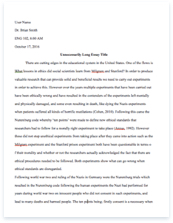 The whole doc is available only for registered users
A limited time offer! Get a custom sample essay written according to your requirements urgent 3h delivery guaranteed
Order Now
As Holden Caulfield states on page sixteen of The Catcher in the Rye, by J. D. Salinger, "I'm the most terrific liar you ever saw in your life…It's terrible." But his lies are not used for simple reasons–he uses deceptive techniques in order to escape personal relations. After the death of his brother, Allie, Holden alienates himself to prevent personal bonds. When his self-inflicted alienation is threatened by attempts at personal connection, Holden uses lying and deception as ways to keep him from feeling the same pain he felt after Allie died, which prevents personal situations. Due to Holden's dislike for situations on the personal level in The Catcher in the Rye, by J. D. Salinger, he decides to lie and deceive everyone in order to direct attention away from himself, prevent others from revealing his own faults, and to keep himself out of trouble.
Holden Caulfield uses lying and deception as a way out of personal situations in order to direct attention away from himself. Frequently, Holden is asked questions that are too personal for him to answer. For example, Holden lies to Ackley when he asks too many questions about what the fight between him and Stradlater was about. Holden lies and tells Ackley the fight was over him although it was actually about the events of Stradlater's date with Jane Gallagher. This got Ackley excited, and the subject quickly became Ackley and not Holden. Holden uses a similar measure of deception in his talk with Mrs. Morrow. When Mrs. Morrow notices Holden's Pencey Prep sticker on his suitcase, she asks him some personal questions such as if he likes Pencey or not.
Instead of answering fully, Holden starts to explain her son, Ernest's, fine, yet false, qualities. When he states, "You take somebody's mother, all they want to hear about is what a hot-shot their son is," it hints at the transfer of attention to Mrs. Morrow and her interest in her son (Salinger 56). As seen in both situations, Holden cannot stand being the center of attention. As this happens, he strikes back with smart comments that shift the weight of the talk away from him. In conclusion, Holden cannot handle being personal in conversation, and would prefer that others be the center of attention.
In addition, Holden uses lies and deception to prevent the revealing of his faults. Holden is a person that is quick to point out the others' weaknesses but becomes insecure when others point out his own because they are personal. For example, when Holden talks to Mr. Spencer, he explains Holden's lack of effort by reading his composition aloud. Holden states "I wouldn't've read it out loud to him if he'd written it… I'd only written that damn note so that he wouldn't feel too bad about flunking me," which shows that he knows he failed and he does not need to be reminded (Salinger 12). Soon after, Holden lies about his need to get equipment from the gym and leaves. Holden obviously dislikes being told his mistakes and how to fix his life.
His lying gets so bad that it manifests itself into his "sudden" and arguably fake tiredness during his discussion with Mr. Antolini. Holden probably uses tiredness as an excuse to himself as to why he should not listen to Mr. Antolini, who describes Holden's downfall. This seems to be too personal a topic. Although Holden tries to hide his faults by lying to get out of the situation, he seems to always forget to hide one big one–that he's afraid of getting personal with others.
Moreover, Holden uses lying and deception to get him out of trouble to prevent potentially personal encounters. As stated early on in the novel, Holden has problems with his parents, and especially his mother's hysterical behavior when Holden lets her down. Because the hysterical behavior turns personal, Holden lies to prevent this. It occurs during his chat with the elevator boy at his apartment when he tells him he is the Dickstein's nephew. Holden explains his reasoning for this when he states "…the regular night elevator boy, Pete, wasn't on the car.
Some new guy I'd never seen was on the car, so I figured that if I didn't bump smack into my parents and all I'd be able to say hello to old Phoebe and then beat it and nobody'd ever know id been around," which displays his desire to prevent from personal and troublesome encounters with his parents (Salinger 157). If Holden had been caught, his parents would have found out that he failed out of Pencey, which would make his mother hysterical. Therefore, Holden's use of lies and deception comes in handy when preventing possibly personal meetings with his parents. His mother's hysterical behavior, especially, is what Holden cannot swallow, and this why he uses lies and deception to combat becoming personal.
Holden Caulfield lies and deceives everyone in order to direct attention away from himself, prevent the revealing of his faults, and stay out of trouble due to his dislike for personal contact in J. D. Salinger's The Catcher in the Rye. As one can observe, the pain that comes along with personal contact is too much for Holden. He always seems to direct attention away from himself because when he is the focal point of a conversation, personal topics come up, such as the reason for the fight with Stradlater. He also cannot stand being told his own errors because it displays his weakness, which is something he would rather keep secret.
That is why he lies to Mr. Spencer and arguably complains of and displays tiredness so Mr. Antolini will postpone his discussion. Finally, he finds personal contact with his parents unbearably personal, especially his mother's hysterics, and so he lies accordingly. Therefore, personal contact is not something that is easily handled by Holden, who uses deception for prevention and protection. But do lies really prevent and protect, or do they harm and cripple? As George Herbert once said, "Dare to be true: nothing can need a lie; A fault which needs it most, grows two thereby."
Related Topics