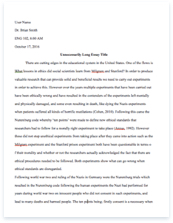 The whole doc is available only for registered users
A limited time offer! Get a custom sample essay written according to your requirements urgent 3h delivery guaranteed
Order Now
The term " Multimedia " was coined by Bob Goldstein to promote the July 1966 opening of his " LightWorks at L'Oursin" show at Southampton, Long Island on August 10, 1966. Later in 2 years, the term ' multimedia ' was re-appropriated to describe the work of a political consultant, David Sawyer, the husband of Irish Sawyer – one of Goldstein's producers at L'Oursin. In the 1993 first edition of McGraw-Hill's Multimedia, making it works, Tay Vaughan declared. Multimedia is any combination of text, graphic art, sound, animation and video that is delivered by computer. When you allow the user- the viewer of the project – to control what and when these elements are delivered, it is interactive multimedia. When you provide a structure of linked elements through which the user can navigate, interactive multimedia becomes hypermedia.
Gesellschaft fur deutsche Sprache, decided to recognize the world's significance and ubiquitousness in the 1990s by awarding it the title of Word of the year' in 1995. The institute summed up its rationale by stating Multimedia has become a central word in the wonderful new media world. In common usage, the term multimedia refers to an electronically delivered combination of media including video, still images, audio, text in such a way that can be accessed interactively. Much of the content on the web today falls within this definition as understood by millions. Some computers which were marketed in the 1990s were called multimedia computers because they incorporated a CD-ROM drive which allowed for the delivery of several hundred megabytes of video, picture and audio data. Why is it important?
* Variety – Nobody wants to see pages of boring text onli. Spice up your projects with some multimedia. * Dynamic – A picture speaks a thousand words. Use Multimedia to convey your messages in detail. * Rapport – Let your visitors put a face to your name or site. * Represent – Give your specific topic a presence in other media.
Related Topics