History. Discussion Questions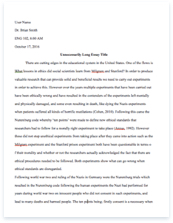 The whole doc is available only for registered users
A limited time offer! Get a custom sample essay written according to your requirements urgent 3h delivery guaranteed
Order Now
 Discussion Questions
1. Why did Cato object to repealing the Oppian law? What was the basis of his objections?
Cato objected to repealing the oppian law because he thought that if women started to become equals with men, they would start to become their superiors. Cato referred to their ancestors and how they "permitted no woman to conduct even personal business without a guardian to intervene in her behalf," meaning a woman can't make her own decisions and how a man decides her fate basically. Cato believes that women are getting more rights and therefore will try to overpower men. As he asks in the article, "if [woman] win in this, what will they not attempt?" If woman start to get more rights, that will just be the beginning of woman trying to make their way up to the top of the chain. Cato was clearly bound to tradition and argued that the law stays intact and women remain under the control of men.
2. How did Valerius counter Cato's assertions? What evidence did he use?
He referred to wives of allies of the Latin confederacy decked out in gold and purple riding through Rome with the roman women following on foot in anger and mourn because they do not wear what the Latin woman wear due to the refusal of those ornaments. Valerius thought that woman rejoiced and took delight in jewels, gold, and things that were purple. "Elegance of appearance, adornment, apparel – these are the woman's badges of honor." Valerius's point also proves that women were to remain out of high ranking positions and their accomplishments did not compare to that of the war trodden men. This was because women were considered weak and frail by nature.
3. What do both men reveal about contemporary attitudes toward women and their place in the republic?
Cato seams to believe that the women are not equal to men that women are below men but not slaves. Women are only for bearing children and house hold needs. Valerius sees women as gental men. Women are people who are not men but are of the same equality in humans, just a little more fragile than a man. Without women, the men will die. However, Valerius, like Cato, associates women with matters that are less substantial and not entirely connected to the empire as a whole. "No offices, no priesthoods, no triumphs, no decorations, no gifts, no spoils of war can come to them; elegance of appearance, adornment, apparel-these are the woman's badges of honor." The apparent connection between women and appearance shows that women in Roman society were something to be looked at or shown off. Women were the prizes of men and the better they looked or the more they had been directly linked to his status in society. 4. What does this excerpt show about the republics government?
Women were always classified based on their relation to a male: wife, daughter, mother, etc. Secondly, women were basically under the control of their male counterparts because of the assumption that they were not of sound mind to make important decisions. The article alludes to these facts that not only were there gender role distinctions, but also class distinctions. Whether it be that you were an office holding general or a woman adorned in gold, the rich were on top of society. Their apparel and positions only confirmed their status.
The Oppian law proved to be taking away what made the rich the elite. When these women could not wear jewelry or ride in carriages, they were seemingly on the same level as the lower classes, and in turn their male counterparts were by means of association on that lower level too. Gender roles were a dynamic of everyday life and in turn they affected the government and laws. Women who stepped out of the house, suddenly had a voice and therefore became a threat.
5.5 Discussion Questions
1. According to Plutarch, what specific factors prompted Tiberius to takes action in the people's favor?
When Tiberius went through Tuscany to Numantia, he found the country almost depopulated, there were hardly any free peasants or sheperds, only barbarian, imported slaves.
2. In his address to the crowd, how does Tiberius characterize his opponents, and why?
He characterizes them as "Savage bests" because they have homes where they live and stay at which he refers to them as "particular dens" where they have their places of repose and refuge. They are unlike soldiers, men who bear arms and expose their lives for the safety of their country.
3. As portrayed by Plutarch, what fundamental roman values did Tiberius embody?
He was certainly a man with a strong enough will to fight for the rights of the dispossessed peasants of the roman republic, at the cost of making many enemies in the senate. His act of exploiting his power of a tribune to remove another tribune from office was somewhat controversial, but if he hadn't done so, it would be impossible to pass the law.
Related Topics