Why I Wanted to Attend A Technical High School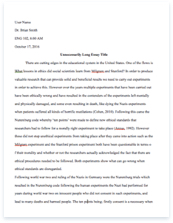 The whole doc is available only for registered users
A limited time offer! Get a custom sample essay written according to your requirements urgent 3h delivery guaranteed
Order Now
Maybe you don't know what you want from life, but we all know we want to be successful. As I oscillated between a few high schools I knew I wanted to leave a mark on the world, because being known is amazing. I know how to get it, I know what I have to do to get it, and I know where I needed to be to get it. I decided to attend BCTHS after my amble tour through the building. At that point I believed it would make me successful, and I knew I could endure this challenge on my own. I knew that there will be competition, but I also knew that I will still be successful. Success to me means going to a great college, and one day be well known for the creativity in my art and photography. I wanted to start ahead of the competition, and I knew I couldn't do this unless I attend BCTHS, especially when my two favorite career classes are dovetailed as one.
I wanted to try a lot of new things, and I decided that high school is the place to start. I didn't only want to go to this school because of the chance of success, but because of the experience I will gain. The drab thought of not getting into BCTHS would've made me sullen. The thought of high school always scared me until I was told one day that high school is all about what you make it, so I decided to concede my fears. I decided that if you choose not to do the work, you are choosing to be unsuccessful and to be displaced out of the school. If you choose to be out going, thoughtful, respectful, and courageous, it will be everything you hope for.
Once I have realized that I was the only thing standing between making or breaking my high school experience, I knew this was where I needed to be to be happy. I decided that there was one school I had to attend to insure that my high school experience would be everything I wanted it to be, and that school was BCTHS. I am now not afraid to attend high school, and I cant wait to embark on this journey with you and all of my other teachers.
The value of education is something that I have understood since a very young age. My mother receded away from the idea of a trade school because a trade school back then was thought to be for those who didn't do well academically, so they went for a trade instead. My mom made a commitment early in my life to do everything within her power to instill in me a love of learning, and an understanding of the importance of hard work and dedication. From that day forward, I have realized the success that she has driving into me, and making me see what education has to offer as well as where it can get you in life.
Because of her love and sacrifice over the years, I have been able to devote the time and energy necessary to achieve academic accomplishments no matter what struggles have come my way. In my last year of middle school, I had a 3.9 grade-point average and achieved national junior honor society as well as honor roll all through my middle school years. I have always giving my best of my ability, to be able to learn from family values, and with all the choices of possible careers from BCTHS, this is why I wanted to attend this school. My stoic features giving no suggestion of what was my mind that day, until the reality set in as I then became ecstatic that I was excepted into this new journey of my life.
In conclusion to my decision on taking on these challenges of BCTHS, I think it was a choice that I wont regret. I know this will make me successful weather it turns into a career for me, or just a hobby of what I enjoy and love to do. I know from my background that I was brought up in, and the challenges of what life will bring my way my choice of this school is where I wanted to be.
Related Topics