Use of Social Media as a Learning Platform in Tertiary Level Education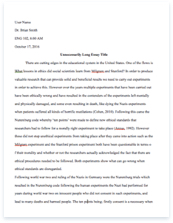 The whole doc is available only for registered users
A limited time offer! Get a custom sample essay written according to your requirements urgent 3h delivery guaranteed
Order Now
Internet has been an innovative way for everyone to communicate with the new developments in the technological world. Social media networks is a phenomenon on the internet that has gained popularity over ten years. Users all around the world use sites like Facebook, Twitter, and Myspace to create and sustain relationships with others. These social media sites allow them to create personal profiles while connecting with other users of the sites. Users can upload photographs, post what they are doing at any given time, and send the personal and public messages to whomever they want or choose. In this technological age, social media sites seem to be rapidly popular, especially among teenagers.
In particular, college or university students form a large percentage of users on social media networks. Researchers found that almost 90 percent of all college and university students have a social media profile with 45 percent of them using a social media site at least once a day. A lot of students use social media networks to communicate with their family, friends, and even strangers. They also use social media sites for education purposes and also for learning platform. Social Media have also been a new way for learning platform in tertiary level education.
Social media helps the varsity student in personal and professional development. They create international settings for new collaborations, conversations and even career opportunities. People also are always misunderstood about social media and they will say, "It's all junk. I don't care about what you had for breakfast" .Those posts and exchanges exist but the chance they will end up in the feeds of adult learners focused on building professional connections and knowledge is minimal. The social of our social networking associations depends generally on who that we welcome into the "room". When they access sites like Twitter and Google+, they will get the chances to follow and learn from authors, educators, leaders and professional icons who not only share information and resources but frequently initiate and invite direct engagement.
Online network also give access to professional associations and resources of value to students and profession changers. Some of that access may be to member-only spaces for information sharing. Online communities made in these social networking spaces also give chances to share resources, spark question that grow collective learning and make connections that will lead to job offers, requests for consulting and cooperation opportunities. Whether they are formally made to help existing networks or on an ad-hoc basis to draw individuals with common interests, these communities can make new and also rich spaces for learning and interacting. When it comes to education, a lot of students love to use social media because they are familiar with the various interfaces. Projects also can be presented by using social media and that make the students not even feel like they are really working on the project.
Making projects with fun will help the students to engage in learning rather than sitting and pretending to listen to a lecture. With the advances in technology, students will learn how to use social media responsibly. Therefore, by using a social media to make a presentation, lecturers are effectively teaching students on the responsible use of social media, as well as getting the information to assess the unique understanding of the targeted material. Moreover, social media is a best way for lecturers to get feedback on assignments as well as post new assignments. The lecturers can post the assignments online and the students will receive an alert on their device. Most students have social media applications installed on their smart phones. Therefore, it makes education more readily accessible as well.
As the internet keeps on remaining a key communication channel for companies, workers with solid experience and aptitudes within online channels like social networking are looked by the employers. The chance to blog and develop these skills while studying help students to emerge and develop key skills which make them more appealing to future employers. For instance, Asian Correspondent's owner, Saksith Saiyasombut, the main impetus behind the Siam Voices website, has utilized social networking and the Internet to turn into a prominent Thai politics blogger and well known social networking figure in the nation, regardless of the fact that he is still an undergraduate student in Hamburg, Germany.
It is remarkable that youngsters are the most enthusiastic clients of social networking. Online networking is a key part of the Internet experience for some who have been utilizing Facebook and Twitter for quite a long time. Online media offers a conceivably captivating channel for course communication and engagement. SMU's Netzley makes solid utilization of Twitter, tweeting interesting links to his students and communicating key subjects, indications of due dates and captivating with his students with hashtags. Similarly, a Facebook group or Google+ circle could be used to channel communication and help engage students with course work and learning topics.
To conclude, with the growing use of social networking sites like Facebook and twitter, the methodology of education for students is finding new and improved ways. While the majority of users around the world spend time communicating with those who they have already built relationships with in reality, it is also a new learning platform in education.
Related Topics