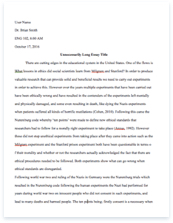 The whole doc is available only for registered users
A limited time offer! Get a custom sample essay written according to your requirements urgent 3h delivery guaranteed
Order Now
1. Competitive Rivalry Within The Industry Medium to High
Bargaining Power Of Customers (Medium) They have wholesale and end customers as well as independent salesagents in different countries Threat Of New/Potential Competitors Medium
Bargaining Power Of Suppliers Low to Medium
Threat Of Substitute Products Low
Some of Nike and Adidas products are patented, Under Armour does not have patent rights which means their products can be easily copied Nike and Adidas are both trying to get their market share in the apparel industry. Compared to Under Armour, they have greater resources and it would likely be easy for both companies to penetrate the market. 2. Does Under Armour have any core competencies and, if so, what are they? YES,
CEO Kevin Plank was a former athlete
Product Development and Innovation
Performance and Marketing Campaign
3. Does Under Armour have any resource strengths or competitive capabilities that qualify as a distinctive competence?
YES
Product Performance and Brand Image
n-house Marketing/ Brand Promotion
4. What does a SWOT analysis reveal about the overall attractiveness of Under Armour's situation? Strength:
The innovation and technology behind Under Armour is a keydriving force to rapid expansion Under Armour's major strength was its products performance and strong brand image; these factors established Under Armour as a well recognized and respected brand name Core competence in research development and innovation
Weakness
Limited product line that is mostly targeted to males.
Global Brand Recognition
Opportunities
expand its product line to various segments; thus,increasing both sales and
product portfolio womens apparel
childrens apparel
running
outdoors
Exit Strategy (sell to Nike)
Global Expansion
Threats
Intense competition (Nike, Adidas, etc.)
Substitute Products
Changes in consumer trends/behavior
5. What are the key elements of Under Armour's strategy?
Fabrics are engineered in many designs and styles for wear in nearly all climates which provides a performance alternative to traditional products ( product line strategy) Increasing market penetration especially in the footwear department where Nike is the global market leader Securing of additional distribution centers in the retail marketplace Expanding the sale of Urder Armour products in foreign countries and becoming a global competitor in the world market forsports apparel, athletic footwear, and performance products
Growing global awareness if the Under Armour brand name
Strengthening the appeal of Under Armourproducts worldwide
Use of products to high-performing athletesand teams on the high school, collegiate, and professional levels Entering in outfitting agreements, selling directly to team equipment managers to promote on field authenticity of the brand.
7. What is impressive about Under Armour's financial performance during the 2006-2011 period (as shown in case Exhibit 1)?
Related Topics