The Cricket Culture of the United States on Example of Los Angeles, Indianapolis, and New York City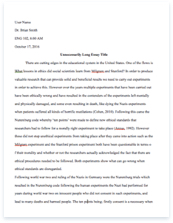 The whole doc is available only for registered users
A limited time offer! Get a custom sample essay written according to your requirements urgent 3h delivery guaranteed
Order Now
To expand the cricket culture in the United States, the best host cities for a national cricket tour would be in Los Angeles, Indianapolis, and New York City. Finding the proper host cities will increase network buzz and target the proper areas. The reasons these three cities have been chosen are as follows, the spread of cities, the population of cricket players, and location of arenas.
The first reason being the overall spread of the cities. Hitting the East coast, Midwest, and West coast, would create a national buzz and allow fans from all over the country participate in the events. These three cities also contain international airports that would allow fans easy access to matches. Indianapolis contains the ability to host international-level competitions and its location offers a middle ground for those not willing to travel farther distances. Along with Indianapolis, Los Angeles is preparing to host the Olympics in 2028 and can manage an international event. New York City is the most populated city in the country which puts it at an advantage because it can reach the most people.
The game of Cricket is most popular in the countries of India, Pakistan, Australia, New Zealand, and the Caribbean mostly in that order. Los Angeles and New York City contain the highest population of Indian-Americans, respectively. To gain the most attention from the events, targeting cities with the highest population of cricket players is vital. Though cricket isn't the most popular sport in America, it is extremely popular where it's played. Indianapolis, while not heavily populated with immigrants, made a name for itself in the culture of cricket by investing $6 million dollars in making a premier cricket field ("Indianapolis Cricket Center", 2013).
The arena in Indianapolis is related to the final reason. Each city maintains a well-known cricket pitch that can host an event. Indianapolis homes the Worlds Sports Park which is of test-match quality and can host an international gathering. Los Angeles contains the Leo Magnus Cricket Complex and New York City has St. George's Cricket Club Grounds.
Marketing Strategies
In Los Angeles, targeting the cultures where cricket is popular is important, but marketing to other people is just as important. One method of dispersing the culture of cricket is to make it well known on social media platforms. In order to do this, there needs to be an ad that peaks people's interest, maybe including a celebrity who enjoys the sport. Then along with the ad, there needs to be a website targeting all the need-to-knows about the invite. Including, time and date, what teams will be playing, how tickets would be available, etc. A few days before the event, there should also be a sort of camp that interacts the players with the youth of the area. Parents are always looking to involve their kids in new activities so setting up a workshop where kids can learn and interact with the sport and professional players would spark interest in the area. Finally, the event should pair up with some sort of charitable cause. People enjoy helping other people and will continue trying to do so. Linking a fundraiser, even if it's raising money for local youth cricket leagues, would draw in more people. Including activities during the event, as one would do during the intermissions of a hockey game, would create a buzz around the event. If advertised properly, it would draw in more people and linking the activities to a charitable cause would catch people's eyes as well.
Press Conference
Cricket is the second most popular sport in the world, following soccer, with about 2.5 billion fans worldwide (Sawe, 2018). Cricket is played like most competitive sports with two opposing teams consisting of eleven players each. The players are required to wear all white and use a red ball. Games are played in the daylight and may last up to five days at a time. The object of the game is to score the most runs. A run is scored when the batter hits a ball and he and a teammate on an opposing side run to switch sides. Many aspects go into the game of cricket, but scoring is always kept at an understandable level.
Cricket is considered to be a classy sport, games are played from about 11 am to 6 pm with scheduled breaks for tea and lunch and then non-scheduled drink breaks. "Cricket—now played by millions of people in 92 countries ranging from the Caribbean to Europe to Africa to South Asia—was once the national game of, yes, these United States. And one of the first outdoor sports to be played on these shores" (Worrall, 2006). Though not as popular as it was back then, cricket has a rich history in the United States culture. Currently, there's stigmatisms revolving around the sport that it is a girly game and boring to watch. This, however, is untrue when looked at from a different perspective. It's a fair sport, where sportsmanship is of a high consideration but still entertaining. It can be a drawn-out process, but it is still fact paced and with a knowledge of what is going on, can draw in many viewers.
Cricket is popular in many cultures and is a respected game that people enjoy playing and watching. It cannot be compared to most other sports because of its different values but that doesn't discredit its respectability. With a proper knowledge of the game and the proper attitude towards it, it can be entertaining for all.
Expanding After the Tour
Creating a relationship with a popular sports program, such as ESPN, is key to keeping people involved after the tour is over. Communicating through their website the scored of games, standings, etc. will keep people up to date and curious about future events. Also, offering merchandise after the event will keep people in tune with their favorite teams. After the event is over as well, using the facilities these events were held in as a platform would be important as well. Making it known throughout the stadium that the events were played there would name the importance of the facilities and ceate a bigger buzz around those areas and subsequently spark and interest in the game as well. Offering a fantasy league, like in football, would also keep people involved. Everyday people will enjoy the competitiveness of the idea and will be involved with the current standings and gameplay. The game can be carried on throughout the community if people are engaged through online interaction and knowledge of the game.
Resources
Associated Press. (2013, July 4). Indianapolis Aims to Become Top Center for Cricket [Blog bbbbbb post]. Retrieved from https://www.ibj.com/articles/42321-indianapolis-aims-to-become-top-center-for-cricket
Sawe, Benjamin. (2018, April 5). The Most Popular Sports in the World [Article]. Retrieved bbbbbb from https://www.worldatlas.com/articles/what-are-the-most-popular-sports-in-the-world.html
Worrall, Simon. (2006, October). The History of Cricket in the United States [Article]. Retrieved bbbbbb from https://www.smithsonianmag.com/arts-culture/the-history-of-cricket-in-the-united-states-132185661/
Related Topics