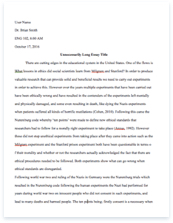 The whole doc is available only for registered users
A limited time offer! Get a custom sample essay written according to your requirements urgent 3h delivery guaranteed
Order Now
Studying overseas nowadays is extremely popular in Vietnam. But among so many studying abroad routes, which one will lead to success? In recent years, studying in Singapore is considered the best choice for outstanding students at pre-universities, universities and graduate degrees.
As Singapore is a country lacking natural resources, its gaining to a developed country relies on the main source: intellectualization. That is the reason why the Singapore government sees to the education conditions, environment and quality. Almost all of the most modern scientific machines can be found in National University of Singapore and Nanyang Technical University – the two world class universities in this country. Along with the perfect for-learning instruments, the students enrolled in overseas courses are from various countries, which creates a mutual learning atmosphere. Studying with talented friends helps you mix well with other cultures. Moreover, the teaching staff here is superior to those in other Asia-Pacific schools and even have the same training competence in the US and Great Britain.
The professors in Singapore colleges have different nationalities such as Singaporean, Indian, American, English etc. and some are from Havard and Cambridge universities. Spending your on campus courses in such a internationalised, high quality education in a friendly and conducive environment will help you improve your knowledge, contact with modern learning, intergrate with people, give you self-confidence and consolidate your future.
In Singapore there are many vocational progams which is the primary difference between the students programs here and in Vietnam. Taking part in these programs enables students to figure out how to achieve their success, which job is the most suitable for themselves and what requirements of that trade they have to meet. Occupation is the essential thing for everybody, since it decides your life and whether you will succeed. The orientation of career, the most important thing a student should have in his life-changing years of studying, is provided for him when he has an opportunity to learn in Singapore.
Studying abroad requires the student a wonderful ability of studying independently and effective methods of learning. Living your life away from family and friends is hard as you have to care for your own self and you can not share your loneliness, difficulties and troubles while learning in a strange country to anyone. The most challenging thing when studying overseas anywhere is just the same: independent living and working.
However difficult this challenge is, a chance to study in Singapore is never to be wasted. If I get a scholarship to learn in this seaport-country, I will not let the opportunity to take part in the best educating environment in the area slip through my fingers.
Related Topics