Should school start later, for high school students?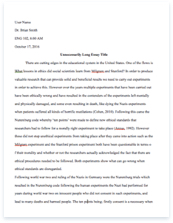 The whole doc is available only for registered users
A limited time offer! Get a custom sample essay written according to your requirements urgent 3h delivery guaranteed
Order Now
"It's eight a clock in the morning, and I just rolled out of bed. Today, Thursday is a late start at North Farmington High School. I am wide-awake and ready to start school due to the eight hours of sleep I got last night," said one student. Another student told her story, but the only difference was the day she told her story it was not a late starts. "I feel horrible. I had to wake up at 6:00 a.m. so that I had enough time to shower before school. I fell asleep in my first two classes, and I could blame this on the sleep I got last night; or should I say the lack of sleep- only 6 hours." Students would perform better if school started at a later time.
"With teenagers' busy schedules today, the first activity to give way is usually sleep" (Kaufman). The sleep deficit of teenagers obstructs their high school achievement. To accommodate for teen's sleep necessity,, high schools should start later in the morning than they do presently. This action would better satisfy the sleep needs of teenagers, improve their academic performance, be beneficial for families of elementary school students, and increase safety.
Delaying high school schedule, even if only by an hour or just a half hour, would be beneficial to the sleep needs of teenagers. "Studies have show that after puberty, teenagers require more sleep (about nine and half-hours) but get less sleep (about seven and half-hours)" (Silver). After puberty, teens' shift into a delayed phase. Circadian rhythms (sleep patterns) all start and end later in the day than when they had prior puberty (Silver). Due to a teenager's change in sleep patterns, it would be better for them to begin school later than they do now.
Delaying start time for high schools would improve the academic performance of students. Students would be more in tune with what is going on in class and would be awake enough later in the day. With increased awareness during class, academic performance is bound to improve. Schools so far who have adjusted their schedule, such as Edina High, Minnesota, and Pike County, Kentucky, have had positive results, with improved grades and attitudes. Taking in new information later in the day is helpful to the students actually learning the material.
If high schools switched starting times with elementary schools, as is one of the options, it would actually improve the learning of elementary students as well. Unlike high school students, younger children tend to learn better earlier in the morning. Statistically younger kids do better early in the morning, then high school kids do in the morning.
This change could also improve the safety of teens. Most high school students get off of school with several hours before their parents arrive home from work. Police reports show that it is between the time that these teens get out of school and when parents get off of work that teen crime rates are at there highest (Silver). High school students, obviously too old for a day care, would have less time unsupervised, thus providing less opportunities for trouble. Another risk is car accidents. These teens would be more alert and able to drive much better to school if it started later, resulting in fewer accidents on the road.
"Despite researchers supporting evidence that teens would benefit in going to school later in the day, many school systems are unwilling to change" (Kaufman). This makes the situation rather complicated, but transportation and childcare may be the main obstacles. There are many after school day care programs available. Some elementary school families struggle with the current schedule, as parents need to leave for work before school currently start for their children. Changing the schedule would cut this problem in half. Having schedule difficulties for just after school should be better than trying to make arrangements for both before and after school. Therefore, many families of younger students would also benefit.
Now, the way the bus system currently works buses drop off high school students early in the morning in time to pick up elementary school students. This system allows fewer busses to be needed. If the elementary school and high school schedules were to switch, families with students from both schools could in be a sticky situation. This could work.
According to a study that was performed on thousands of Minneapolis high school students it was found that they got more sleep, got slightly better grades and experienced less depression after the district switched from a 7:15 a.m. start to 8:40 a.m. start in 1997. There, teenagers behave better and appear more ready to learn when classes start later. The new research is the most complete yet to look at this issue. Not only do the students behave better, but also the attendance and continuous enrollment have improved significantly, in Minneapolis schools, since the start times were changed(Silver). Certainly it makes sense that less sleepy students are more likely to stay in school and will be more ready to learn.
Many school systems are not convinced that the improvement in learning of the students would be substantial enough for the change to be beneficial for everyone. They may think that the financial and scheduling hassles would be too overwhelming. In conclusion, high school students should begin later, and elementary students should begin earlier.
Related Topics