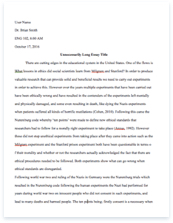 The whole doc is available only for registered users
A limited time offer! Get a custom sample essay written according to your requirements urgent 3h delivery guaranteed
Order Now
Q.1 Describe the main characteristics of Small Industrial Business.
Q.2 What are four purposes those are accomplished by opportunity studies?
Q.3 Write a note on Material Inputs and Factory Supplies while describing the characteristics of Raw Materiel those should be assessed during the evaluation of various production processes.
Q.4 What are different types of production processes? What criteria are used for obtaining process technologies in developing countries, particularly for small industrial business?
Q.5 What does the term Marketing Mix mean? Describe briefly the function of vari9us marketing instruments.
Q.6 Differentiate between Location and Site. Describe various Input, Output and other locational factors those must be considered for assessing project feasibility.
Q.7 What are the components of Investment Cost? Give a brief account of each.
Q.8 Explain briefly the use of Profitability Index (P.I), Net Present Value (NPV), Internal Rate of Return (IRR) and Pay back period as an analytical techniques used in project appraisal.
Q.9 A firm is considering replacing a computer system with a new one. Purchase price of new computer is Rs. 80,000.00 and its installation costs are Rs. 1,000.00. the cash flow from the sale of the old computer is expected to be Rs. 20,000.00. the CFAT, after the installation of the new computer is expected to be Rs. 15,000.00 each year for five years. The Salvage value at the end of 5 years has been calculated as Rs. 20,000.00. Should the proposal of replacing the computer be accepted on the basis of NPV as a decision criteria discounted @ 12%. What is Profitability Index (P.I) is used as decision criteria?
Q.10 Discuss the role of IRR, NPVR and pay back period as alternative Investment criteria. A perfect requires an investment of $ 2.0 million at the end of tenth year. The capital cost (discount rate) of the project financing is estimated to be 10 %
a) What is the pay back period?
b) Using NPV as appraisal criterion, would your accept or reject the period
c) If IRR were used as decision criterion, would you get the same result as in (b)?
Why or Why not?
Related Topics