Problems Encountered by Students in Taking Up College Courses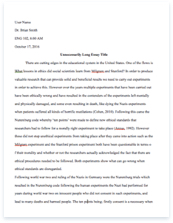 The whole doc is available only for registered users
A limited time offer! Get a custom sample essay written according to your requirements urgent 3h delivery guaranteed
Order Now
Various problems are now being experienced by our country and there are a lot of things that brought changes to our lives. Socio-economic problems, bureaucratic problems, and the biggest problem faced by our country, financial problem, are greatly affected by global economic crisis. As students, we are hoping that someday we will be the one to bring hope to this country, don't be one of the burdens to it and help it progress and attain its ultimate success, and the beginning of that vision would start with the right choice of college course. With that proper choice of course, we will be able to develop and improve our God given talents and apply our knowledge and intelligence to it, though it is a free of cost opportunity to select and pick a course, this is not an easy task for it requires a lot of analysis of the course and decision-making. During the period of our childhood, we always have reveries of what we want to happen in the future, we have these desires and ambitions that someday we will become an engineer, a pilot, a doctor, a dentist or a lawyer, these are just reflection of our fundamental preferences for certain kind of activities, but these desires were bit by bit being converted to another because we are now considering a lot of factors and aspects in selecting a course, especially during this time of preparation in entering the next stage of learning which is college.
This is a complicated stage that takes place during the junior year, and specifically, the senior year of high school level that requires decision-making. It is complicated for a student in a sense that he is still not that decided of what course he should take and he is not that prepared to go to college. A lot of problems and difficulties are encountered by students during this stage of their lives that can distract them in choosing the appropriate career that will suit them. Factors that later on, become problems that can confuse the students, like their parents' influence and choice of college course for them give a great obligation on their part that someday they should be the one to help their family struggle to attain affluence, another is the status and earnings of their family for this will determine if they can support the student and send him to his chosen school, their aptitudes and potentials that they still want to expand and develop because they want to use their knowledge obtained from studying, their skills, their expertise in connection with their course and all the things they have learned once they engage in a job, the jobs that will be in-demand after finishing their studies because they want to have an assurance that after graduating from college they can easily find a job, and their desire to continue the legacy of his family and bring pride to them especially to their parents.
Another problem is the university or college where they want to study. We can't deny the fact that a lot of students consider the name of the school and its popularity among others. Sometimes the specialty of the course when it comes to the course is not considered anymore by the students, they are just after the fame that the school can give them. On a positive side, these problems can strengthen you and gives you a chance to plan for your future. The world of college has a different environment that requires a lot of adjustments. Definitely, the years you will spend in college can change your life and even your personality as a person because you are more exposed to the real world. These adjustments are what the students are preparing for that may also affect their choice of course. When we are faced with a lot of challenges and problems, we tend to rely on our own family, friends and classmates, and they can confuse our minds, and when a student is perplexed, there is a possibility that he would change his course and shift courses which is a waste of time, effort and money.
This can even degrade their self-confidence and self-esteem. Also, this could decrease his enthusiasm to pursue his studies. This process would be repeated until he is already satisfied with his course. Your choice of college course is the continuation of your characteristics as a person into the world of work. With proper guidance from your parents and teachers, and with the encouragement of your friends, classmates and the people around us, you can identify the most suitable course for you. The course you had chosen to pursue will shape your career path and is connected with the profession and career you will have in the near future. Deeper assessment of yourself is what you need to have a firm decision of what kind of career you really want to have in the future. You should study not just because you are forced and it is a requirement, your college course should give you delight and satisfaction.
Statement of the Problem
This study is designed to identify the problems encountered by 3rd year and 4th year students of Amazing Grace School in selecting their course in college this SY 2011-2012. Specifically, it answers the following specific questions:
1. What are the problems encountered by students in making their career choice? 2. Do they consider the universities in choosing their course in college? 3. Is their parents' influence a problem in choosing their course in college?
Hypotheses
The following hypotheses were made for approval or refusal of the study: * There are no problems encountered by students in making their career choice.
* They do not consider the universities in choosing their course in college.
* Their parents' influence is not a problem in choosing their course in college.
Significance of the Study
This study will benefit the students for they will have assessment of themselves. They will eventually establish awareness of their strength and they will be able to ponder what they have gained from school. Secondly, this study will help the parents of the students comprehend how essential they are as a source of inspiration for the students to pursue their studies and finish it with recognition, look forward in giving their children an assurance to acquire quality education that would enable them to obtain better job, better income and brighter future. Lastly, this will help the school administration in creating a more efficient, integrated career orientation and a guidance structure that plays a very vital role in equipping students towards making the best career decisions. Conceptual Framework
INPUT
* Problems Encountered by 3rd year & 4th year students while selecting a course in college * Perception of students toward the world of college
PROCESS
* Survey Questionnaires
OUTPUT
* Identify the problems encountered by 3rd year and 4th year students while selecting course in college and the reasons behind these problems * Students' expectations when they are already in college
Career orientation is a very big help to students who are preparing for college life. Problems may hinder the 3rd and 4th year high school students to choose the suitable college course for them
Scope and Limitation of the Study
This study focused only on the problems encountered by 3rd year and 4th year students of Amazing Grace School while selecting course in college. The researchers chose the 3rd year and 4th year high school students as respondents seeing that a lot of them are still doubtful with their course or totally don't have any idea of what course they should take and they are experiencing a lot of frustrations and problems while selecting the course that will suit them. Their ability to make a sound decision concerning their college courses was also considered. Thus, this will be restricted only to the results that the respondents from the school will give.
Definition of Terms
Career- a chosen pursuit, a profession or occupation
Aptitudes- an inherent or acquired ability
In-demand- pertains to majority of present occupation which many companies are in need for a particular job
Preference – the selection of something over others
Career Orientation- to guide one in attaining his chosen profession
Vision- something seen or otherwise perceived during such an experience.
Affluence- abundance of money, property, and other material goods.
Expertise- expert skill or knowledge.
Review of Related Literature and Studies
Local:
According to the study managed by Siguan Jr. (1994), self-concept does not determine the career preferences of students. It is their accomplishments when it comes to the academic aspect of their studies that seem important to their choice of career. Also, their choice of career is not influenced by the school where they originated. A more useful management supported by the school can assist the students in making the right career choice. The guidance sector of a school must have collaborative efforts of the guidance counselors, administrators and teachers. Teachers must do their best in developing the teaching-learning process, taking into consideration the academic achievements of students that affect their career preferences.
Foreign:
According to the study conducted by Garcez (2007), it was discovered that by enhancing career development activities and projects, which includes determining career goals, students had a higher self-esteem and confidence. She mentioned the excellent detailed scheme for instructing parents and teachers how to teach young students to establish career goals. The scheme demands an entire community effort through teachers, parents and businesses. Opportunities must be given to students for them to determine and examine their desired careers. Students can determine career choices, establish career goals and have higher self-esteem and confidence at a young age through combined efforts of the whole community. Ultimately, they will pursue their education and have a better chance of succeeding in the "do or die" world in which we live.
Related Topics