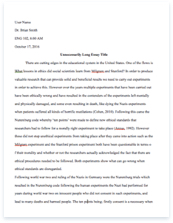 The whole doc is available only for registered users
A limited time offer! Get a custom sample essay written according to your requirements urgent 3h delivery guaranteed
Order Now
Oedipus Rex, by Sophocles, and Fences, by August Wilson, are two great tragedies by two outstanding playwrights. The two stories seem intertwined by the great characters that they center around. Although the stories of Oedipus and Troy are separated by centuries, the characters are almost identical. Different backgrounds, different cultures, and different adversaries do not affect the manner and behavior of the main characters. If nothing else, the pride in each of the characters make the two so much more alike and inseparable, even into death. I will begin by examining pride many centuries ago in a land called Thebes.
Sophocles' Oedipus Rex revolves around the story of Oedipus, who now is King of Thebes, searching for the murderer of the past king. The tragedy is not so much that Oedipus is the murderer and committing incest with his mother. After all, he was fated to do so, and Oedipus commits these crimes unknowingly. The real tragedy of Oedipus is his trying to defy his destiny and compounding the troubles with his pride. Oedipus has the chance to stop the search for the murderer before the investigation starts. Even blind Teiresias, who tells Oedipus that he is the guilty party, wants Oedipus to stop although Teiresias can see the outcome and knows Oedipus' destiny. It is Oedipus' pride that, in telling the members of his court that he will search for the murderer, leads him down the ever narrowing path to the truth and his pride that will not allow him to stop the search.
Even though common sense would dictate that a sane man stop the search after a few of the facts that Oedipus is given, Oedipus drives forward like the man of action that we, the audience, expect of a king and leader. In that same sense, we also know that Oedipus is a man of intelligence based on his ability to answer the Sphinx's riddle. He cannot however, with the same pride that defeated the great monster, with the same pride that he pits against the gods, solve the mystery of his own father's death because it blocks his sense of reasoning and logic. This blocking of reason and logic based on a tragic flaw is what links the past to the present, from Oedipus Rex to Fences.
Wilson's Fences take the audience on a journey through the life of Troy Maxon, a black garbage collector who takes great pride in keeping his family together and providing for them. In the play, Troy struggles with life in that the responsibility of taking care for and providing for his family has weighed heavily on him for his years. The title itself, Fences, is a play on words by Wilson. Troy builds a physical fence around his backyard while building metaphorical fences between himself and his loved ones. It is Troy's pride in his self that causes him to push away his relationship with his son, Lyons.
Troy feels that his son will be disappointed by the results of trying to accomplish a task, like playing for a national league, will only lead to heartache and therefore discourages Lyons attempt to play with chores and name-calling. More importantly, Troy feels proud that he played in the Negro Leagues and his son looks up to other more famous players like Jackie Robinson. It is with this same pride in his own self that Troy feels that Rose will not leave him, or stop loving him, no matter his course. It is Troy's pride in his family that eventually blocks his reasoning of why he enjoys his family unit so much. The same pride that fought off Death years ago weighed heavy on Troy until pride destroyed him, much like pride destroyed Oedipus.
Oedipus and Troy are great tragic heroes. Maybe it is true that Wilson copied the style of Sophocles to the letter and maybe not. The conclusion of each story holds a truth for both stories: in the end, pride, in great quantity, forces logic to the back of our minds. It kills man to put aside his pride for a little humility. It seems that centuries of advanced learning have taught man that we do not truly learn from reading or studying, but from the experience. Man succeeds if he fails, because he learns humility. Oedipus and Troy would probably agree, if they weren't so proud.
Related Topics