New Arrivals in Prison Drug-Related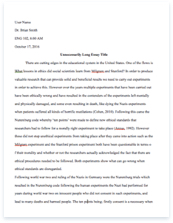 The whole doc is available only for registered users
A limited time offer! Get a custom sample essay written according to your requirements urgent 3h delivery guaranteed
Order Now
Prison Reform is important to promote since the number of people in prison has increased by almost 50% since 1994 when the crime bill was put in action to reconstruct Federal grant funding. Numbers have grown from 1.5 million to 2.2 million and 37% of those 2.2 million people behind bars are African americans . Being the fact that only 13% of the world's population is African americans 37% of those people are incarcerated . I myself being an african american find it very important to encourage prison reform programs not only for the individuals but for the families also.
Our voices play a very important role in what happens amping our prisons . Making sure we vote for the right people and know what they stand for . There was a bill introduced into the house of senators July 7th, 2017 known as the Prison Reform and Redemption Act. Brought forth with the intent to reduce federal prisons . Who we bring into office will determine what happens . Recently held our Midterm race where Senator Mitch McConnell one the race for senate once again. McConnells held majority leader of the house of senators, and has yet to make a pass on the prison reform bill . Yet he continues to win his senate races making him the longest serving U.S senator from Kentucky in history.
Overtime our Prisons have become over crowded most of the people behind bars are there for petty crimes or what we would consider non-violent crimes such as drug possession or bribery. A system built on policies and laws of the past . Drug crimes have been the predominant reason for new admissions into state and federal prisons in recent decades. In every year from 1993 to 2009, more people were admitted for drug crimes than violent crimes. In the 2000s, the flow of incarceration for drug crimes exceeded admissions for property crimes each year. Nearly one-third of total prison admissions over this period were for drug crimes. They have changed so much over time in the last past 5 years the drug policies have changed so much. Although marijuana remains illegal under the federal Law it has become legal in numerous states. The spread of marijuana legalization has led to a people reconsidering the US drug policy exactly how it should be because it ties in with criminal justice policies that have led to more incarcerated than anything.
Still no changes have been made in my opinion i think everyone incarcerated on minor drug charges should be released , it would help with the overpopulation of prisons. Help with financial issues because it's extremely expensive to house just one prisoner . Based on recent data collected on November 24,2018 from the Federal bureau of Prisons the number of prisoners currently held on drug charges are at 77,649 that makes up 46.0% of our entire prison system. Almost half of the people in jail are there on drug offenses.
In 2012, Colorado and Washington state became the first states to vote to legalize marijuana for recreational purposes. Since then ,seven more states have followed allowing marijuana possession and the numbers are still growing. Laws have continued to bar sales for recreational purposes. Yet no action has been put in order to release those behind bars on drug charges. The argument has been made that they should not be released because their charges were brought upon before the legalization of drugs were made .
Although this is true i think it important to promote this prison reform because it could eliminate the number of prisoners put away on drug charges. As i mentioned earlier 37% of those incarcerated are African americans 33% of those are on Drug related charges. The release of those prisoners could help with federal deficiencies but so much . Mass incarceration is up to nearly 182$ billion every year which means less money for important things like schools. To me it's extremely important to support the Prison reform not only for the prisoners but to help the families also they aren't the only ones affected by it.
The action to support prison reform can start by you just simply voting, or proposing of your opinions to local governors offices. Every voice has to start from somewhere and i think if you disagree with today's prison system or like me personally affected by the the course of action you should do something that could possibly change it like promoting Prison reform.
In order for a change to happen we must first make sure we educate ourselves on the prison system. Making sure we are keeping up with politics and voting for the correct people who have the same goals as we do . Lifting up concerns around you change can start in your very own community , talk about and make sure everyone is informed about the prison concerns . As we bear witness to prison conditions in our own cities and realities we can start to make a change. We will become an outside monitor of prison conditions and problems. Then eventually, our community will be able to build from this experience and learn to develop strategies to deal with these issues. It is important to develop relationships with legislators, ombudspeople, and corrections administrators who might be able to stop the problems before they escalate or just simply people of higher ranking. Get your voice out there and get our voice heard
Related Topics