More Lessons are learnt in the Sports field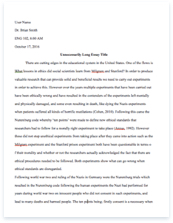 The whole doc is available only for registered users
A limited time offer! Get a custom sample essay written according to your requirements urgent 3h delivery guaranteed
Order Now
Education has come a long way from reading, writing and Arithmetic. The three Rs have been broadened to encompass the three As – academics, arts and athletics. The first provides students with the skills and knowledge they need to be productive citizens, the second unleashes their creativity to ensure society's cultural vitality, and the third promotes health and fitness while instilling a love of sport.3
There are so many little lessons that can be learned on the playing field and just because you do not end up writing a paper or taking a test on it does not mean you do not learn valuable lessons.
In order for a student to mature and grow in life positively, it is important that they receive an education apart from the classroom. Involvement in extracurricular activities is a positive force in a student's education because it allows them to excel in life following school, aids in healthy social development, and provides life lessons the student may not otherwise gain.
The English ideals, on sports, aim beyond the field to the battle ground of life, and they emphasize fellowship, sacrifice, a sense that how one plays is an emblem of how one will later behave; they teach that victory is ultimately less important than the common experience of struggling in common." Today we should use sport as a way to transition from childhood to adulthood by teaching them lessons in relationships, personal well being, and morality.
Students who play sports are more likely to become active teens who, in turn, are more likely to be active adults.
Participation in school sports gives kids a sense of belonging and of accomplishment when the game is played well. They learn to be part of a team and to share success and failure. They discover the value of friendship, mutual respect and cooperation, how to set goals, to strategize and to plan – all important skills to acquire in preparation for adulthood.
Sports teaches some tough lessons too – that the best may not always win, that people sometimes cheat, and that 110-per-cent effort may not carry the day- and that despite it all, you have to come back and do it again. Disappointments build character and resilience to cope with the hard knocks later in life.
One of the most important goals of education is social development. Not only should students have the ability to interact with others, they should feel comfortable when dealing with both individuals their age and older. Extracurricular activities certainly provide the opportunity for students to grow socially. Participation in extracurricular activities improves student's self-esteem and improves race relations. Even educators believe extracurricular activities improve a student's social health. Activities increase a student's confidence around their classmates and teach them to interact with others in a mature manner. A student's growth and maturity socially is just as crucial as any other lesson learned in school and it is important to recognize the great opportunities extracurricular activities provide for students to do so in an easy and healthy manner.
Thus I conclude my speech by saying that some of the most important lessons in life are not learned inside of classroom but outside of it.
Related Topics