Moral Ethnical Issues in Teacher Education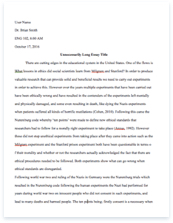 The whole doc is available only for registered users
A limited time offer! Get a custom sample essay written according to your requirements urgent 3h delivery guaranteed
Order Now
Indeed, education is an ongoing process. We are always receiving and passing it on, adding something in the process, sometimes even taking certain things, impertinent from time to time, away from it while passing it on further. However, the industry of education is a serious one, requiring well-defined ethics and values, well-bound in visible legal outlines to regulate its exchange and distribution. Teachers historically have been expected to maintain a high level of moral and ethical behavior. As of 2002 the National Council for Accreditation of Teacher Education (NCATE) requires professional ethics to be addressed as part of the teacher accreditation process. A teacher's first moral obligation is to provide excellent instruction. Teachers with a high level of moral professionalism have a deep obligation to help students learn.
According to Wynne, teachers with that sense of obligation demonstrate their moral professionalism by coming to work regularly and on time; being well informed about their students-matter; planning and conducting classes with care; regularly reviewing and updating instructional practices; cooperating with, or if necessary, confronting parents of underachieving students; and tactfully, but firmly criticizing unsatisfactory school policies and proposing constructive improvement. Professional teachers must keep their behavior moral and ethical both in and out of the classroom. The rise in use of social media adds a new context in which teachers must maintain a professional level of behavior. There are four identified components of moral maturity that can be considered by teachers when using social media and other electronic communication. A program of ethnical education development for dental professionals at the University of Minnesota more than 25 years ago is finding adaptations to other professional training programs, including the training for teachers. According to ERIC Digest, the four components to moral maturity are moral sensitivity, moral judgment, moral motivation, and moral character.
These components are the foundation for educational goals, teaching strategies, and assessment methods. They also can provide a foundation for using social media. Moral sensitivity and judgment are an awareness of how actions affect others and an intuition about what is fair and appropriate. Moral motivation requires individuals to prioritize morality over personal values, whereas moral character requires action on moral convictions. When applied to communication with electronic or social media, these four components can assist teachers with determining whether or not their communication is morally and ethically appropriate for a teacher. Email correspondence with colleagues, parents and students may seem like private communication, but email is treated like a written document and can be used as evidence in a legal inquiry. Rereading email for tone and wording before sending and applying moral sensitivity and judgment to the content can prevent misunderstandings. When using social media, many people forget that the world can access what is posted, sometimes even when the post is initially made privately since it can easily be copied or forwarded.
Teachers especially can have their morality, and even qualifications for teaching, questioned based on what is found online. Social media communication, whether private or public, should be reviewed for moral motivation and displayed moral character since educators are expected to publicly maintain a high level of moral and ethical behavior. The expectation of moral and ethical behavior for teachers in and out of the classroom can make it difficult for teachers to use social media and other electronic communication. Considering and applying the four components of moral maturity to all electronic posts can help educators maintain and model a professional level of morality and ethics. With students from socially and ethnically diverse backgrounds seeking admissions in schools today, the issue of whether or not to address diversity poses a serious question.
Racial inequality and ethnic differences have been an issue in public schools since the time public schools were founded. The foremost step towards addressing diversity in schools should come from the curriculum itself. Involving different ethnic sports and multicultural festivals at schools would mark the beginning of an attempt to combine students from diverse backgrounds into a bond of institutional unity. Moreover, including prominent historical annals derived from different ethnicity as part of a collective study of world history would encourage students to get familiar with each other racial, cultural and ethnic differences.
Rather than letting diversity come in the way of education, the importance of diversity should be upheld. The eternal contention between a principal and the parents regarding which teacher the child in question should be assigned to the following year is one of the major moral issues in education. There are two, very predictable outcomes to this debate – either the principal uneasily resigns to parental logic or the former evade the latter's request by making a blanket statement saying it is not in school policy to honor parents' opinion as far as choice of teaching faculty goes. Conclusion
Besides the above mentioned ethical issues in education, there are other noteworthy issues – teacher evaluation, sex education, value education, tracking and random drug tests in campuses – that prevail surrounded by controversy. Each of these issues require fine scrutiny and deep understanding but even then, there would always be that "depends upon the situation" factor that would decide which way the verdict rests.
References
Benninga, J.
Moral and Ethical Issues in Teacher Education. ERIC Digest.
Benninga, J. (2003) Moral and Ethical Issues in Teacher. ERIC Digest… ERIC Clearinghouse on Teaching, Available at: http://www.ericdigests.org/2004-4/moral.htm.
Related Topics