Mitsubishi Believes in EEO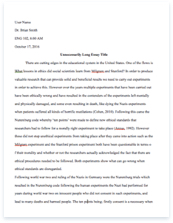 The whole doc is available only for registered users
A limited time offer! Get a custom sample essay written according to your requirements urgent 3h delivery guaranteed
Order Now
Questions
1. Discuss why making changes such as Mitsubishi did is important both legally and for improving HR management with the employees and managers. Making changes such as Misubishi did is important because:
First, the company's behavior in the past was unlawful discrimination, that is, violated EEO law. The discrimination already caused company paid $34 million for a sexual harassment lawsuit settlement and a multi-million-dollar settlement to African American and Hispanic employees. If the company keeps operating this way, it would bring it to the court again.
Second, the company's discrimination behavior brought the negative reputation to it. If they don't change its way of treating women and different racial employees, they would be shut down very quickly. It is important for all employees to be appreciated instead of discriminated. If a company is an EEO company then they will have a better reputation and more people would want to work there. This also helps the HR department because employees will feel confident and comfortable with sharing any issues they may have, it is good for the employees to know that they can be helped when needed also.
2. Describe how disparate treatment and disparate impact were factors affecting this case. Disparate treatment occurs when members of a group are treated differently from others. In Mitsubishi, disparate treatment was so obviously in the past. Women, African American and Hispanic employees were being treated differently on purpose by others. According the case, sexual graffiti was written on the fenders of cars being assembled before they passed female production workers, pornographic photos hung on the walls, and male workers taunted women. Female employees there felt being singled out for specific factors relating to gender.
Related Topics