Michelle Alexander "The New Jim Crow"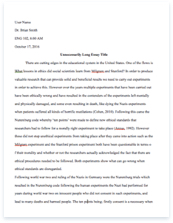 The whole doc is available only for registered users
A limited time offer! Get a custom sample essay written according to your requirements urgent 3h delivery guaranteed
Order Now
In the book, a main theme is racism and it is displayed through the history of African Americans and their previous, unfortunate lives through slavery. This involves the history of whites and their everlasting will to hold on to power and it also involves black survival. Alexander emphasizes the concept of blacks lacking many basic rights of a citizen through racial discrimination and misunderstandings. Discrimination that comes from upper level officials tends to choose when something is considered "wrong" based on race. This is often seen through police brutality amongst a specific group of people. For example, African-Americans and whites use ideally the same amount of illegal substances, but we often tend to see a bigger number of African Americans being arrested for these matters. Michelle argues that racial profiling has made its way into our modern society and formed conflicts that roughly disrupt the idea of a free human. Michelle digs deep within our government and prison systems.
This idea brings us to a point where the future of the black community may be right in our hands and this depends on the willingness of those who truly care about the role of criminal justices in our society. It evaluates the basic rights of an American and what it truly means to be living in the land of the free. Racial biases leads to a tragedy toward people of color. The Jim Crow laws were created with a goal of making African Americans second class citizens. This clearly was not a step up on racial discrimination, as African Americans were still not considered equal to the upper class. Officials are set out to be "colorblind" when it comes to any situation regarding law abuse, but it Supreme Court rulings, it is pervaded by implicit racism based on who the jury members are.
Michelle Alexander points out that she does not have a particular list of suggestions in order to fix the current system, but she hopes that the book "The new Jim Crow" will instead stimulus a conversation. Although, Michelle does search into issues that have to change in our system and the way it works. For one, our prison system must not be profit driven. Law enforcement should not be given a lot of inducement in order to arrest people and racially profile them. Real statistics and facts regarding drug abuse should be recognized and acknowledged. Anti-drug legislation need to be invalidated. Ex-offenders treatment needs to be taken more easily and softened; proper help and rehabilitation must be given out to those seeking for help. Bias in sentencing and juries has to be changed. And probably the most essential thing is that, American people must be straightforward and truthful about what they have done and not lie.
Related Topics