Lullabies for Little Criminals Argumentative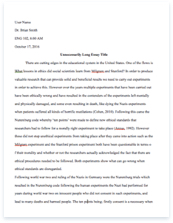 The whole doc is available only for registered users
A limited time offer! Get a custom sample essay written according to your requirements urgent 3h delivery guaranteed
Order Now
Everyone's childhood is a crucial time in their lives, in fact in some cases our childhood determines who we are or whom will become in the future. A child's childhood must be kept innocent and pure for the well being of the child's future. The loss of innocence is a theme that recurs over and over again in the novel Lullabies for Little Criminals by Heather O'Neil. The complete loss of Baby's innocence is built up throughout the whole novel with multiple different experiences over time. Experiences such as, being exposed to drugs, spending time in foster homes and being engaged in prostitution. Baby's childhood is ruined due to her own actions and with the assistance of others. Baby's first experience that causes her loss of innocence is her first experience with the use of drugs. Baby grew up with a drug addict and she was always curious about drugs.
Baby for her age knew a lot about drugs, it was just a matter of time till she became a user rather than an observer. Baby grew up in atrocious environment where drugs were left on the table, the temptation of using them kept growing. Baby had also admitted that she knew a lot about drugs as she once said "…for a kid, I knew a lot of things about what it felt like to use heroin"(O'Neill,10). This quotation demonstrates how much of baby's life was spent around drug dealers/users and drugs in general. Baby always knew she was going to use drugs, and her first experience came when she was 12 years old. Baby thought of drugs as her entrance in to the adult world. Baby was always to big for her shoes as she was always rushing to grow up. Alphonse once asked Baby "You've never done heroin, have you?"(285) Baby thought about this question before answering. She knew that any answer she'd give would jeopardize what was to come. Baby found this question to be her stepping stone into the adult world. Baby then goes and asks one of her younger friends if she could buy mushrooms off them.
This portrays Baby's loss of innocence as a young child would never ask this question. Baby's second time asking for drugs was rather an embarrassing time. When Baby asked Johnny to find her some "shrooms", Johnny looked at her laughed and said "Are you not just out of Diapers?" (76) This also portrays Baby's loss of innocence as other people still view her as a young and innocent girl. No one apart from drug dealers have taken Baby seriously because she is viewed as a little girl. Baby's exposure to drugs and drug use lead to the loss of her innocence.
Secondly, Baby's innocence continues to crack as she is put in a foster home while her father is in the hospital. While at the foster home Baby comes to realize a lot of things that contribute to the breakdown of her innocence. Baby witness many sad experiences and experiences things that no one should ever experience at a young age. Baby witnesses a boy beaten up by bullies then yelled at by his uncle. She then sits and watches the boy go into a stage of depression, showing Baby a sad part to life. The boy's uncle then realizes Baby and asks "Baby I know your dad. Is he still selling weed?"(33) Baby is forced to realize that her role model isn't such of a role model. Out of everything baby goes through, throughout the whole novel, this was the toughest. What Baby witnesses in the time period she's at the foster homes, hardly anyone will witness the same in their entire lives, thus leading to pain and greater loss of innocence.
Baby is also considered to be crazy by her foster mom Rachel. Baby overhears Rachel saying "…the child is wild, it's not her fault" (45). Hearing this take a large blow to her self-esteem that is already considerably low. Baby comes to realize that she is not regular like everyone else, she realizes that she is different than people her age. Realizing this makes Baby feel harsh and upset, thus taking a blow on her innocence. Moreover, Baby grew up without having a mother and only a father. While living in the foster home, she had no one. "I wanted to think about my mother, too, but I couldn't." (44) This quotation shows how much Baby wish she had a mother or at least knew about her mother. By not having a parent by her side that she would obey, Baby was not told right from wrong during her time at the foster home. Consequently leading to the loss of Baby's Innocence.
Lastly, Baby becoming a prostitute at the age of thirteen was the reason why Baby lost all of her remaining innocence. At the age of thirteen, Baby is a young, wild and immature teenage girl, these are not the characteristics of a prostitute. At such a young age, Baby should not be engaged with prostitution as it will bring her harm. "It's harder to pick up a trick when you're wearing a yellow pom-pom hat" (291). This quotation shows both side of Baby. It shows how fast Baby wants to grow and be a mature young adult, but there are still parts to Baby's character that bring out the child in her and they are noticeable by everyone. Baby is tricked into believing she is loved by her pimp, Alphonse. Alphonse tricks Baby into believing that he loves her and that they would both be very happy together. Baby being young and vulnerable falls for this and runs away from home. Alphonse first tells her "You don't have to work. You're just a little kid" (248). Even Alphonse realises that Baby is still young but he continues to play mind games with her.
Alphonse sees Baby's eager to mature as an advantage for himself. As the two's relationship begins to grow over time, Alphonse attitude toward Baby begins to change and she eventually ends up on the streets all night, causing her innocence to deteriorate. Alphonse tries to treat Baby as an adult but this does not work because Baby's childlike characteristics continue to shine. As Baby continues to stay on the street, she has become a familiar face for sex. This is rather more of an experience that mature adults would experience not children. People also don't mind that Baby is thirteen years old and even in some cases, they prefer it.
Even though Baby slowly adapts to turning tricks, her immature side continues to shine. "Do you have any idea what a mockingbird looks like?… Is it a real bird?"(291)(Talking to someone that she is turning a trick on). This quotation exhibits Baby's immatureness, even when she is turning tricks. Losing the side of us that's immature when growing up is something hard to do. Even if Baby were to lose it all she would still be an immature little girl, due to her reputation. Baby's experience of being a child sex-worker was the reason why her last hopes of her innocence, vanished.
We all have a time period in our lives that we call our childhood, it's what makes us who we are. Lullabies for Little Criminals is a story about a 13 year old girl whom is experiencing that time of her life. The theme, loss of innocence is one of the most important themes in the novel as throughout the novel Baby's innocence was lost. Baby being raised around drugs, living in a foster home and being tricked into becoming a child sex worker have all been contributing factors to her loss of innocence. Baby's eager to grow up so fast and experience experiences that a young child shouldn't has poisoned her childhood which will lead to other future problems.
Works Cited
Neill, Heather. Lullabies for little criminals: a novel. New York: Harper Perennial, 2006. Print.
Related Topics