Inequality in the United States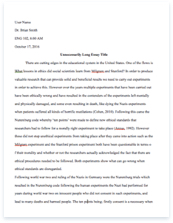 The whole doc is available only for registered users
A limited time offer! Get a custom sample essay written according to your requirements urgent 3h delivery guaranteed
Order Now
Income inequality in the United States has grown in recent decade and is now higher than in any other developed nation, with less class mobility than almost all other developed countries, and even some developing countries such as India and Russia. Income inequality is largely driven by the massive wage gap between the highest income earners and the majority of US wage earners. A distinct aspect of rising inequality in the United States is the wage gap between the very highest earners and other earners, including other high-wage earners.
Greater income inequality seems to amplify and intensify the effects of social status differentiation, bigger material differences creating bigger social distances. Income inequality creates a wide range of social problems such as illness, violence, poor school performance, lower levels of social trust, more drug abuse, and high rates of imprisonment. The negative effects harm not only the poor but also the vast majority of society. Rising income inequality has led to a problematic growth in wealth inequality. This rising income and wealth inequality is caused by an unfair tax system and could be partially corrected by higher tax rates on the rich. The growing inequality in wealth has had a negative effect on democracy, concentrating political power in the hands of the rich.
The level of inequality of income and wealth in the United States has reached the dangerous point where something must be done to reverse it. Robert Reich contends that the current inequality is a threat to the economy, the ideal of equal opportunity, and democracy itself. He proposes ten initiatives to reverse the current trend.
Rather than obsess over the incomes of the wealthy, people should focus our attention instead on the poor and the middle class. There are broadly agreed upon standards of what a decent life looks like, and while these standards will change over time and vary by country-indoor plumbing is no longer considered a luxury item in the U.S. Some people like Bill Gates and Warren Buffett can make as much money as they want, but so long as they earned their money, what do their earnings have to do with the quality of life for the rest of us? However, it is not the way our economy generally works. A free market economy could create wealth. All the argument about the rich grabbing too large a share of the national income therefore rests on a flawed understanding of this basic truth of free-market economics
There is no reason to be opposed to income inequality or wealth inequality unless gains by the rich are harming the poor. Overall economic growth benefits everyone, even if it does produce greater inequality. An increased minimum wage as policies aimed at decreasing inequality, claiming that such policies will harm everyone.
Robert Reich describes the "huge gap', among wages and rising economy turned into a hazardous concern to all Americans establishing the middle class. Reich discloses it to be, a cycle on which low wages cause low purchaser spending hence prompting an agitated economy for all. At first the white collar class inclined toward to acquiring from banks to get past their battle adjusting high living costs and low wages. Another way of dealing with stress that propped the white collar class up for some time was that ladies started entering the workforce to help in the obligations of their family units. These endeavors weren't sufficient for the two fundamental issues, globalization and new innovation whom were in charge of adding to the leveling compensation since 1970. This case can be seen as Amazon, a company that is in charge of removing from the market a numerous of independent companies.
The organizations that once played out a similar work that Amazon does now, did as such with a lot more labor, along these lines, impelled a lot a bigger number of employments than what Amazon provides. With higher expectations for everyday comforts and insufficient discretionary cash flow the working class experience day by day battles, sufficiently just to make it on to following day while the affluent continue putting away inconceivable totals of cash that they themselves do not understand how to manage. With the raising imbalance on the working class, they are obliged to doing combating obstacles that try their endeavors of moving upwards in life even more troublesome. Reich propose that the consideration should be moved towards the common laborers, basically with their instruction. Setting up our workforce to practice and turn out to be knowledgeable people will simply add on to a flourishing stable economy; making training reasonable and contributing on them extends the white collar class and also the accomplishment for both the wealthy and the workers.
Related Topics