Implementing Sport Education in Physical Education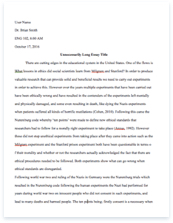 The whole doc is available only for registered users
A limited time offer! Get a custom sample essay written according to your requirements urgent 3h delivery guaranteed
Order Now
Sport Education Is a fundamental aspect of Physical Education and contains many aspects that people need to fulfill for it to be successful in any form. This ranges from scorekeepers, refs, to even the players in the game itself. Everyone has a part to play and can contribute in their own way. This allows for an inclusive atmosphere in Physical Education and allows those less athletic to participate at their own level of expertise. If implemented correctly, Sport Education can teach many lessons other than those learned on the field of play. Students will learn the intricacies of the games being played, how to score and keep records, and learn how to communicate effectively with each other to keep a well-mannered atmosphere in the classroom. Overall, Sport Education is a fun active way to get students involved in Physical Education class.
The objectives are to go over the main aspects of Sport Education and how it is implemented in Physical Education. The domain priorities used and how they interact with Sport Education will be a main aspect as well as the learner and teacher role and their respective responsibilities. Assessing the roles of each player and facilitator is a main goal for Sport Education and can verify that the teacher and students are doing their jobs. The main objectives and hoped outcomes of Sport Education will be explained and implemented into a Physical Education class.
In, Instructional Models In Physical Education it states, it is stated, "Three major goals for the Sport Education model: to develop competent, literate, and enthusiastic sportspersons" (P. 265). A competent sportsperson is one who has the knowledge, skill, and ability to play a game to where they contribute to their best abilities. In class a student could be the star goal scorer and know the skills needed to do just that. Also, a student who learns how to keep the statistics for that goal scorer could be a competent sportsperson.  There are many applications to this in Physical Education. A literate sportsperson is one who goes beyond just a spectator and understands the ins and outs of the sport and its vast displays of culture. In the classroom, a student could bring in their favorite professional athlete's stat card for the current season and try to copy them in Phys. Ed. class. An enthusiastic sportsperson is one who participates in the sport enthusiastically and keeps the culture of the sport alive. In Physical Education, a student really buying into the sport and taking their knowledge gained and expanding their abilities outside of the classroom could be enthusiastic with their town sport team. There are ten learning objectives in the Sport Education requirements that need to be met in the classroom that will expand the children's knowledge of sports.
There are ten Learning objectives for the students to learn over the course of the class and season of the sport, "1. Develop skill and fitness specific to particular sports 2. Appreciate and be able to execute strategic plays in sports 3. Participate at a level appropriate to student development 4. Share in the planning and administration of sport experiences 5. Provide responsible leadership 6. Work effectively within a group toward common goals 7. Appreciate the rituals and conventions that give particular sports their unique meanings 8. Develop the capacity to make reasoned decisions about sport issues 9. Develop and apply knowledge about umpiring, refereeing, and training 10. Decide voluntarily to become involved in after-school sport" (Metzler 266). Overall, each student is responsible for more that one mere assignment or responsibility to learn. Everyone is required to familiarize themselves with all the aspects of the sport and be competent to do those jobs and activities to their best potential. They also will be encouraged to take their knowledge outside the classroom to further their education in sports. Overall, Sport Education is fundamental strategies to get students interested in sport culture and to hand down the best aspects of sports through Physical Education.
Sport Education has similarities to regular sports and sport culture. Its goal is to create a sense of involvement and belonging in the students. It is made up of a season, "Includes practice period, a preseason, a regular season, and a postseason or culminating event…should be a minimum of 20 lessons" (Metzler 266).  It also includes affiliation which makes the students part of a team and creates a team atmosphere that they wouldn't get if they didn't play organized sports outside of school. Additionally, students get competition between themselves and other teams they play throughout the season. This creates a main focus for the staff, players and managers of the team. At the end of the season, a culminating event takes place where all of the hard work that the students put in throughout the season can be showcased. Students who are not playing or don't want to participate on the field can be the record keepers and keep track of the stats of players game to game. Overall, Sport Education can teach students to be part of something and become part of the festivity of the games being played with the culture that surrounds them.
The teachers play a role along side the students and are there to guide the students if issues arise through out the season. They are there to help but not to take charge of the operation. The teacher can use strategies such as, "direct instruction, cooperative learning, and peer/small-group teaching" (Metzler 269). Students should be guided towards non-playing aspects of the sport and learn the vastness of the sport that they are being taught. The students need to be able to learn their roles and take on challenges as they surface throughout the season. They need to work together as a team to overcome challenges and create solutions in a well thought out manner. If done correctly, this form of teaching and learning can be brought into other domains of life.
There are three domain priorities for this teaching model. Competence: the ability to discern and execute skilled strategic moves (psychomotor, with strong cognitive support).
Literateness: refers to one's ability to comprehend and appreciate a sport form and culture (Cognitive and affective). Enthusiasm: making sport a central part of one's life and daily activity (affective) (Metzler 271). The teacher must address all of these domains when planning a sport education unit. Students are expected to practice before the season starts and then play competitively during games, which mostly involves the psychomotor domain. The coach is needed to practice during the pre season as well and make decisions during the game, which encase the cognitive domain. The group as a whole needs to be part of a team and work together, which is mainly the affective domain. There needs to be clear roles for the students and teachers to have a successful season and know the domain interactions that are taking place. It is the teacher's job to make sure that the correct domains are being taught and observed throughout the season and guide the students and their goals.
Related Topics