Hunger as a Theme in "Black Boy" by Richard Wright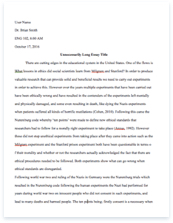 The whole doc is available only for registered users
A limited time offer! Get a custom sample essay written according to your requirements urgent 3h delivery guaranteed
Order Now
Throughout the autobiographical novel "Black Boy", Richard Wright uses hunger to symbolize struggle in his life. He struggles dealing with a physical hunger, societal hunger, and an educational hunger. He constantly tries to appease this hunger by asking questions, but he soon finds out that he will only learn from experience. These experiences have a life-lasting effect on him and quickly instill the Jim Crow culture upon Richard.
The first type of hunger in Richard's life is a physical one, one due to poverty. Soon after his father leaves him, this physical hunger becomes stronger and often becomes associated with his father leaving. He says, "As the days slid past the image of my father became associated with my pangs of hunger, and whenever I felt hunger I thought of him with a deep biological bitterness" (18). Physical hunger becomes such a large part of Richard's life, leading him to personify hunger by saying, "Hunger stole upon me so slowly that at first I was not aware of what hunger really meant. Hunger had always been more or less at my elbow when I played, but now I began to wake up at night to find hunger standing at my bedside, staring at me gauntly" (16). After his mother becomes too ill to work, Richard experiences awful nightmares and sleepwalking fits which Granny believes is a side effect of his extreme hunger.
He constantly asks his mother where he can get some food and finally, after one time when he tells her that he is hungry, she tells him to "jump up and catch a kungry" (16), a made up food to distract the thought of hunger from Richard. He describes this hunger he feels by saying, "I knew hunger, biting hunger, hunger that made my body aimlessly restless, hunger that kept me on edge, that made my temper flare, hunger that made hate leap out of my heart like the dart of a serpent's tongue, hunger that created in me odd cravings" (119). In order to ensure that Richard can survive, he is sent to his Uncle Clarks house in nearby Greenwood, Mississippi. This hunger greatly changes Richard's life as he learns to hoard food later in Memphis, and is even willing to steal food to fill his aching stomach.
A second type of hunger that Richard encounters is an educational hunger. This really starts off after a schoolteacher named Ella, one of the only people who encourages Richard throughout the book, reads him the book the tale of Bluebeard and His Seven Wives. A simple story sends Richard's imagination into a whirlwind of thoughts and ideas. When he reflects on the story he says, "I hungered for the sharp, frightening, breathtaking, almost painful excitement that the story had given me, and I vowed that as soon as I was old enough I would buy all the novels there were and read them to feed that thirst for violence that was in me, for intrigue, for plotting, for secrecy, for bloody murders" (46). Granny, being a strict Seventh-Day Adventist, equates the fiction of these tales with lies and sin, and tries to save Richard's soul from burning in hell by forbidding such "Devil stuff" in the house.
This restraint only fueled Richard as he secretly borrows books from Ella's room, struggling to read due to his limited vocabulary but at the same time, feeling a sense of accomplishment. Richard loves the excitement he finds after learning new things. He depicts this excitement by saying, "I had learned to count to a hundred and I was overjoyed… I would read the newspapers with my mother guiding me and spelling out the words. I soon became a nuisance by asking far too many questions of everybody" (26). After he reads the works of authors like H.L. Mencken, his drive for reading surges up again as he says, "I hungered for books, new ways of looking and seeing. It was not a matter of believing or disbelieving what I read, but of feeling something new, of being affected by something that made the look of the world different" (294). His curiosity, fueled by his reading, opened up whole new worlds to Richard.
Unfortunately, Richard would experience the violence he imagined by dealing personally with the racist society of the Jim Crow South. Growing up as a boy, Richard never fully grasped the idea of racism, with questions always being diverted or vaguely answered. Once he put himself in the real world, things became clearer for him. A memorable race-related issue in his life was the lynching of his Uncle Hoskins. Living a prosperous life, due to his profitable saloon, he offers to take in Richard and his family. After a few days, Uncle Hoskins is killed by a group of whites who covet his saloon.
When describing this incident, Richard says, "This was as close as white terror had ever come to me and my mind reeled. Why had we not fought back, I asked my mother, and the fear that was in her made her slap me into silence" (64). Richard also encounters race when he sees a chain gang of blacks surrounded by white guards. This mysterious division of race spurs Richard to question his mother and the world that he lives in. wonders to himself saying, "I wanted to understand these two sets of people who lived side by side and never touched, it seemed, except in violence" (54).
Whether it was physical, educational, or societal, Richard Wright is constantly surrounded by hunger. These hungers left a profound effect on Richard's childhood, yet at the same time provided him a sense of motivation. I admire how Richard Wright persevered through all the hardships, while finding a positive outlet to free himself from the Jim Crow South. I admire his perseverance and aspire to live my life with this admirable quality.
Related Topics