How to handle Slow learners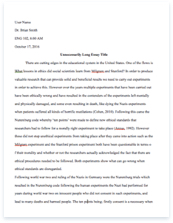 The whole doc is available only for registered users
A limited time offer! Get a custom sample essay written according to your requirements urgent 3h delivery guaranteed
Order Now
Slow learners are those pupils who have limited ability due to different reason in the education process. Slow learner is advance word for "backward" or "mentally retarded" and "Educationally subnormal" (E.S.N.)There are different reasons for slow learning, some time it is due to their mental ability, some time it due to their background, illiterate parents, culture problems, avoiding by the parents in early child hood, between ages 2 to 6 years. Some time it due to mental illness. These are different causes of the slow learner.
The purpose of this paper is to determine the problems of the slow learners and the methods of education, How to teach them, so they can be better person of the society.
II.Literature Review
According to experts, children who for various reason, fall behind in their school work and require special teaching are called (educationally subnormal) E.S.N. "Slow learners are children who are doing poorly in school, yet are not eligible for special education; their intelligence test scores are too high for consideration as a child with mental retardation" (Mercer, 1996)(MacMillan, Gresham, Bocian, & Lambros, 1998).Although slow learners may have special educational needs, they do not fit neatly into the special education system.
III.Methodology
Experts suggest that student should be not increase from 20 in class and different style of teaching has been suggested for different subject. Language Development Problem .Slow learner show the sign of slow learning in very begging during infancy, when child try to talk, parents should carefully observe the child and if they find that child is not able to talk they should contact doctor to find the reason, because early diagnosis in the initial 2-6 years good for the betterment of the child and step could be taken to improve the mental condition of the child, through medical care or psychological. The sign of language development problem in initial age are; Speech defect: speech problem child will be not able to pronounce correct word, Vocabulary limited: child will use Limited word for expression Short sentences
Some children will not understand some words
How to improve the language development problem of the child in school level? Teacher should pronounce the word clearly for the student and ask the student to repeat the word Teacher should used visual aid, it would help the student to understand it easily and memories it for long time
Teacher should used flash cards for teaching difficult words Use of memory cards and memory games
Class room Discussion
Stories-telling should be encouraged in class
Dramatic activities
Oral question and answer and understand them
The ability to recognize Different pictures
Listening and understanding skills should be developed
Reading with meaning
Reading Problem
There are different method of teaching for reading problem, how to teach to a group or class of students. Expert suggest multiple teaching style because each student learn through different method, some student could learn better with one method, other will learn with other method. Teacher should be aware of the individual differences, For teaching reading to slow learner the following method should be used: Teacher should use Charts to teach Words to E.S.N students.
Teacher can also used Memory flash cards, Reading with meaning, is good method with which child easily understand and remember it. Reading stories, collecting magazines, news papers and discus them in the class room Pictures on wall with the stories can also help slow learner to remember and understand a word Reading readiness workbook
Through activities, reading activates can also help in reading process Visual activities, include TV and computer can help finding missing parts.
Memory games
Reading for information
Computer games, the best method for teaching reading process. These interactive games not only help slow learner in their reading process but it also help to increase their quick decision making ability.
Reading Material:
Reading material should be selected keeping in view the interest of the student in mind. Chose difficulty level from easy to difficult approach (age wise)
Spelling are very necessary for slow learner, because it help to form a word, a good speller well always be a good reader and writer , therefore teacher should give attention to teaching spelling to the students. Teacher should write a word on board and ask to the student to write it in air, teach them the spelling in parts, so they know the sound of the word. Competition of spelling between the students,
Check recheck method
Weakly test for spelling, spelling games on computer, typing tutor game on computer
Teaching writing
Teaching writing require reading, understanding and spelling capabilities, if a student is good in these, he can learn writing easily, following are the few method which could be used for teaching of writing; Encourage their writing, ignore their mistake in early stages In early stages students write short sentences and grammatically incorrect sentences Involve student in writing small stories
engage student in form filling, latter writing and Telegram according to their age Involve students in form filling, diaries writing
Computer base writing games, where short answer are required for playing games. Writing in school magazine, newspaper etc
At later time attention to the grammar, punctuation and full stop.
Social education
Social education is also very necessary for the slow learner; teacher and parent should give full attention to the social education of E.S.N. how to cross the road, how to reach home and other small thing that could help him in day to day life. It is not only the responsibility of a teacher to teach these things to slow learner but it is also the responsibility of parents too. Teacher and parents should also involve other people to help these students e.g. Psychologist of the school
Friends
School doctor/nurse
Other social agencies
IV.Conclusion
I therefore conclude that, after applying and conducting my methodology, the slow learners will be lessened. Because I believe that, my research is
efficient enough to handle students and especially to the slow learners inside the classroom.
V.Results
REMEDIAL TEACHING is identifying slow learners and giving them the necessary guidance to help them overcome their problems, after identifying their areas of difficulty. Contrary to what is said, remedial teaching is done perfunctorily without identifying their areas of difficulty and underlying cause for lagging behind. Some students are unsympathetically branded as `block heads' without an earnest attempt to know the real cause of their slow learning.
Related Topics