How I Wish I Spent My Summer Vacation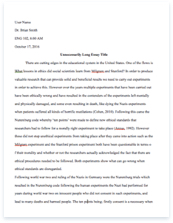 The whole doc is available only for registered users
A limited time offer! Get a custom sample essay written according to your requirements urgent 3h delivery guaranteed
Order Now
-The President and I duel with our extreme calculator/hover-board/microwave/air mattress/compass/laser-beam/laptop
Over summer vacation, I received a laptop. It wasn't just any laptop. This laptop came from from an alien and could tell me anything I wanted to know. It's great! The laptop can also run any computer program, game, or any other software that is known to man. It has a built in calculator, CD drive, hover-board, microwave, blow-up air mattress, compass, laser-beam, and most important of all, it can read people's minds! I just ride around, on my floating air-mattress, heating up Hot Pockets, listening to music, and shooting laser-beams at people. The President of the United States even challenged me to a duel against his own calculator/hover-board/microwave/air mattress/compass/laser-beam/laptop against my own. If I won, I would become the President, and he would go to school for me and do all my homework. So, of course, I agreed. It was like one of those western films, except we had laptops instead of guns.
We were standing in an empty parking lot, booting up our laptops. It was midday, and there was a bird sitting on a manhole in the center of the cracked asphalt . We both knew what the other was thinking (because of our laptops) and knew that when that bird flew away, IT WAS ON! Suddenly, as if sensing the danger, the bird flew away as quickly as it could. There was a brief pause that all you could hear was *click* *click* *bleep!* and then we were off!
In one agile swoop we activated the matress/hoverboards and flew straight up next to each other. He shot a laser-beam at me and missed! I took my Hot Pocket out of the microwave and threw it at him, POW!, I hit him right in the mouth! I took advantage of his confusion to fly my mattress into his and I managed to take out his hoverpads. He jumped onto my mattress and we fell over the side, both of us barely hanging on with one hand. I kicked at him and he grabbed at me, and using all of my strength I pulled myself back on top of my air mattress and sent it into a barrel roll, knocking the President flying! I dove straight down, scooped the President out of the air and landed safely.
Since I won I took over the role as President of the United States. I didn't like the color of the White House, so I had some painters repaint it red and black. Another thing I did while in office was I gave my laptop to my most trusted computer technician. Preston, the computer technician, used it to do stuff like create world peace, read people's minds in court, end world hunger, and many other things. I wasn't careless enough to give such a powerful object to someone without considering the dangerous possibilities, I made sure I limited what he could use the computer for. Anything evil or harmful to the human race caused by the laptop would cause it to blow up, thanks to a sophisticated program I created on it.
I resigned from office after I passed bills to make school more fun, gas prices cheaper, and many other important things. I agreed to let the old President go back into office and let me go to school after summer break. I figured that I still need to go to school anyway, and I don't want to be some middle school dropout.
While I was President and had the laptop I made lots of money doing various things. I spent my money on what ever I wanted. First, I bought a hacky-sac that was made with silk for the sac and had gold beads for the stuff that goes inside. Then I bought the Xbox 360 from Microsoft before it was even known to the public. I also bought the Cray 1 computer to play computer games on. Now I know for sure that my computer has the best graphics, processor; everything!
Then, I bought NASA. Yes, that's right, I bought the National Aeronautics and Space Administration. But, I like to call it Josh's Aeronautics and Space Administration or JASA now. Every day I fly my starship to mars, play hacky-sac with some Martians, stop on the moon on the way back to build up a collection of moon rocks, and have some fun in zero gravity before I land. It can also fly through Earth's atmosphere, so I can go just about anywhere I want whenever I feel like it.
My mansion is just about the coolest house ever. My whole family lives in it. There are so many outstanding rooms within this behemoth of a structure. Inside, this building has everything anyone could ever ask for. If it weren't for all the maps that say "you are here" someone would have to send in a search party everytime someone entered! I would be lost in the dang thing, but I would still have a great time! Well, I guess I should give you some information on just what is so important about this Brobdingnagian place.
The most exciting room is my bedroom. It isn't like a regular room with all my stuff in it. Its just the place that contains my bed. So why is it so special? Well, my bed is a racecar bed, and it lays on a racing track. When it is time for me to get up in the morning, it does 50 laps around the track at an average speed of 200 mph. Needless to say, afterwords I am fully awake and not tired in the least bit!
Next up is the game room. The only object in this room is a strange-looking
gold-plated pod sitting in the center of my room. My house is very roomy but sparsely furnished, don't you think? Well, as I was saying, there's this pod, and when you enter it, you will notice buttons, joysticks, a steering wheel, keyboard, mouse, my Virtual Sensor Glove, arcade style screen, buttons, levers, fully stocked refrigerator, futuristic aeronautical bedpan, and a cup holder. It contains every video game that is worth playing known to man. Needless to say, a person can spend weeks in this gaming shrine.
In this next room, everything is edible, because I have a fully functional replication of Willy Wonka's Chocolate Factory! It even has Oompah Loompahs! I even have created actual everlasting gobstopers! Not the fake kind that you can get anywhere, mine are actually "everlasting". I still have that pop that never loses it's fizz, and when you drink it, you float until you burp. I keep my own little stash of that gum that makes you turn into a blueberry. It's so funny when you give it to someone and they say, "Mmm…! What's this? Blueberry pie! What's happening..?!" and then the Oompah Loompahs come by sing their song, and roll the person away.
The most relaxing room on the property is my bathroom. The toilet has an electrically heated seat, everything is motion activated, and when you are done, it says,"What have you been eating?", usually making the unexpecting user repeat their use of the facility once more. The bathtub is the real center of attention. It's the size of an indoor pool, but it has scuba gear prepared, a constant temperature of 95°F, a slide, and tons of blue and red bubbles everywhere. My sink is very high-tech, you put your hands through these two openings in the wall and it instantly removes any foreign substances from your hands, dries them, and rubs lotion on so that you leave with your hands cleaner and softer than before you entered.
I have so many more places to visit, but I'm afraid that I shall only give the names, for I do not have the time to go into detail about all the wonderful and luxurios things in my domicile. There is a garden, gym, medieval dining room, exotic kitchen, sports field, billiards room, batting cage, concert hall, mega mall and mini mall, library, walk-in closet, laboratory, paintball court, waiting area, art gallery, ballroom, TV room, greenroom, locker room, testing room, steam room, and every other kind of room imaginable!
Since I have so much stuff to do in this house, I send an android to school. He reflects my thoughts and feelings, and when he comes home, I have him upload everything he has learned today into my brain. I do my own homework because I'll get bored with all the fun stuff I have to do. Well, that's all for now, and if you happen to see my android look-alike, feel free to say hi, but DO NOT ask him any enigmas, or he will explode.
Related Topics