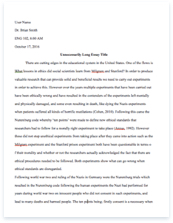 The whole doc is available only for registered users
A limited time offer! Get a custom sample essay written according to your requirements urgent 3h delivery guaranteed
Order Now
The world that we live in is ever evolving and, this ever evolving process includes, of course, the world of psychology. Over time and during the reign of many notable psychologists and psychiatrists, theories that were considered new and promising but never proven formed the foundation for new theory exploration and discovery. Carl Rogers and Sigmund Freud built theories that are useful and still applied in the field today, with great probability they will ever outlive their usefulness. This proves that Rogers and Freud had valid and useful insights into the mind. Freud is well known for his work and development on the psychological paradigm, also known as the theory of psychoanalysis (Stea, 2012).
Roger's theory, the theory known as the person-centered theory, is well known and his work is invaluable to today's discoveries. Without these two revered individuals, it is possible that psychology would be viewed in a different perspective. As a result of their contributions we continue to evolve our thoughts, knowledge, and understanding of psychology as we as one human race continue to evolve. In this paper we will take a glimpse to see if both views and theories of Rogers and Freud are still relevant and useful in today's society as they were at the time of conception. Sigmund Freud's and Psychoanalysis
There are many psychologists who believe Freud's psychoanalysis is connected to a network of perceptions for the purpose of therapeutic treatments applied to various disorders found in the DSM. Freud began his theory of psychoanalysis after working with well-known neurologist J.M. Charcot. During this time, Freud agreed with the idea that hysteria was caused by emotional disturbance and may be caused by organic symptoms of an individual's nervous system. Freud applied his methods in treating individuals with mental disorders among others, by applying the psychoanalytic methods he had worked on. During this phase of Freud's work, professional doctors and students joined him in his work to learn and assist.
Psychoanalysis, including theoretical underpinnings, have contributed influences on psychiatry and psychology, having much to do with the development of psychiatry and psychology as it is known today (Psychoanalysis, 2011). Freud's focus was on Psychoanalysis. Freud was focused on early childhood because he believed it was the most crucial time to establish a more in-depth understanding of an individual's psyche. As a result of his belief Freud determined that conflicts in one's life did not occur later in life, but instead during childhood. Many theories and other psychological developments were available because of Freud's theory that conflicts develop during the first stages of a child's life (Psychoanalysis, 2011).
Although Psychoanalysis is an important part of treatment, therapist have to be aware that although patients may seek to have a deeper interaction with their therapist, it is is important to keep a distance between the two. In many instances the focus of the therapist may not always on the patient's childhood, but instead focus on the patient's current life, with exclusion of childhood. Psychoanalysis has a strong grip in present day emerging of psychology, but it is quickly losing its grip, shifting to the side for new developments, like cognitive treatments and other findings in neurobiology psychoanalysis along with other underlying findings (2011).
One portion of Freud's theory that I think would be different today if he were still alive would be that not all human behavior would be motivated by instincts and drives. I think that some of the studies done by other psychologist and psychoanalyst would produce enough results to show what this may not be the case. I think that Freud would review and agree with the studies that their results just maybe correct or at least cause him to do further study himself.
Carl Rogers and the Person-centered Psychotherapy
Carl Rogers was responsible for the person-centered psychotherapy. Rogers respected Freud and his view but he did not agree with them. Rogers disagreed that individual conflicts begin only in childhood and that they would mature and discover self-actualization during their lifetime (Cervone & Pervin, 2010). Rogers suggested that this awareness was not psychotherapy but counseling for the individual. This form of relationship between patient and therapist was most commonly known as the patient-doctor relationship. But Rogers suggested the idea of a person-to-person relationship, the patient doesn't do all the talking but the therapist has major input also. Rogers was also known for his use of the word client instead of patient, which he believed helped the client in acknowledgement that they were not ill of some biological illness (Cervone & Pervin, 2010).
The Person-centered therapy is one of the most recognized therapy practices and is still used today treating individuals. Rogers's method was to engage the client in a more personal way; which would help give the client more power in understanding their situation. The individuals also gained more power by having self-actualizing at their side, improving the client's life situations (Cervone & Pervin, 2010). One portion of Rogers's theory that I think would be different is that all people are not inherently good and mentally healthy. I think if we look are the high rate of crime and the many different tragic occurrence that is going on in the world today the idea that all people are basically good and the mental state of many, studies would show different results and Rogers would be forced to take a second look at that theory and conduct a study himself Conclusion
Person-centered and psychoanalysis theories have enjoyed a strong following in the area of psychology as we know it today and will continue to have profound impacts in the future . . Freud's theories continue to expand and change the way we see psychology all these years later. Freud's theories not only changed the format of psychology and how professionals working in the science of psychology industry view their target audience including influencing culture. Although person-centered and psychoanalysis theories are a continued part of our psychological methods today, professionals are gravitating towards the person-centered method, this theory offers an approach that is focused on the person, not a thing the person is dealing with, but rather dealing with the person directly.
I think that Psychology will continue to develop and expand in a more concrete form as we uncover more of the hidden aspects of the mind. Rogers person focused therapy taught us that there is valuable insight to acknowledging that we are all unique while Freud acknowledged that it is important to talk to the patients and how important it is to have an understanding of psychoanalysis. Freud called his subjects patients while Rogers called them clients. We are more then a body in time, we are a vessel that records what happens in that time. I really think as we evolve, we will exponentially gain knowledge of the human kind, unlocking the secretes of the mind and the answers to why.
References
Cooper, M., & McLeod, J. (2011). Person-centered therapy: A pluralistic perspective. Person-Centered & Experiential Psychotherapies, 10(3), 210-223. Doi:10.1080/14779757.2011.599517
Tubert-Oklander, J. (2011). Lost in Translation: A Contribution to Intercultural Understanding. Canadian Journal of Psychoanalysis, 19(1), 144-168.
Psychoanalysis. (2011). Columbia Electronic Encyclopedia, 6th Edition, 1.
Stea, J.N., (2012). "Freud's Conceptualization of the Social World: Psychology Recapitulating Sociology or Sociology Recapitulating Psychology?" Europe's Journal of Psychology 8, no. 1:182-202.
Related Topics