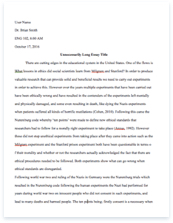 The whole doc is available only for registered users
A limited time offer! Get a custom sample essay written according to your requirements urgent 3h delivery guaranteed
Order Now
The first poet I chose from the Harlem Renaissance was the American poet, Countee Cullen This 1920s artistic movement produced the first large body of work in the United States written by African Americans. (Brown, 2012) The work, Yet Do I Marvel, took a racial theme, lynching of a black youth for a crime he did not commit. The poem is stark and makes reference to Sisyphus and speaks of how life is a struggle up a never ending stair. It speaks to God as if to wonder why, knowing that God is benevolent he does not stop the unreasoning actions of brutes against, "flesh that mirrors him", meaning the black race. (Brown, 2012) This line is important as it shows that the black consciousness is coming to recognition of their own worth taken from them during the slavery period and afterwards. The poet sees he is made in God's image and yet he is questioning why His ways are immune as God allows "awful brains to compel His awful hand". (Brown, 2012) There is questioning and anger in the piece and it is reflective while it is clear that references to Sisyphus and Tantalus show the poet is educated and his word usage is very well done.
These lines show the double-consciousness that was typical of black renaissance poetry as the Harlem Renaissance tried to make sense out of the past and what they were experiencing even after slavery in terms of suffering and racism. Countee Cullen was born in Baltimore, Maryland. Cullen was possibly abandoned by his mother, and reared by a woman named Mrs. Elizabeth Porter, who was probably his paternal grandmother. (Brown, 2012) His real mother did not contact him until he became famous in the 1920s. At the age of 15, Cullen was adopted unofficially by Reverend Frederick A. Cullen and his wife, Carolyn. The Christian upbringing is apparent in the poem as the poet grapples with the issue of why God is good yet bad things and people exist and are persecuting blacks with tortuous deaths. As a schoolboy, Cullen won second prize in a citywide poetry contest. With the help of Reverend Cullen, he attended the prestigious De Witt Clinton High School in Manhattan. (Brown, 2012) Many of Cullen's early poems appeared in the school literary magazine, The Magpie.
After graduating, Cullen entered New York University, where his works attracted critical attention. Cullen's first collection of poems, Color was published in the same year he graduated from NYU. Written in a traditional style, the work celebrated black beauty and deplored the effects of racism. (Brown, 2012) Cullen was a really good student and attended Harvard. He had been a Phi Beta Kappa at NYU and he went continued to write once he got to Boston. (Brown, 2012) He traveled to and from Europe and stayed quite a bit in France. He had a brief marriage that ended in a divorce and did not wish to pursue this again for a while then finally remarried later in life./ One of the things that make Cullen an important poet of this time period was the fact that he not only promoted his own works but those of other black renaissance poets. His own poetry slowed down for a while and he had one book, One Way to Heaven which was comedic in nature. (Brown, 2012) It was his only novel and revolved a lower-class black family and the classes of New York City.
He stayed in New York his whole life and taught English, French and creative writing at a Frederick Douglass Junior High School. (Brown, 2012). He published two books of poetry aimed at young blacks during this time. Another great black Harlem Renaissance writer was Angelina Weld Grimke. She was born in Boston to a well-known journalist who served as Vice-President of the NAACP. (Angelina. Grimke, 2012). The Grimke family was a bi-racial family whose members included both slave owners and abolitionists. (Angelina. Grimke, 2012 Grimke's mother, Sarah Grimke was a white woman who left her husband with the child since her parents did not approve of the marriage. However, at the age of seven, Angelina returned to her father. While she spoke to her mother, they never saw one another again. (Angelina. Grimke, 2012 The poem chosen by Grimke is, The Eyes of My Regret. She, like Cullen speaks of dragging herself up a well-worn path, reminiscent of his endless stairway.
She speaks in colors that are quite beautiful and descriptive and yet they are repetitious and painful for the poet. She speaks of seeing and how the "gold dropping away of the sun" meet and mingle before the trees. She speaks of eyes watching her, "The same two eyes that draw me forth, against my will dusk after dusk" and ends the poem saying these eyes keep her lonely tearless and numb as they are. "the eyes of my Regret". (Angelina. Grimke, 2012) As with Cullen she seems to see life as difficult and the beauty in life is compromised by something inside that pulls her to feel sad and tortured. She was highly educated as Cullen was. Angelina attended prestigious liberal schools in Minnesota and Massachusetts, earning a Physical Education degree at the Boston Normal School of Gymnastics. She later taught at the Armstrong Manual Training School and Dunbar High School in Washington, DC. (Angelina. Grimke, 2012). In 1909 she published her first widely anthologized poem, "El Beso" a lyric meditation on love. Grimke's poems covered many subjects from the social to the romantic, although her preferred theme appeared to be love. She died a recluse in New York after her father passed. She never married and was believed to be homosexual. (Angelina. Grimke, 2012)
Related Topics