Foxconn Suicide Problem and Its Recommendations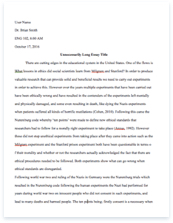 The whole doc is available only for registered users
A limited time offer! Get a custom sample essay written according to your requirements urgent 3h delivery guaranteed
Order Now
Strength
I) World's largest manufacturing company:
Foxconn is recognized as the world's largest 3C (Computer, Communication and Consumer-electronics) manufacturing company. It adopts the eCMMS business model, which is a vertical integrated one stop shopping business model by integrating mechanical, electrical and optical capabilities altogether. Through this model, Foxconn's Shenzhen campus is not only the world's largest 3C manufacturing base, but also the shortest supply chain at the same time. The eCMMS business model allows the provision of 'one-stop' total solution from design to after-sales services. It is regarded as being particularly attractive to clients.
II) Diversification of customer base:
Over the past two years, Foxconn has diversified its customer base. It has been pursuing customer orders with higher returns, and cooperating with other business companies. For example in April 2014, Foxconn and Hewlett-Packard Co. (HP) launched a joint venture to make servers for computers which provide cloud computing services. Also, Foxconn planned to open a chain of healthcare resorts in Asia. The move is an extension of employee wellness programmes that Foxconn has introduced.
Weakness
I) Problems in labour practices:
Foxconn faces scrutiny of its labor practices. Some of the workers protest for low salaries, and complain for working in a stressful environment. In order to face the criticism of labor groups, Foxconn needs to take greater efforts to cut worker hours and enhance labour welfare, which will increase its labour costs.
II) Difficulties in the large-scale volume production process:
Technology advancement made the assembly process of electronic products more complex. It is increasing difficulties for Foxconn's large-scale volume production process. This leads to a decrease in shipments of customer electronics, which ultimately results in disappointing earnings in July 2014.
Opportunities
I)Future business cooperation:
With the aim of product diversification, Foxconn will sell part of its fourth-generation (4G) mobile spectrum to Taiwan Mobile for NT$3.43 billion. It plans to offer 4G mobile services in Taiwan by the end of 2014. Such collaboration may enable them to become new leaders in Taiwan's telecom industry. Another example is forming a joint venture with 21Vianet. It may facilitate the vertical integration of the IDC value chain, as well as to build a complete cloud computing eco-system.
II) Replacement of human labour by machines- Automation:
In order to lessen the dependence on human labour, Foxconn started replacing workers with machinery. In Foxconn's Longhua campus in Shenzhen, robots are being tested to take over a range of tasks from humans. It is believed that automation can enhance efficiency in the production process.
Threats
I) Rising labour costs in China:
The wages for workers has been rising over these years. It is believed that China workers are becoming increasingly expensive, and hard to find in the labour market. In face of the increase competition in the labour market, Foxconn will have to increase labour welfare to attract competent workers. Also, it has to relocate production from the most costly manufacturing regions in the east of China to lower labour costs regions like Guiyang.
II)Increase in competition for electronics industry:
Manufacturers such as Samsung Electronics Company, a competitor for Apple Inc., which does not rely on Foxconn to assemble its smartphones and other gadgets, are increasing its market share in the industry. In order to retain profits, Foxconn may need to expand to other sectors to cope with the risk.
Cost Structure
According to the official 2014 interim report, the total revenue from sales of products is USD 2,283.452 million. Three main segment of Foxconn are design& innovations; manufacturing & assembly; and repair& refurbish.
The cost of goods sold for the six months ended 30 June 2014 is USD 2,142.365 million which the gross profit is USD 141.087 million, which makes up a large proportion of the total revenue (93.8%).
Other costs items consist of USD 78.342 million of general and administrative expenses and the selling and distribution cost is USD 8.249 million. USD 92.095 million of other operating expenses that are mainly composed of Research and development expenses; Impairment loss recognized for property; plant and equipment; and interest expense on bank borrowings. The costs can be categorized as fixed costs under the general and administrative expenses including rental expenses, depreciation of property, plant and equipment, amortization, and insurance coverage. For variable cost, it includes manufacturing costs and selling and distribution costs and research and development cost.
As cost of sales (manufacturing costs) is approximately 94% of the total revenue, Foxconn has a relatively high variable cost structure. With a large proportion of variable costs, Foxconn has a lower break-even point and higher margin of safety due to the low fixed cost. Also, Low fixed costs lead to lower level of contribution margin; thereby Foxconn only can receive higher earnings when sales are good.
Unlimited supply of cheap surplus labour has driven the growth in Chinese manufacturing industries for decades. Foxconn, the Taiwanese electronics manufacturer also makes use of this advantage and employs more than a million workers in China. However, some economists say, when labour surplus is superseded by shortage, wages will rise and factory owners like Foxconn need to change their business model: Increase worker productivity by raising salaries
In order to maintain low wage cost, Foxconn moved many factories to the inland while wages in the coastal region have been climbing with an average of between ten and twenty per cent ayear. Guizhou is one of China's poorest areas, with an estimated per capita GDP of just $3,700 last year, according to government estimates, the lowest of China's 31 provinces. Moving to the southwest part of China is recognition that "cheap China" is not so cheap any more. 2008 Contract Labor Law and mandated minimum wage increase of 13% a year from 2008 to 2012, with higher targets in the future worsening the problem.
Another reason that the labour cost increases is due to the original company management. Foxconn's management style was deemed inhumane and abusive. Probing into the enployment practices in Foxconn, one could compare them to labor camp conditions. Long working hours, employee mistreatment, illegal overtime, failure to report accidents, discrimination against mainland Chinese workers by their Taiwanese co-workers, and a lack of working relationships were all regarded as potential problems. Foxconn has become the epitome of the country's sweatshop conditions after a spate of suicides at their factories in 2010.
In response to the suicides, Foxconn substantially increased wages for its factory workforce, installed suicide-prevention netting, and asked employees to sign no-suicide pledges. As of mid-2011, the basic monthly wage of assembly-line workers was 1,350 yuan (US$213) in Chengdu and 1,550 yuan (US$245) in Shenzhen, the other surveyed Foxconn factories falling within this range. The regional variations reflect differences in China's minimum wage by locality. In December 2013, as Foxconn's entry-level workers' wage was increased to 1,800 yuan a month (US$285) in Shenzhen.
References
http://www.tutor2u.net/blog/index.php/business-studies/comments/strategy-foxconn-diversification-moving-up-value-chain
Production problems lead Foxconn to disappointing July earnings
http://dunyanews.tv/index.php/en/Technology/238259-Taiwans-Foxconn-unit-to-team-up-with-Taiwan-Mobil
http://www.bbc.com/news/business-19699156
Related Topics