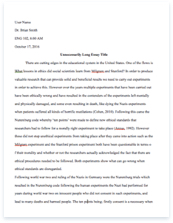 The whole doc is available only for registered users
A limited time offer! Get a custom sample essay written according to your requirements urgent 3h delivery guaranteed
Order Now
Ecover Washing Powder:
environmentally friendly, biodegrades quickly and minimum impact on aquatic life not tested on animals and made out of plant and mineral ingredients
PURPOSE
Gain insight into consumers' perception of Ecover's Washing Powder. Perception = people interpret their sensation stimuli.
Research questions:
Does Ecover use the right sensory channel in their advertisements in order to activate the sensory receptors and get the attention of their target customers? How can Ecover ensure that their environmental friendly products are not connected to "greenwashing" but recognized for their credibility?
METHOD
Analyzed how environmentally friendly the company and the product already is. Conducted a literature study that translates the different sensory stimuli into the customers' meaning. Looked on Ecover communication and evaluate these different advertisements. Combined this theoretical framework with empirical findings through a focus group.
FOCUS GROUP
Seven persons from 20 to 28, in a coffee house.
Open questions guided by a moderator.
Two different sides: Pro-ecological friendly and against it. Questions made from the theoretical part – Operationalisation.
FINDINGS THROUGH FOCUS GROUP
Ecover has already a "green" washing powder.
Stimuli: vision and sound are well used in Ecover ads and packages catch customers' attention. Product line and brand itself are also environmentally friendly, so potential threat of greenwashing is minimal. Customers will remember easier the product if Ecover changes the background of its TV ads. Web-link on the package for further information.
A complete image campaign might let the customer trust the brand more.
Related Topics