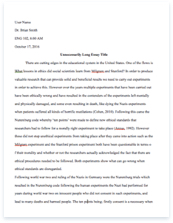 The whole doc is available only for registered users
A limited time offer! Get a custom sample essay written according to your requirements urgent 3h delivery guaranteed
Order Now
Student achievement has always been considered the ultimate objective in the classroom, and rightly so. It would make sense then to seek guidance from teachers who have had great success with their students. Students are unable to learn in a haphazard environment, thus students will not be able to achieve their full potential. Students simply cannot learn to the best of their ability in a chaotic environment. Classroom management is an integral part of student achievement even being possible. Not every student is learning in the classroom. Numerous distractions stand between the teacher's message and the student's ears. In addition to the physical layout of the classroom, factors such as feedback from peers and the instructor can either hinder or improve a student's ability to absorb information. It is the instructor's duty to make the classroom environment conducive to learning. A conducive classroom environment refers to the mood and atmosphere inside of a class that motivates students to participate actively in learning and to be engaged in classroom activities.
Creating a conducive environment can be a combination of good teaching skills, rapport between the teacher and students, appropriate behavior among students and strategic use of incentives and disincentives for good and poor behavior. Maintaining the proper environment is the challenge because classrooms are dynamic — from moment to moment the atmosphere changes. Teachers must recognize when learning is not optimal and employ strategies to regain the conducive environment. Running a classroom requires more than just arranging desks and imparting information to students. In addition, teachers are responsible for making sure the classroom is conducive to the learning process. This involves creating a curriculum adapted to the needs of the individual students and setting an atmosphere that is welcoming to all of the children. This requires planning and a close evaluation of the way the classroom worked in previous years. Setting
Bernardo Lirio Memorial Central School is an elementary school located at Brgy. Darasa, Tanauan City, Batangas. This school has clean and green surroundings but there's a problem within their classrooms. Classrooms are inappropriate for students to focus on their studies because of dim light, lack of ventilation and the classroom is very crowded because the students have no proper spaces with each other. General Objective
This study aimed to know the effects to the students of having classrooms which are not conducive for learning. Specific Objective
Specifically, this study aims to:
* Identify the factors that affect the students in learning; * Develop young minds to pursue in studying despite of untidy classrooms; * Introduce to students the importance of education.
Statement of the Problem
This study seeks to answer the following problems in conducting the study: 1. What are the factors that affect the students' capability of learning? 2. Can students resist with these hindrances just to learn? 3. How students can focus on their studies and other school related matters despite of this problems ? Conceptual Framework
Figure 1
Factors that affect students in learning and factors which make classrooms not conducive for learning
Survey
References
Questionnaires
Students from Bernardo Lirio Memorial Central School
RespondentsProcess Output
The figure above illustrates the conceptual framework of the study and how conduciveness of classrooms affects the students in learning and the factors of having classroom which is not conducive for learning. The flow of this study starts from the respondents. After that, we used survey, references and questionnaires that processes data and shows the output of the study.
Significance of the Study
Education is one of the most important things in one's life. It serves as wealth of an individual which is cannot be stolen by others. For this reason, this study will benefit the following:
Students: For the young minds that this will be of help to them to persevere and focus on their study despite of hindrances they encounter.
Teachers: For them to analyze why students were not able to learn at once and to have an idea in making their classroom conducive.
Researchers: For future researchers of the same study, that they can gather data with the use of the findings of this study. This will also help them to know the factors that affect the students in learning and the effects of classroom which is not conducive for learning brings.
Definition of Terms
Conducive- Making a certain situation or outcome likely or possible; having the equality or power of conducing.
Classroom Management- the process of ensuring that classroom lessons run smoothly despite disruptive behavior by students.
Student Achievement- student's success outcome
Chapter II
Related Literature and Study
Related Literature
Few aspects of education have generated as much concern as classroom management and organization. They are among the most frequently addressed topics for teachers in service; they head the list of concerns of school administrators and have recently attracted more attention from teacher educators and researchers because a teacher's ability to effectively manage the classroom and to organize instruction are basic components of teaching (Evertson, Emmer, Sanford & Clements, 1983). Moreover as classroom management strategies have a strong potential to positively influence student achievement and learning, they are paramount concern for many teachers, especially novices and teachers who are contemplating new instructional approaches for the first time (Delong & Winter, 1998). There are many studies indicating that classroom management is one of the crucial factors that influence learning. For example, in their study, Wang, Heartel and Walberg (1993) identified classroom management as being the first in a list of important factors that influence school learning. Also, Marzano and Marzano (2003) reached the same results with Wang and his colleagues (1993) by identifying classroom management as the most important factor influencing school learning.
Ben (2006) states that effective classroom management strategies are significant to a successful teacher's delivery of instruction. This statement of the researcher explains the reason why classroom management is important. Effective classroom management prepares the classroom for an effective instruction which is crucial for the progress of learning.
(http://en.wikipedia.org/wiki/Classroom_management)
The term classroom management has been defined differently by various educators throughout the history. In most general terms, classroom management refers to the actions and strategies that teachers use to maintain order (Doyle, 1986). Martin, Yin and Baldwin (1998) define classroom management as a broader and comprehensive construct that describes all teacher efforts to oversee a multitude of activities in the classroom including learning, social interaction and students behaviors. Classroom management constitutes three broad dimensions; person, instruction and discipline. (Martin & Baldwin, 1992)
For many years, traditional approaches were dominant in teaching and learning practices in Turkish schools. Traditional approaches were mostly based on the behavioral principles and laws of learning. (Goffin, 1994). The child was often viewed as the recipient of knowledge and teacher had the control over the students and subject matter. As a result of behavioral approach to instruction, teachers preferred behavioral classroom management techniques that consistent with their way of instruction. The behavioral model requires strong intrusion and management techniques on the part of the teacher (Garrett, 2005). Teacher is the leading person and therefore, has the responsibility of all ongoing issues in the classroom; from students' motivation to misbehaviors.
(http://www.google.com/url?q=classroom+management&url)
Related Study
Students experience the classroom as not just an intellectual space, but also as a social, emotional, and physical environment. Classrooms that subtly or indirectly exclude certain groups of students tend to be common from the students' perspectives; students have a particularly negative reaction to instructors who fail to acknowledge consequential local or national events (Huston and DiPietro, 2007). These implicitly marginalizing classrooms have a negative effect on students' motivation to learn and cognitive development (Ambrose et al., 2010). Instructors' attentiveness to the intellectual, social, emotional, and physical environments creates a classroom climate conducive to student engagement with the content and skills of the discipline. In terms of the intellectual environment, instructors provide content in an organized and engaging manner and give students motivating and challenging practice so that they are able to do authentic tasks in the discipline. From the emotional aspect of classroom climate, instructors create an encouraging atmosphere where students feel safe taking risks, receive support when events intrude on learning, and believe they can succeed if they put forth effort.
And instructors foster approachable and supportive social interactions with students and among students so that learning is a collaborative and not competitive endeavor. With respect to the physical environment, instructors reduce and remove disruptions and barriers to learning so that all students can equally access course material. In reality, conducive learning environments do not just happen, they are the result of effective classroom management that establish and maintain work systems for pupils to engage in their learning. A conducive learning environment is one that is task-oriented and predictable, where pupils know what is expected of them and how to succeed (Sanford, Emmer, & Clements, 1983).
Pupils in these classrooms are consistently engaged in the learning tasks that their teachers have set for them and very few pupil behaviours interfere with those tasks (Emmer & Evertson, 1981; Doyle, 1990; Munn, Johnstone, & Chalmers, 1990). Research studies have shown a positive correlation between engaged time, appropriate academic activities, and high academic achievement, and the need to structure classrooms to promote ontask behaviours (Brophy, 1979; Good, 1982; Brophy & Good, 1986). Therefore, a conducive learning environment is a necessary condition for the effective integration of ICT to engage pupils in higher order thinking. (http://www.marin.edu/WORD-PPT/StudentAchievement.pdf)
Related Topics