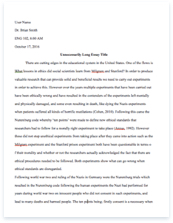 The whole doc is available only for registered users
A limited time offer! Get a custom sample essay written according to your requirements urgent 3h delivery guaranteed
Order Now
Autonomy allows everyone to have individual freedom; autonomy allows people to be as creative as they can to get something done. When people are given autonomy they are given independence, this is telling that person that they have been given full control to do whatever they want to make an important decision. I do believe though that too much autonomy can be bad and that you do not need full autonomy to make decisions and be happy. If someone is given too much autonomy then they can let the power go to their head and make stupid decisions, whereas someone with little autonomy may not have to make such a tough decision. Autonomy is great responsibility that should not be thrown around to just anyone or given out at full control.
People should be given out close to full autonomy, but there should be guidelines that they must follow. Equality 7-2521 expresses to us that when he works alone he can think more clearly and be more creative. Equality 7-2521 is able to build a light bulb by him self because his thoughts are flowing freely and he doesn't have to worry about others' decisions or thoughts. Clearly when Equality 7-2521 has autonomy he works better, as I believe more people would be successful when given autonomy.
Additionally, I also believe that people don't have to have full autonomy to make choices that will help make their lives better. Sita remarks that you don't need full independence to be happy. Sita is not allowed to go out and search or date to find her husband, this choice is given to the parents. Sita is without autonomy here but agrees that her parents should be making this important decision, for they have more experience then she does in marriage. In conclusion you do not always need autonomy to make the right decision or be happy.
Everyone deserves to make their own decisions, for it's their life and they should be responsible enough to make the right decisions for themselves. Albert shows us that only he knows what he is going through, so that he should be able to make his own decisions. Albert is given the autonomy to commit suicide or to live through this pain he has for as long as he has to live. It should be this way, why should someone else be able to decide what Albert has to live through. Some people might say this is totally right, but others would argue that he should not be given this amount of autonomy.
Dan Pink exclaims that people should not be given autonomy. Pink argues that the decision that an individual may make can be selfish and inconsiderate. He believes that people shouldn't be given so much freedom to make their own decisions on what they want. All of this evidence shows us that full autonomy forces an individual to make a tough decision and it may not be fair but it's their choice to make.
People deserve the autonomy to make their own decisions, but it some cases they just may not need the autonomy. People should be given the autonomy they need to get what they need done, to make a choice that can set them happy or that earns them success. Autonomy is a big discussion because no one really knows the answer to how much autonomy people should be given, everyone has their own opinion and belief. However I believe that people should be given enough autonomy to allow themselves to be happy and content with their decisions.
Related Topics