All for One or One for One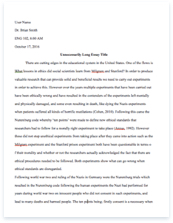 The whole doc is available only for registered users
A limited time offer! Get a custom sample essay written according to your requirements urgent 3h delivery guaranteed
Order Now
It is hard to imagine a society in which everything is done for the common good. It seems odd to picture a world in which everything one does is happening for the betterment of the society. This clashes with how America functions today; Americans work and live for the betterment of themselves, not for society. However, in Plato's The Republic and Thomas More's Utopia there is a common problem: education is not taught to better the individuals but to better society. Plato offers a more compelling solution to this problem through his wanting of individuals to obtain justice by attaining his or her highest potential.
In Plato's ideal city, the educational system is tied greatly to his myth of metals. Those created with gold receive the most education, thus explaining why they are most qualified and best suited for their role as guardian. Next in line are the warriors, who receive physical and military education. Lastly, the producers end their education before all else. Additionally, the subject matter is strict when it comes to arts and literature. Only moral literature is taught because dramatic or emotional content could lead to confusion; thus, causing the citizens to not be the most efficient in their roles.
In More's Utopia, education is equal and stringent for all. Unlike Plato, literature is not exclusive to morals but includes civic and virtue ethics. This in turn, teaches the citizens to hold virtue high and exemplify the right thing. Therefore, this leads to citizens having the mindset that everything is and must be done for the greater good of the society.
With that in mind, it is evident that both Plato and More strive for all citizens to work and live for the greater good of the society. Plato's emphasis on specialization of education is for the betterment of the society, whereas More deems equal education for all. Although Plato's and More's education standards have the same goal, Plato seems to hope for individual justice in order to obtain one's highest ability. Such differences are caused by the different purposes of which the work was written. Plato's purpose was to explain his idea that for one to attain happiness he or she must be just. On the contrary, More's purpose was to create a perfect society.
I believe that Plato's educational system is more compelling and logical. Although equal education is fair, not all have the same will to learn. This is especially true in regards to the subject matter. In More's utopia all individuals are homogenous; this is so hard to fathom because that would never be the case. Thus, it is easier to believe Plato's myth of metals and in turn how the education is affected.
Nevertheless, Plato's educational system is different from what is implemented in America. All Americans have the option to further their education no matter their age, social status, or career. But a correlation can be drawn between producers and those who choose to not attend college; both are not receiving the maximal amount of education. However, producers do not have the choice of furthering their education, while those choosing not to go on after high school do.
The educational system implemented in More's Utopia more closely models the system in America. Both begin the children in the education process at a young age and are quite strict and rigorous. However, education in America encompasses more than just virtue and civic ethics; it pushes to teach the ideas of individuality. Even though working for the common good is beneficial to society, individuality is what makes us unique and human.
Having said that, implementing an educational system that focuses on the betterment of the society could help Americans become more whole as a society. Currently, it feels as if the rich get richer, the poor stay poor, and those trying to gain wealth have to go in debt to do so. Therefore, if America changed to an educational system that focused on the greater good of the society, I think the population would become more homogenous.
However, I know that implementing an educational system that focuses on training and teaching, for the sole purpose of bettering society, would never work. Although it can be argued that the many persons attending post-secondary education are benefiting society due to it creating a more intelligent and advancing society, those same persons did not choose to continue their education just to help society; they did it for themselves. The younger generation is realizing that one has to live to work in order be able to pay the bills. Today, most employers want employees to have a degree and be the most qualified individuals in order to help their company succeed, so in turn they have succeeded. Therefore, implementing such a system for the greater good of the society would not stand due to individual desires.
Related Topics