ADHD: The Profound Impact on the Family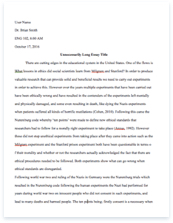 The whole doc is available only for registered users
A limited time offer! Get a custom sample essay written according to your requirements urgent 3h delivery guaranteed
Order Now
Imagine growing up isolated, with low self-esteem, poor academic achievement, forgetting where things are, and having trouble managing time or making friends. These are just a few of the symptoms a young adult suffers from when diagnosed with Attention Deficit Hyperactivity Disorder, better know as ADHD. Now imagine that your family is frustrated, feeling overwhelmed, and constantly fearful of what might happen next. These are just a few of the effects ADHD has upon the entire family. ADHD affects the normalcy of family life by interrupting family time together, increasing the stress levels of both the parents and siblings, while also causing financial and social difficulties for the family.
It was just decades ago hyperactivity, inattention, vocal outbursts, and impulsivity were looked upon as "normal" behavior for a school-aged child. In fact, many doctors failed to distinguish any of these behaviors, especially hyperactivity, as symptoms of a mental disorder until formally recognized by the American Psychiatric Association (APA) in the late 1960s. (Holland & Higuera, 2017) So what is ADHD? Harpin (2018) defines ADHD as a "brain disorder marked by an ongoing pattern of inattention, hyperactivity, and impulsivity that interferes with functioning or development." According to the Centers for Disease Control and Prevention, in the year 2016, nearly 6.1 million children between the ages of 2 and 17 were estimated to have ADHD with boys more than twice as likely to be diagnosed as girls. (Holland & Higuera, 2017)
With no definitive test for ADHD, the Diagnostic and Statistical Manual of Mental Disorders (DSM) list nine symptoms of hyperactivity, impulsivity, and inattention that professionals can use to assist in determining if a child, or adult, have ADHD. (McCarthy & Engler, 1998) The person being assessed has to show six out of nine symptoms that impair them in more than one setting (home, work, or school). Afterward, there is a clinical interview and other tests to rule out other learning disorders, autism, anxiety, or mood disorders. Once diagnosed, the treatment can include group therapy, medications, or other non-medication options, to name a few. (McCarthy & Engler, 1998)
So what happens after your child is diagnosed with ADHD? For many families, there is a sense of relief that they now have a name for the disorder that their child is suffering from and that there are options for treatment. Families like the Watson's, however, see drastic changes in their lifestyle and in their family dynamics hoping that they are providing the proper support and supervision their child needs. This means "making lifestyle changes to improve our overall function as a family," says Mrs. Watson.
"We've changed our diet, because we can't have preservatives or harmful dyes, and we've changed our routines, like going to bed at the same time every night," added Mrs. Watson. This may seem simple enough, but when you have more than one child in the family then it becomes more challenging. The Watson's have two boys, one diagnosed with ADHD and one who is not. This can make family time together more like a group therapy session. "When we spend quality time together, we make sure we listen to all family concerns about dealing with ADHD and rely on patience to help us manage both of our children and it can be an emotional roller coaster sometimes," says Mrs. Watson. ADHD affects the whole of a child's life and causes turmoil for the family. Family relationships become strained and family decisions always involve dealing with the symptoms of ADHD. (Harpin, 2018)
So how does ADHD affect the other children in the household? ADHD can cause a great amount of stress for siblings. Siblings can be burdened with monitoring their brother or sister with ADHD, helping them remember school work, where they put things, and give reminders about things their parents have asked them to do. "We ask Jack to help his older brother, Matthew, remember to take his homework with him to school, to drink water, or even to get his jacket if it's cold or raining outside," says Mrs. Watson. This can cause some frustrations, because in some cases the child with ADHD takes up all the parent's time leaving little for the other children.
This can also lead to resentment, sadness, stress, and anxiety disorders in the undiagnosed children. The siblings can feel victimized or eventually become caretakers for their sibling with ADHD. (Harpin, 2018) Reducing the stress for their children is why parents need to form an alliance and make sure they are giving as much time to each of their children to ensure a strong family bond and reduce resentment, something that can be challenging for a single parent home.
So how do the parents cope with ADHD? Parents must accept that children with ADHD have different brain anatomy and wiring; therefore, the parents have to augment their behavior in order manage the behavior of their child. (Porter & Krans, 2017) To help their children, "parents must create a structured environment, breaking tasks into manageable parts, simplify their child's life as much as possible, limit distractions, encourage thinking out loud, and regulate their child's sleep patterns," to name a few. (Porter & Krans, 2017) Not too much to ask of the parents, right? Due to the stress put on the parents to maintain such a structured routine, many families see one or both parents turn to substance abuse, especially alcohol, to manage the increased stress.
This coping mechanism reduces parenting efficacy and can lead to depression in one or both parents, usually affecting the mother more often than the father. (Harpin, 2018) To help cope with the added stresses caused by ADHD, parents can turn to other parents dealing with the same issues or join group therapy to help work on frustrations and other troubles created by raising a child with ADHD. "We work with our family physician and have joined a group with other parents of children with ADHD," said Mrs. Watson.
"It has helped a great deal to vocalize some of our frustrations and it gives us a place to ask for help," added Mr. Watson. Parents of children with ADHD give up most, if not all, of their free time to supervise their child and work with them on daily routines to help them cope with the symptoms of ADHD. (Harpin, 2018) "Our daily routines revolve around Matthew and supporting his needs and helping him achieve the goals he sets for himself. We take it one day at a time," said Mr. Watson. In the end, parents have to show patience, support, and understanding.
What are the financial and social impacts of ADHD on the family? The financial and social impacts of ADHD can have a lifelong affect on the family. Increased healthcare costs due to medication expenses, loss of income from unemployment, especially for adults with ADHD, increased incidents of accidents, and the risk of substance abuse can be a huge burden on the family. These costs can be compounded if the child is diagnosed with other disorders such as major depression, anxiety, and phobias. (ADHD Institute, 2018) "We budget in every aspect of our lives to ensure Matthew has the medications and therapy needed to treat his ADHD. We also know that we may have to put money aside to help Matthew in the future too.
This makes all financial decisions a big deal to our family," relays Mrs. Watson. As for the social difficulties of ADHD, families find themselves turning down invitations to events or outings with families that do not have children with ADHD. This isolates the family, as well as, the child with ADHD. "We never know when Matthew will have a violent outburst and this cautions us when planning activities outside of the home, especially those with other families. Sometimes it is just easier to stay at home, but we know we have to expose Matthew to outside influences to help with his development," confessed Mrs. Watson.
Families dealing with a child with ADHD typically become spurn by those who do not understand the disorder having misplaced fear that the child with ADHD will hurt their own children. What also adds to the social difficulties for the family is that a child with ADHD has trouble making friends, they struggle with conversation, and they tend to overreact in social situations. (Morin, 2014) Due to both financial burdens and social difficulties, many families choose isolation over confronting the unknown in public. They also realize that they may be financially obligated to care for their child for the rest of their lives depending on the severity of their child's condition and whether they have more than one disorder.
What we know is that a diagnosis of ADHD is just the beginning. Families are strained beyond normal boundaries as they attempt to create the structured environment needed to help their child with ADHD develop, as well as, having to deal with the added financial burden of medications and therapy, and the isolationism that social difficulties cause in everyday life. Many families soon become overwhelmed with the added stress that comes with raising a child with ADHD, especially if they also have children without the disorder. ADHD is a mental disorder that affects the entire family, causing increased levels of stress, added financial and social difficulties, all the while, holding the family hostage when trying to deal with the unknown and trying to do what is best for their child.
Related Topics