Why One Peaceful Woman Carries a Pistol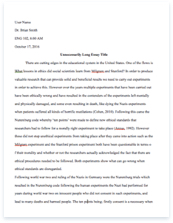 The whole doc is available only for registered users
A limited time offer! Get a custom sample essay written according to your requirements urgent 3h delivery guaranteed
Order Now
Linda M. Hasselstrom made a very convincing argument in her essay, "Why One Peaceful Woman Carries a Pistol". She says that criminal activity has become a growing concern for most people. According to the Department of Justice, several hundreds of people will be robbed, assaulted, kidnapped or murdered this year alone. While handgun possession is a highly controversial issue in today's society, it should not be quickly dismissed as a means to self-defense. Because of the vulnerability of women, I strongly agree with Ms. Hasselstrom's decision to carry a pistol for self-protection.
Ms. Hasselstrom's free-lance writing career required her to frequently travel alone. She practiced taking safe precautions such as avoiding bars, approaching her car like an Indian scout, and by locking doors and windows. However, Hasselstrom's life style choices increased her risk for being a victim to crimes of assault, rape, robbery, and murder.
During a ten-year period, Hasselstrom experienced several "close call" perpetrator attacks that prompted her to examine various methods of self-defense. Hasselstrom even entertained the idea of a CB radio purchase which would enable her to call for help. However, she quickly eliminated that option because of an incident that happened on the same road she frequently traveled, in which a woman was raped and beaten. (758)
Hasselstom's first line of positive defense was enrollment in a kung fu class. While she did learn to assess danger and techniques for avoiding it without combat, she still felt vulnerable. Hasselstrom wanted a more aggressive approach to self-defense. She did not feel the above mentioned methods of self-defense were sufficient. Ms. Hasselstrom explored various self-defense options before she reluctantly made a decision to carry a pistol.
The threat of violence surrounds women everyday. Violence permeates our society in the home, at work, and on the highways. However, we can help protect ourselves by watching for signs of danger and acting accordingly. Although many young women were murdered by serial killer Ted Bundy; luckily, several women escaped when warning bells sounded in their heads. Dangerous criminals usually go for easy targets. (Goldenstern) Being alert, aware, and prepared are things that you can do to reduce your profile to a potential attacker, thus, lessening the chance of being victimized.
Women should actively educate themselves about their own security needs in various target environments. One way to lessen the chances of becoming a victim is to learn how to make yourself less vulnerable. You must first and foremost be able to recognize and prepare for real threats that ordinary citizens face in today's world. Whether you're making an ATM withdrawal, driving through a strange city, or leaving your home for a week long vacation, the threat of danger – unlikely as you hope – is absolutely real. Situational awareness, risk analysis, and exercising sound judgment will minimize your risk to danger. (Clifford) Knowledge will empower you, to a degree, to face these threats and overcome them. Criminals are like predatory animals, attacking the weak-looking animals that are not paying attention. Learning to spot danger signals may save your life. (Lock)
According to the U.S. Department of Justice, homicide is now the third highest cause of death in the United States. There are 50 million convicted offenders of rape, sexual assault, and other violent offenses under the care or control of correctional authorities. Legal and mental health experts analyze controversial legal strategies regarding the use of firearms in protecting society from dangerous criminals. The increasing number of sex crimes, especially those committed by released sex offenders against young victims, has struck a public nerve. Understandably, citizens have become angry, vengeful, and fearful. Hasselstrom wittily expressed her stance to protect oneself when she revised the Colt slogan, "God made men and women, but Sam Colt made them equal." (761)
The Bureau of Justice Statistics reports there are approximately forty-two percent of households that have guns. Gun ownership is highest among middle-aged, college- educated people of rural small-town America. Sixty percent of gun acquisitions were obtained from federally licensed dealers. White people were substantially more likely to legally own guns than black people, and blacks more likely than Hispanics. Overall, forty-six percent of all gun owners possessed firearms (usually handguns) primarily for protection against crime. Fourteen million adults, at least once during the previous twelve months, carried a firearm in their vehicles or on their person for protection. Female gun owners accounted for sixty percent of firearms compared to forty percent of male gun owners. It was reported by the National Crime Victimization Organization that there were 2.5 million defensive gun uses in 1998. During that 12- month period, millions of attempted assaults, thefts, and break-ins were foiled by armed citizens. According to these results, guns are used far more often to defend against crime than to perpetrate crime. The reported 2.5 million estimated figure is frequently referenced in newspaper articles, editorials, and even Congressional Research Service briefs for public policymakers.
Why some people choose to protect themselves with a firearm is wisely summarized by Linda Hasselstom's statement that follows:
"A pistol is not the only way to avoid being raped or murdered in today's world, but, intelligently wielded, it can shift the balance of power and provide a measure of safety." However, Hasselstrom points out that a pistol has to be available and within instant reach to be a useful means of self-defense. "Just carrying a pistol is no protection." (760)
Alternatively, people who choose not to bear arms should educate themselves in reacting to a hostile situation.
In closing, each individual should take responsibility in assessing his/her risk for potential violence. Although the way one chooses self-defense is a personal decision, it should be thoroughly researched, analyzed, and risk assessed before a decision is determined.
Works Cited
Clifford, Mary. Identifying and Exploring Security Essentials, Prentice Hall, September 2003.
Goldenstern, Joyce. American Women Against Violence, Enslow Publishers, Incorporated, January 1998.
Hasselstrom, Linda. Why One Peaceful Woman Carries a Pistol, Fulcrum Publishing, Inc. 1991
Lock, Joan. Protecting Yourself Against Criminals, Mason Crest Publishers, October 2002
National Institute of Justice, Guns in America: Private Ownership and Use of Firearms, May 1999.
Related Topics