Unacceptable Ways To Achieve Academic Goals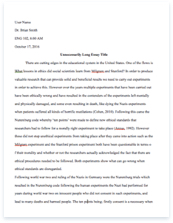 The whole doc is available only for registered users
A limited time offer! Get a custom sample essay written according to your requirements urgent 3h delivery guaranteed
Order Now
With the easy access of cell phones and the internet, cheating has become very common in our classrooms today. With the answers at the tip of our fingers, it is more likely that students do not pay attention in class and miss out on the full classroom experience. Now a days, Technology is playing a negative role of helping cheating students as it is easy and accessible. Bluetooth, Pictures and lecture slides became a suitable source to nail an exam by using a phone. Relying on technology devices can get somebody not to properly ready for the expected assessment. Another way students may cheat is by taking classes with fellow classmates in order to share notes and copy off of each other's assignments. `Unfortunately, the repercussions of cheating will result into failing and most likely getting suspended from school.
The cause of cheating may come from pressure and stress, or it may simply come from lack of preparation, mostly known as procrastination. Growing up everyone tells you to do good in school. Education is one of the top priorities kids are supposed to focus on. Parents are always encouraging you do make better grades, and students compete to have the top scores in school. For example, according to my experience, I downloaded a lecture slides to my phone and ace the final exam when I was in foreign university. Even financial assistance from the government or the university requires a high-ranking score prior to pursue with affordable tuition. Colleges don't even consider you unless you have a decent academic record. With the increasing need for highly skilled labor in the country, an excellent educational background is a requirement. Feeling the need to succeed, students do whatever it takes to make sure they get high scores on tests and assignments, even if it means copying answers or looking over another person's shoulder.
Depending on plagiarism or other sources of information causes a one not to take a time to prepare for certain assessment. The academic institutions being lenient on cheating students are the main reason for the high growing numbers of students. Heavy workload and balancing between work schedules becomes tough that students unwillingly decide to cheat. For example, I once was between an excess hours of work schedule and enrolled as a full-time student and ended up being attached with the habit of referring internet based same projects as I assigned to do. When becoming more independent students tend to procrastinate. They hold off their studies because they simply just don't have the motivation to begin their tasks or they would rather hang out with their friends. A huge reason why students procrastinate is because of the deadlines enforced by teachers. If they know the assignment isn't due till another two weeks the student would most likely wait till the night before.
When students decide to procrastinate they are certain that other classmates would have the assignment done before the expected time. After the emergence of the internet students tempted to highly depend on exploring the web are the main reason that hold their back not to properly study. Justification or the reason why other students cheat makes the rest question why we cannot cheat. There are many consequences when cheating. Failing and suspension are just a couple of the repercussion that students will face if deciding to cheat. Students don't realize what could happen; they are just in the moment, and are determined to complete their task. Once the student succeeds they will repeat this cycle and this could lead to the work environment. If students aren't stressed, or if they don't procrastinate cheating wouldn't be a factor in the academic setting.
To avoid cheating students should work through their problem and choose a better option. In conclusion, cheating is an act of fraud that student often commit. If continuing to cheat students will lose the creativity and the lack of knowledge. The students of today are the future of tomorrow. Students should believe in themselves, it will teach them how to learn and pursue the skills they have. Everyone in the world is trying to achieve their goal, and by taking shortcuts it wouldn't give them the satisfaction because they didn't do the work. I strongly inquire the best school system design helps minimize all the negative attempts by students and make them grow independently.
Related Topics