"Twelfth Night" by William Shakespear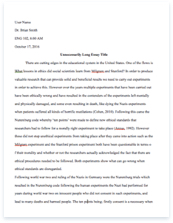 The whole doc is available only for registered users
Pages: 3
Word count: 675
Category: Play
A limited time offer! Get a custom sample essay written according to your requirements urgent 3h delivery guaranteed
Order Now
Shakespeare's play, Twelfth Night effectively uses the issues of disguise and deception particularly through the character of Viola. The play is more or less based around this character and although many of the other characters also use disguise and/or deception, it is not to the same extent. However when Viola says "I'm not what I play" Act1 Sc5. this also true of the other characters in the play. The issue of disguise and deception causes some tension in the audience and even between the characters themselves. For example when disguises seem to slip, Shakespeare cleverly gets a gasping reaction from the audience. Also Viola's use of disguise and deception sets up a sort o chain or connection with the other characters and when her true identity is revealed so the other character' part in disguise and deception is also revealed. At the end there is a great exposure.
Shakespeare uses the technique of the main plot about Viola search of he brother and several sub plot involving other minor characters which makes the play very clever and has the effect of a modern day soap programme. In Act 1 Sc2 she first uses a disguise and becomes a boy named Cesario. She does this in order to become a eunuch in the court of the Orsino, ruler of this unknown land for the purpose of finding her brother.
"Present me a eunuch to hium" Act1 Sc2, she says to the captain of the ship. She chooses this particular disguise because it is the most realistic male person she could she could be, as eunuchs have high voices and are young castrated who guard the harem or are singers. Shakespeare sometimes seems to let the disguise slip, for example when Orsino says to Viola "Diana's lips are not more smooth and rubious. small pipe is as the maiden's organ" Act1 Sc4. Orsino seems to see beneath the disguise causing tension for Viola and the audience. Her new sex and name land her in tricky situations and she has to make herself known without losing the disguise. For example when Olivia starts to fall in love with Cesario, Viola recognises this and uses the defence that she will be betraying her master Orsino who loves Olivia. Viola is in love with Orsino herself and acts as a go between for him and Olivia.
Olivia who is an extremely vain character uses mainly deception and the disguise of a veil is the way she achieves deception. She wears it to fend off men and to hide her beauty from all men unless they are worthy. The veil is used for deceptive purposes because she says is in mourning for seven years, however she uses it for other benefits for example warding off Orsino's advances and trying to attract Cesario.
Another character is Marvolio who uses unplanned disguise and deception due to Maria's letter that convinces him that Olivia wants him to change. First the letter states that Olivia loves him and this backed by past events speaking with Maria. Secondly Mavolio acts on the information in the letter and wears yellow cross-gartered stockings to please Olivia and thirdly prompts him to change his stern, humourless personality into a flirtatious and a continually smiling character.
Maria does not just deceive Marvolio but the audience as well because her love for Sir Toby is hidden and it is unexpected when they marry in the end. Throughout the play she plays hard to get with Sir Toby and keeps him at a distance when he flirts with her. They seem not to be in love.
Finally Sir Toby, together with Sir Andrew, Fabian and Maria plays a part in the incidence of the letter and also deceives Sir Andrew. He tricks him and provokes him to draw his sword on Cesario. Sir Andrew is fooled by Sir Toby's flattering and regards him as a friend.
In conclusion Twelfth night Shakespeare portrays many variation on disguise and deception in relationships with hilarious results.
Related Topics