The Problem Of Illegal Immigration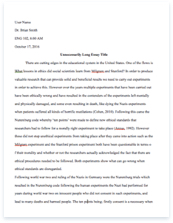 The whole doc is available only for registered users
A limited time offer! Get a custom sample essay written according to your requirements urgent 3h delivery guaranteed
Order Now
Is not an issue that is new, however it is one that is becoming more and more of a problem each day. The more people that we have fleeing into the United States, the more barbaric the system is becoming in regards to dealing with these immigrants. The immigration policy currently in place for how to handle such immigrants and their families is unintendedly inhumane. When a visitor overstays their visa, or someone enters the country without following the proper channels being subject to deportation, detention, and/or imprisonment is a fair consequence. However the issue that is causing the immigration laws to be challenged as inhumane, is when the parents are found to be illegal immigrants but their children were born in the United States. Why should the children be separated from their parents and placed in detention centers or camps when they did nothing wrong? Doesn't making it a point to separate young children from their parents and siblings for extended periods seem cruel?
The answer depends on who you ask. If you were to go ask a government official they would simply reply that it is necessary to separate while the parent's case is pending, but if you were to ask a commoner like my myself one would say that since the circumstances are so demanding and children are being separated for months on end parents should be able to at least stay and wait with their children. Immigrants make up a large part of the United States economy, but no one leaves their home without a reason. Most of the immigrants who came illegally either did not have the time to go through proper channels in fear of their lives, or they were not properly guided. There are people who didn't even know that they could be considered for asylum, they just assumed that the only way was the illegal way. Immigrants don't migrate and settle to a new location for the same reasons that they did a hundred years ago. They aren't coming to spread the word of God, or to find a new continent. These people genuinely are in fear for their lives, whether that is because of violence back home, or they want to give their children a easier better life.
Even after entering illegally, these people live with constant fear of being found and sent back to their personal hell. A broken system makes an immigrant illegal. Our current immigration system is under scrutiny because of how these families are being dealt with. There should be an easier simpler process for being able to enter the United States. If an individual sees that there is an easier way, why would they risk their lives and families to continue doing it illegally. If even after making the process of immigrating to United States easier there is still an out pour of illegal immigration then by all means deport them back, but they should at least be given a chance to plead their case while being able to stay with their families. If instead of throwing all the immigrant children into what can be considered large locked cages, there was an area where all the families could stay together while awaiting a decision for their case. Or if they were deported together, and could plead from back home, this would not separation of the families.
The long term benefits of changing the system just a little bit can be of great use to the United States, they would not lose all the manpower and labor immigrants provide, there would be more revenue put into the economy. Some people argue that immigrants steal jobs, but honestly if you have ever applied for a job the person who gets the job is almost always most qualified in some way. They don't steal the jobs, every workplace has requirements for a job position, and if they meet the requirements they are just as eligible as an American. There are also short term benefits of improving and altering our current system to make it easier to become legal, the biggest being that most illegal immigrant just migrated illegally but have been gainfully employed and have not committed any small or big crimes since entering. These people contribute largely to our economy, and bring in revenue to us. If they have a better life, and we have more money in our system is that really such a bad thing?
Related Topics