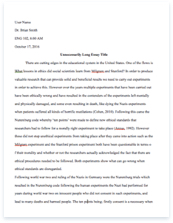 The whole doc is available only for registered users
Pages: 5
Word count: 1145
Category: History
A limited time offer! Get a custom sample essay written according to your requirements urgent 3h delivery guaranteed
Order Now
The early to mid-nineteenth century was a period of gradual change with a subtle, yet new gender division spearheaded by the middle classes. The status quo commanded that men be relegated to "politics, business and the market" while norms dictated that women be relegated to the "private sphere of domestic duties and child rearing." (Foner, 64)    Subtle and gradual changes during this period effected the development of the new and improved elite and middleclass woman.  Although  largely characterized as endowed with "moral superiority" but confined to the role of "wives, mothers and domestic guardians" there was a gradual resistance of this image. (Foner, 64)   Industrialization, however, had entirely different consequences for the poorer women who traditionally worked on farms and were increasingly going off to work in factories. (Foner, 64-65)  In this regard there was a shift in dependence for the poorer woman.
Corresponding with these technological changes was religious revival which touted the equality of all human beings. (Foner, 73)  Many of the religious recruits were women, particularly the wives and daughters of businessmen. (Foner, 73) This contributed to the creation and development of the New Woman and a shift in what it meant to be a man. The response, was to put women in their place and redefine maleness in the context of patriarchal dominance. Historians by and large agree that what it meant to be man took a dramatic turn during the 19th century.
  Ultimately man went from being entirely spiritual, domesticated and intellectual manliness to subscribing to the idea that masculinity was akin to secular, imperial and bodily manliness.  What developed was a connection between the common good and masculinity so that men in general were inclined to respond to the religious forces that threatened the norm.  The religious revival would undermine the primacy of the elite man in the home and there would be a heightened effort to reinforce male dominance and the subservient role of women in the home.
The religious revival however would also spark competition among men as a new "breed" of politicians emerged from among the poorer classes.(Foner, 75) These new politicians would advocate for greater equality and freer expression giving voice to suffrage movements and anti-slavery proponents. (Foner, 75)  State legislators responded by implementing a process that reflected "democratization" which favored male dominance and discriminated against women and blacks. (Foner, 75)  Even so, grassroots continued to put pressure on the government for democratic reformation.
This shift in masculine and feminine values is adequately reflected in The Kingdom of Matthias: A Story of Sex and Salvation in Nineteenth-Century America by Paul Johnson and Sean Wilentz. The main character, cult leader Robert Matthews who later changes his name to Matthias envisioned a world where:
 "…there would be no market, no money, no buying or selling, no wage system with its insidious domination of one father over another, no economic oppression of any kind." (Johnson and Wilentz, 96)
Matthew's world would be devoid of luxuries and would instead be confined to simple living and more importantly, all feminine things like pies and puddings would be forbidden.  While women would not be banished "everything that has the smell of women will be destroyed". (Johnson and Wilentz, 93)  Moreover, "all real men will be saved; all mock men will be damned." (Johnson and Wilentz, 93)
            To Matthews/Matthias, mock men were those who supported the suffrage movement and basically gave credence to the movement that "undermined the patriarchal authority in families." (Gedge, 106)  Mock men were therefore wicked and damned to the same extent as women who refused to stay at home and lectured their husbands. (Gedge 106)  The subservience of women was obviously emphasized during the 19th century and there was a general recognition that women were increasingly shunning this ascribed role under the influence of the religious movement.  As Matthews/Matthias notes:
"All women, not obedient, had better become so as soon as possible, and let the wicket spirit depart, and become vessels of truth." (Johnson and Wilentz, 93)
            Truth was found in male dominance and as far as Matthias/Matthews was concerned, religion was decimating the truth by encouraging and supporting feminism and as such engaged in "preaching and teaching that destroyed Truth." (Johnson and Wilentz, 95)  Even so, the vulnerability of maleness and masculinity is exposed in Johnson and Wilentz' work and reflects perhaps an ongoing difficulty for gender barriers and relationships.  Man in all his desire to be dominant during the 19th century was continually vulnerable to competition among each other and the sexual allure of the female.
            The ongoing emphasis was on the role of the woman in the home.    The house was generally believed to be the family center for the teaching and fostering of societal morals and values.  It was a place for religious, education and moral observations.  However, when industrialization brought with it factories that kept men away from the home for longer stretches of times, the home became more and more important as a refuge for the tired and overworked man.
            Frustrations built up among the male hierarchy as more and more women began to branch out as a result of the opportunities for work outside the home. These frustrations were borne out of an innate fear that the family home as the moral and domestic center would become compromised.  The natural result was a reinforcement of patriarchal values.  This reinforcement was emphasized in the prophecies of Matthias/Mathews as follows:
"Boys would work with their fathers, then join their sisters at night to learn Truth at the father's feet.  Wives would cheerfully assist the patriarchs, bearing their children, preparing their food, keeping their houses spotlessly clean, and obeying husbands who were their only source of knowledge and material support." (Johnson and Wilentz, 97)
            In reality, during the 19th century with religious revival, more and more women began to become more aware of their subjugation and their ascribed roles in the home as mother and wife.  Education and awareness made them increasingly resistant to nurturing men and children and accepting their role as sexual instruments of men.  Men, on the other hand, had become divided on the issue. Some supported the equality agenda, while others became more resistant to breaking down gender barriers, yet none could deny the sexual allure of women.  In many ways the shift in norms left men vulnerable to their own sexual weaknesses and the competition between men.  These conflicts only contributed to a gradual acceptance of the role changes that would inevitably follow.
Works Cited
Foner, Eric. New American History. Temple University Press, 1997.
Johnson, P. and Wilentz, S. The Kingdom of Matthias: A Story and Sex and Salvation in 19th Century America. Oxford University Press, 1995.
Related Topics