The Impact Of War On Individuals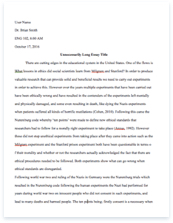 The whole doc is available only for registered users
A limited time offer! Get a custom sample essay written according to your requirements urgent 3h delivery guaranteed
Order Now
In both the following novels, All the Lights We Cannot See by Anthony Doerr, and The Things They Carried by Tim O'Brien, imagery and tone is used to help reveal the stories that help portray how war took over numerous individuals' lives regardless of whether they were fighting in the war. In the novel, All the Lights We Cannot See by Anthony Doerr, we are introduced to the stories of two individuals Marie and Werner. Werner was an orphanage adolescent boy who although was anticipated to have a dream to work in the coal mines at the early age of 15, dreamt of becoming an engineer. In the novel, it states "Werner's earliest years are the leanest. Men brawl over jobs at the city gates", this actively illustrates Werner as a young boy who considered poor and lived with very insufficient opportunity available for him. Werner had begun to develop a significant interest in assembling radios. His amazing talent was then acknowledged by a Hitler youth group and asked him to be a participant in helping create radios to help communication with the allies. But it was not long before Werner joined the Nazi party and changed for the worse.
He became involved with the torture that people began to experience, but despite changing for the worst, he began seeking redemption. In the novel, he is put in the difficult position to help a blind girl named Marie to avoid death. He kills his Sergeant Von Rumpel, who is seeking a diamond oxymoronically named the "Sea of Flames" from Marie, which is said numerous times to protect only the holder. Alternatively, the diamond serves as a symbol of beauty, coexisting in the world of war. Werner helps Marie-Laure, who is on the opposite side of the war, escape from the city to her freedom. In spite of the fact that Werner grew up in an orphanage and saw what struggles people had to go through. However, he joined the Nazi party. He began to involve himself with the torture of innocent people. Despite that, he later changed his ways to save someone in need. In the novel, the reader sees Werner not only change once but twice.
Though being a part of a war supportive town, Tim was more of a pacifist. When Tim O'Brien found out he was being drafted into the war, he attempted to flee to Canada. It was as if his worst nightmare came alive. Ironically his worst nightmare later became his whole life. Throughout the war, people's view began to change drastically. In the novel The Things They Carried by Tim O'Brien, he illustrates an image of a man he killed. He says, "His jaw in his mouth, his upper lip and teeth were gone". The quote helps portray how the war still has considerable effect him while writing a book on it twenty years later. The author emphasizes that he kept focusing all his attention on the body. The war later became his obsession. He then tells us that his daughter believes the war has become his new obsession. "As a writer, all you can do I pick a street and go for the ride, putting thing down as they come at you.
That is the real obsession. All those stories" . He constantly repeats the fact that he killed someone. As well as the new person he had become shocks him. This chapter helps express how one's life is capable of changing drastically over time during the war. He went from living in his nightmare due to being drafted but later finds the war is his new obsession. In one of the chapters from O'Brien's novel "Sweetheart of the Song Tra Bong", imagery is shown to convey how even though people, who were not involved in the battlefield, their lives were still affected by the war. Mary Anne is an American girl who gets involved with the Vietnamese culture just to find the bad side within her. She is portrayed as a flirt who wore a pink sweater. In her first few days in Vietnam, she began to let go of wearing makeup. She began to learn how to function a gun and would wander off while her boyfriend went looking for her, only to find her sneaking off with the Vietnamese. Her boyfriend told her to stop wandering off multiple times, he worried she was becoming too obsessed with the Vietnamese "culture." In this chapter, we can see how a girl who is portrayed as "beautiful and sleek" had later become obsessed with the concept of killing. "…And a necklace of human tongues .
She was dangerous. She was ready to kill". She changed not only physically, but as well as emotionally. Her appearance started off as beautiful and later became visually unpleasant. After he began to hang around the dead bodies of the Vietnamese. Her mind transformed into this dangerous presence during this dreadful war. In All the Lights We Cannot See, we see two people from completely opposite sides of the war come together as a form of peace. Werner was involved with a team that was named nothing but heartless, but when given an opportunity to save an individual, he took the shot. "He presses his back against the wall… the fog swallows her". In this scene, Doerr includes imagery and proper grammar to set the tone of awe to describe the scene of both characters. Werner gets to see Marie-Laure for the first time. Werner is finally seeing Marie-Laure for the first time. But also intrigued by how she was able to "connect" with the radio hidden in her home. Werner is the only one who can see their surroundings.
Both novels use imagery and tone to help explore stories that portray how war took over individuals' lives whether they were fighting in the war or not. While diving deeper into these novels, the tone from both the novels reveals the anxiety uncertainty people had faced during the time of war. We see that people who are living during the war can change mentally or physically. Etienne, Marie-Laure's Uncle, who became mentally ill after he fought in World War I. Etienne, suffers from delusions that can cause psychotic episodes. When Marie-Laure begins to understand her Uncle's troubles, the author writes, 'And yet she can tell he is visited by fears so immense, so multiple, that she can almost feel the terror pulsing inside him. As though some beast breathes all the time at the windowpanes of his mind". Doerr uses Etienne's fears to acknowledge the concept of fear and anxiety surrounding war. Similar to Etienne's fears, the story surrounds uncomfortable anxiety behind the war. In setting the tone for O'Brien's novel he begins what the other soldier physically carried with them such as weapons and personal items, then what they mentally carried in their heads.
The author writes, "They carried the sky. The whole atmosphere, they carried it, the humidity, the monsoons, the stink of fungus and decay, all of it, they carried gravity". This quote is dramatic and it sets the tone just by its references to darkness and weight. Metaphorically and in a literal sense, these soldiers carried the weight of the world on their shoulders along with their own lives. Both these intense reads have very interesting plots and themes. They both connect back to the fact that war sadly affects everyone and that's just how life is destined to be. Literary elements shown throughout the two novels proclaim how this theme is prevalent. Regardless of involvement, war will always impact those in the surrounding environment.
Works Cited
Doerr, Anthony. All the Light We Cannot See: A Novel. New York: Scribner, 2014.
O'Brien, Tim. The Things They Carried: A Work of Fiction. First Mariner Books edition. Houghton Mifflin Harcourt, 2009.
Related Topics