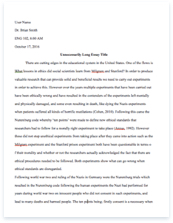 The whole doc is available only for registered users
A limited time offer! Get a custom sample essay written according to your requirements urgent 3h delivery guaranteed
Order Now
Starbucks were founded by three people In 1971 . ln 1982, Howard Schultz Joined starbucks. He was the director of retail operations and marketing. Howard also brought back coffee-bars from Milan, Italy. The first downtown Seattle coffeehouse that served the famous cafe latte, however introduced the chirstmas blend in 1985. By this time they expended through the United State and expended 17000 stores in 55 country. It is one of the third largest chain restaurant in the United States. They relocated starbucks in high-visibility and high-traffic areas. Starbuck was trying to get an frelndly Inviting coffee-bar enviroment .
This Is their important part of their experance and product. One of the places starbucks like to locate It store are In bookstores, offce buildings, and university campuses. You do not have to get their product by them. They sale some of their product at grocery stores or retail stores like Wal-Mart and Target. Some of the items you can find in other stores are Frappuccino coffee drinks, Starbucks Doubleshot espresso drinks, super-premium ice creams, and VIA coffees. Starbuck Is trying to get little single-cup Starbuck packages for hotel rooms by partnering with Courtesy Products.
Since starbucks are trying to et more of their products out in hotels, grocery stores, and retail stores. Consumers will be seeing more of starbucks product out in the market. "Its "clustering" strategy, placing a Starbucks literally on every corner in some cases, has forced many smaller coffee shops out of business" (Business Ethics, pg 320, par. 1). With this strategy, Starbucks became the "butt of Jokes" in 1990's and 2000's, which made people wonder why they needed a Starbucks directly across the street from each other and around every corner.
They closed hundreds of stores In the united States and started to focus more on the international markets. In 2008, Starbucks decided to reintroduce the Pike Place Blend. They hope that it would bring back the roots of expertly,distinctive blended coffee. They got the input of 1000 customers over 1500 hours in order to get the flavor perfect. "Starbucks held the largest nationwide coffee tasting in history (Business Ethics, pg 320, par. 2). Starbucks started a value meal, Breakfast Palrlng, which costed $3. 95.
In order to gain a foothold In Instant coffee market, they Introduced the VIA Instance coffee. Starbucks believe that the costumers experience in their stores needs to be consistent, so they egun to refocus on this belief. This is a key competitive advanages. Starbuck are switching over to a Clover Brand machine, this way it lets each costumers brew their own coffee. In 200, costumers got reloadable cards called the Starbucks Card. In the end of 2011, consumers was able to use their cards to get Starbucks products that you can purchase In grocery stores.
The mission statement that laid out the principles of the company was created by the senior executive team in the year 1990. They hoped that the mission statement would help their partners determine the makings of later decisions and actions. After the drafting, The team ask Starbucks partners to review and comment on the mission statement. "Based of their feedback, the final statement put "people first and profits last. "" There are three things that Starbucks had done to keep this statement alive. One thing that they have done was distributes the mission statement.
They also have comment cards for the new partners to give them feedback. The second thing that Starbucks have done was to relate decisions back to the principles that it supports. Lastly, Starbucks has formed a "Mission Review" system, this is so that the partners an comment on a decision or action that is related to the six principles. Starbucks has been ranked one of Fortune's "100 Best Companies to Work for," however they have slipped in recent years because of cutbacks and store closing. Starbucks have not cutback the employees health care cost.
Starbucks also actively partners with nonprofits around the globe" (Business Ethics, pg 321, par. 6). They increased their purchuses of Fair Trade Certified coffee from 19 million pounds to 39 million pounds in one year. They Joined with Bono's Product RED which is to help raise money for HIV and AIDS research. Another bid thing is Starbucks makes $14. 5 million in loans to poor farmers around the world, but plans to increase the number to $20 million by 2015. Long beofre it became trendy to be "Green" in 1992, Starbucks developed an environment mission statement.
With this, the Environmental Starbucks Coffee Company Affairs team was created. Starbucks set out to reduce waste through recycling and energy conservation. Howard Schultz considered the creation of the good work environment is a top priority. Being an employer that is great is a toll on the company. Starbucks spent more on health insurance then on raw material in 005. Starbucks has great reputation of social responsiblitiy and business ethics. They bulid positive relationships wwith small coffee suppliers, while working with the governments and nonprofits.
The company also are involved in social develioment programs. They invest in programs to bulid schools and health clinics. Starbucks was CARE's largest corporate donor in the year 1995. "Strengthing its brand and customers satisfaction is more important than ever as Starbucks seeks to regroup after the global economic crisis forced the company to rethink its strategy" (Business Ethics, pg. 323, par 6). They introducted new foods and drinks. They are trying to branch out into music, movies, and other merchanndise.
Starbucks have been achieving massive success in the last 40 year, they have realized to modify its brand to appeal to changing consumer taste. They sell more then Just coffee, they sell coffee assessories, teas, muffins, CD's, water, grab-and-go products, its new line of Starbuck Petites, and more. They are experimenting with new types of stores to appeal to the evening crowd, so this store serves regional wine, beer, and cheeses. They are partnering with Green Mountain Coffee Roasters to itroduce coffee and tea pots.
Related Topics