"The DaVinci Code" by Dan Brown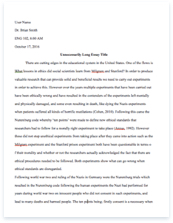 The whole doc is available only for registered users
A limited time offer! Get a custom sample essay written according to your requirements urgent 3h delivery guaranteed
Order Now
            Puzzles, codes, crypts, symbols…these never fail to make a good mysterious thriller. However, Ron Howard's 2006 movie depiction of Dan Brown's The DaVinci Code was less than entertaining and left expectant movie critics puzzled as to how it failed to keep everyone's adrenalin up.  It focused on too many "mysteries" to quickly decode and became very boring after more than thirty minutes.
            Whether Catholic or not, one would feel that the film was simply made to garner ticket sales. Destroying a very basic religious belief – whether it is Christian or Jewish or Muslim, to bring cash into one's pocket is a very low thing to do. Capitalizing on people's curiosity based on many concrete evidences is good but to twist the truth towards the questioning of one's faith is unfair.
The premise that the revelation of the true meaning of the Holy Grail would liberate women from oppression proved to be very funny. Women have plotted their own successes throughout history.  The insistence that Mary Magdalene's true character would reveal the importance of women in Christianity is insulting to those who are already portraying very important roles in the hierarchy. It makes no sense to use this plot to encourage feminism. The Blessed Virgin Mary is a complete and great symbol of feminism enough for Christians.  Women do not need to be portrayed as Mary Magdalene to know their importance in life.
The anxiety being depicted on film regarding feminism may have sprung from the fact that the role of nuns in the Catholic Church has dwindled over the years.  However, when asked about this situation, most sisters believe that "the majority of the women who left the congregation in the 1960's and 1970's decided in favor of something (for example, marriage), rather than against something (for example, ecclesiastical constraints)" (Andreassi, 2006, p. 21) which the movie seemed to imply.
If the story itself was ridiculous, the production made it worse.  Robert Landon (Tom Hanks) and Sophie Neveu (Audrey Tautou) bored the audience with their endless running scenes and code-deciphering. The first thirty minutes was exhilarating but having the pattern of pursuit and puzzle comprehension for more than six times throughout the movie made it dragging. It would have been more interesting to see it through a documentary. "Nothing savory is made of the locales and no interesting relationship develops between the protagonists" (Alleva, 2006, par. 6). The portrayal of Silas by Paul Bettany rescued the film from being totally boring.  A romantic relationship between Langdon and Neveu would have been devastating to the film but one cannot help but wish that a certain connection could have been established between them to become very good friends.  Langdon's character would have been given a boost if the actor were a little older and more commanding in presence to support the weakness of Neveu.
The Dan Brown's novel itself was not given due justice by the screenplay although it was advantageous to a certain extent because it "eliminates many of Brown's errors, large and small, about Church history, art history, geography, and other subjects" (Lacy, 2006, p. 83). The novel was written well because "every very short chapter ends posing a question you need to read further to uncover" (please provide the reference).  This made for great entertainment compared to the film version that lacked enough explanation to many basic premises save for those given by Professor Teabing (Ian McKellan) regarding the role of Mary Magdalene as the Holy Grail.
Although much of Brown's basic information can be attributed to myth, a better movie to have watched regarding the Holy Grail is the documentary film made by Michael Bott entitled, Origins of the Da Vinci Code (2005). This gave more in depth analysis to the art works and other mysterious but factual locations in history that could have shed more light to the premise of the Holy Grail being truly Mary Magdalene. Although filled with explanations and mind-wrecking information, it was not boring and it enriched one's faith instead of insulting it.
Ron Howard's film became a blockbuster because it had the gall to attack a religious belief but it was very miserable in delivering good information and heart pumping scenes which would have made it worthy of watching. It simply played on the fact that at present, many people would rather believe that "the ideal encounter between self and God is an individual and unmediated one" (Anon, 2005, p. 5) compared to what institutions like the Church encourage which is through community.  In the end, only one real question remains to be asked… "who would you believe?"
Works Cited
Andreassi, Anthony. The Unveiling. New York: Kenneth Briggs Doubleday, 2006.
Anon. "Judas, Da Vinci & Us." Commonweal 133:9 (2006): 5.
Alleva, Richard. "The Da Vinci Code." Commonweal 133:12 (2006): 18-19.
Lacy, Norris J. "The Da Vinci Code." Arthuriana (International Aruthirian Society) 16:4 Winter
(2006): 83-85.
Origins of the Da Vinci Code. Videocassette. Dir. Michael Bott, The Disinformation Company,
Ltd., 2005. 80 mins.
Related Topics