"The Color of Purple" by Alice Walker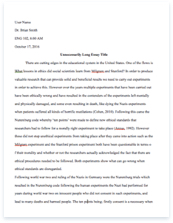 The whole doc is available only for registered users
A limited time offer! Get a custom sample essay written according to your requirements urgent 3h delivery guaranteed
Order Now
"The Color of Purple" by Alice Walker tells the story based on personal experiences and filled with ethnical and racial discrimination, slavery issues and women oppression and subordination. Alice Walker even received the Pulitzer for her story. Nevertheless, the story is considered rather controversial and many were even offended by it. However, it is agreed (Bloom, 45) that themes raised in the novel are very touching and painful for all times because women and racial discrimination still exist in contemporary society. Therefore, the paper aims at analyzing and interpreting complex relations of main heroines and outlines the role of Germaine in the lives of women. The paper discusses the initial relations and leads through complex transformations to show the costs of gaining freedom and self-confidence.
The author outlines that African American women are constantly subjected to double repression in the country's experience and history.  It means that black women were subjected to gender and racial discrimination. Therefore, Walker decides to show the life and struggle of two black women – Celie and Shrug – to show that they are abused by white society, but they are willing to gain respect and equality. The author seems to be very interested in African roots because during the 1960s African Americans were strongly interested in racial identity. Actually, Alice Walker wants to provide positive attitudes towards African Americans and, therefore, she makes her main heroine triumph over discrimination and oppressors.
The central theme of the novel is complex relations of two friends– Celie and Shrug. They are unrelated by blood, though they feel their destinies are interrelated. Their relations are gradually developing and changing; all their actions are interrelated and influence the lives of each other. Celie – the main character – is presented as an African American woman being uneducated and unintelligent. What is more awful is that she used to be abused by men. Therefore, she is not ambitious thinking that men take dominant positions in all spheres of life and they are to make all decisions. Celie is likely to lack courage and self-esteem. All she wants in her life is to survive and to remain in the shadow. Celie's friend – Shrug – is her opposite. Shrug is married, knows how to enjoy life. She is ambitious, courageous and happy. She tries to struggle for equal rights and to become independent she leaves her husband and gains desired freedom. (Selzer, 34)
Relations of Celie and Shrug aren't as simple as they may seem. They cut very deep. Celie and Shrug always help each other to achieve something and to become what they want to be. However, Shrug and Celie are oppressed: Celie is oppressed by lack of proper education and lowered self-esteem, whereas Shrug is oppressed by stereotypes. She feels she doesn't manage to succeed as people label her as black promiscuous woman. She wants to be loved and to love her family because she hadn't tender relations with her mother in childhood: "(Mama) never love to do nothing had to do with touching nobody, she says. I try to kiss her, she turn her mouth away. Say, Cut that out, Lillie". (Walker, 125-126) And it is Celie who makes Shrug to be free from the imposed role. In her turn, it is Shrug that changes Celie psychologically making her struggle for rights and equal opportunities. Celie wants to become a friend, lover, and what is more important, she wants to become a teacher.
In the end of the novel Celie and Shrug gain success because they become what they wanted to be earlier. From the very childhood Celie was sure that she was unattractive, useless and, therefore, worthless. Such stereotype influenced her future life and she grew up with idea that she was something of the second sort. Actually, it was Mr.__  who tried to remind her of that fact as many times as it was possible. And even her friend Shrug when saw Celie for the first time exclaimed: "You sure is ugly". (Walker, 48) Nevertheless, mother and other respectable people said that Shrug was a promiscuous woman, wicked and such attitude influenced Shrug to become a temptress of sorts: "Even the preacher got his mouth on Shrug Avery, now she down. He takes her condition for his text. He don't call no name, but he don't have to. Everybody knows who he means. He talks about a strumpet in short skirts, smoking cigarettes, drinking gin. Singing for money and taking other women mens. Talk about slut, hussy, heifer, and street cleaner". (Walker, 46) So all men wanted her and all women hated her. Actually, Shrug is very decisive, she dares to do a lot and it is difficult to stop her. From the start both women were used to their imposed role and were even confined with them.
With the novel progression Celie and Shrug develop tender and friendly relations. Shrug opens her true being with Shrug's help. Shrug can feel relaxed with Celie and she is sweet and gentle. She shows herself as caring person, though people remain unaware of her true essence. She doesn't tend any more to fit into imposed role – all she wants is to take care of her sister and to receive care from her. Shrug may be both a tender mother and loving child feeling freedom and independence. Shrug loves to cuddle up with her friend: "I loves to hug, period, she say. Don't need nothing else right now". (Walker, 152) Celie wants her friend to be what she really is.
Celie, in her turn, depends on Shrug because she is the only person who loves her. Actually, Celie feels secured and safe with her friend, though her self-esteem remains lowered: "But what you got? You ugly. You skinny. You shape funny. You too scared to open your mouth to people…You not that good a cook either…This house ain't been clean good since my first wife died. And nobody crazy or backward enough to want to marry you, neither". (Walker, 163) Celie seems to enjoy such verbal abuse. Her feelings – love, hate, rage, sense of injustice, happiness – are dead and it is Shrug who helps to awaken them. Her feelings appear on the surface only when Celie found Nettie's letters.
Shrug teaches Celie that love should be present in life and when Celie is ready to make bigger step she starts loving herself. And, therefore, love makes it easier for Celie love the world and other people. Celie progresses through the novel: "I love folks". (Walker, 228) Celie's personal changes are significant, though some argue that such love among friends can be seen as lesbianism, though their relations aren't erotic. (Bloom, 78) .However, one moment in the novel is rather ambiguous: "Then I feels something real soft and wet on my breast, feel like one of my little lost babies mouth. Way after a while, I act like a little lost baby too". (Walker, 118)
  Nevertheless, tender relations of friends are worsening when Shrug decides to leave Celie for her beloved young men Germaine. Celie can't understand how Shrug can be in love with a boy of nineteen years of age. Celie realizes she is depressed and can't be alone. Shrug has taught her a lot of things and she now she is confused as she doesn't know how to live without her. Till Shrug leaves, Celie is completely dependent from Shrug. Firstly she thinks her beloved half betrays her when realizes that Celie is defenseless. Except Nettie, Celie loves only Shrug.  Nettie and Shrug leave her. (Selzer, 35)
Nevertheless, it is apparent that Shrug does the right thing when she decided to leave with Germaine because in such a way Celie would be able to find her path in life. She has to take care of herself. It is necessary to state that after Shrug's departure Celie becomes truly independent. When Shrug returns home Celie is a new person whose growth is completed. In the beginning of the novel Celie is a scared and defenseless child who needs someone to take care of her. In the end she is a mature, independent and strong woman who is self-confident and ready to defend her position in society. Furthermore, she demands and deserves respect.
Therefore, Germaine plays crucial role for personal development of both heroines. Shrug feels she doesn't to fit in imposed role any more. When she left Celie for Germaine, she dared to visit her children she hadn't seen for many years. Now she is ready to be herself, to relax and to enjoy future life. Shrug is a very strong personality, though her strength is shown is more reasonable way. So, the apparent success of the book is certainly due to highlighting the themes of struggle and triumph over difficulties. Walker shows that family ties are important, but people should find their own path in life.
Works Cited
Bloom, Harold. The Color Purple: Literary Criticism. Oxford: Oxford University Press, 1997.
Iverem, Ester. Interview With Alice Walker. Available at http://www.seeingblack.com/2003/x022803/walker.shtml
Selzer, Linda. Race and Domesticity in 'The Color of Purple'. Available at http://findarticles.com/p/articles/mi_m2838/is_n1_v29/ai_17276622
Walker, Alice. The Color of Purple. USA: Pocket Edition, 1990.
Related Topics