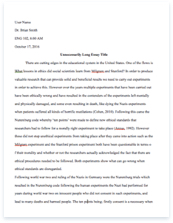 The whole doc is available only for registered users
A limited time offer! Get a custom sample essay written according to your requirements urgent 3h delivery guaranteed
Order Now
Clever Lane Montessori School (CLMS) is a school at Poblacion, San Leonardo, Nueva Ecija. CLMS is one of the private non-sectarian and famous schools in San Leonardo. It was founded by Mr. Ronaldo Jampil (School President) and other close friends. Clever Lane Montessori School Inc. as an education center is anchored on the premise that private school education (Pre-Elem, Elem, and Secondary) should be accessible not only to financially equipped families but also to the low and average income families in the local community and its baranggays. It commits to develop well-rounded individuals who are intellectually capable, spiritually and morally upright, physically strong, thus making them socially aware and responsive to the demands of the present world around them.
BACKGROUND OF THE STUDY
Clever Lane Montessori School was established in 2000. It began with one classroom with 36 Pre-Elementary students (Nursery, Kinder, and Preparatory). The school was located in Rizal Street, San Leonardo, Nueva Ecija and was first known as Clever Lane Learning Center (CLLC). As of 2012 Clever Lane is now an accredited Montessori school which holds Pre-Elementary, Elementary, and High School students. The school was recognized by the Department of Education in Region III.
In June 2007, Clever Lane moved to its new location in Poblacion, San Leonardo, Nueva Ecija in a two-storey school building with more rooms and better facilities.
The Clever Lane Montessori School personnels in major positions are Ronaldo E. Jampil (School President), and members are Sonia J. Gokesan, Donna C. Antonino, Ligaya J. Domingo, Mariejoy P. Jampil. Emerciana Austria as the P.A. of the president, Lucita F. Torres (Teacher-in-Charge), and Edna J. Hallarces as the Cashier/Bookkeeper. CLMS helps students to a better learning and advanced skills that a student may have, and making this easier to learn with a high-quality teaching system.
The system in the school is an Averaging System. They compute the records of grades per quarter and compute again to the final. They record the percentage of each student. 20% in Quizzes, 20% in Recitations, 10% Attendance, 10% in Behavior, 5% the writing, projects, and extra curriculars, and 25% on Examination for a total of 100%. The records of grades must be keeping and each total is for four quarters/grading term, added and divided to get the total percentage of student grade for the entire school year. At the end of school year, sum up of the Academic (70%) and the Extra Curricular (30%).
Averaging System|
20%| Quizzes|
20%| Recitations|
10%| Attendance|
10%| Behavior|
5%| Writing|
5%| Projects|
5%| Extra Curricular|
25%| Examination|
The above table is per quarter/term, the total average by the end of school year was divided by 70% for Academic Skills and 30% Extra Curricular.
The fees on the enrollment and tuition fees are delivered neatly in the system. The two important items for fees are Tuition Fee and for Registration Fee. Other school fees/miscellaneous are: Medical/Dental Fee, Library Fee, Athletic Fee, Laboratory Fee (T.L.E. Lab, Science Lab, Computer Lab), and Publications. Program of expenditures: Deliberation on fees to management.
Program of Expenditures
60%
* Basic salary
* Salary for personnel
* Teachers allowance for seminars/trainings
28%
* For improvement of instructions
* Library, Laboratory and facilities
* For research
12%
* Return of investment
Some major problems of the Grading System is the tie on students record. Also in the deliberation of the top students, unable to declare whose really became on the top record because in some phenomena this can happen. For example: Abby had the average of 97.17, and Mark is also had 97.17 therefore other parents reacts on the office of management because they do not know whose really the Top 1 and Top 2. And the way of making this clear to the parents is to identify carefully the knowledge of the student by computing the Academics and the Extra Curricular marks, because no student has the same behavior, skills, and performance in a class. There must be a difference to each other. Other problem is on the Enrollment. The decrease of enrollees in some school year, and the factors that affect the decrease of enrollees are: Family/Financial Problems, Bad Campaign of Friends, and Not satisfied to the System of School (Regulations and Policies).
OBJECTIVES
Clever Lane Montessori School shall be known as an educational institution committed to preparing students for the journey ahead, equipping them to meet life's challenges with a spirit of exploration, self-discovery, independence and delight.
Clever Lane Montessori School is recognized as a leader in the education of children and is a thriving community, teaching vital life lessons and skills with abundant resources, creativity and goodwill.
Goals and Objectives
Clever Lane Montessori School is continuously committed to:
1. Provide for them safe environment where they can perceive learning as an enjoyable experience. 2. Provide wholesome activities for the secondary levels that will develop their abilities and talents to the fullest, thus harnessing the foundation skills for the tertiary level. 3. Coordinate with the home and community as important institution in the pupil's education and prepare him for a much higher level of learning, the tertiary level. 4. Provide quality education to students in all levels and prepare them to academic excellence, contributing to the development of the country and betterment of his self. 5. And develop the youth that they may acquire scholarship and character with a sense of nationalism and faith in God.
Related Topics