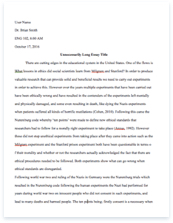 The whole doc is available only for registered users
A limited time offer! Get a custom sample essay written according to your requirements urgent 3h delivery guaranteed
Order Now
In the first stanza MacCaig examines the world around him. While this examination can be viewed as a mere description of a setting for the poem, it also speaks for the thought process of the narrator (MacCaig). He considers the vast scale of the world but also its detail and preciseness. Poetic Devices/Techniques • MacCaig uses two similes in the first stanza to create a detailed image in our minds as to what he is seeing. "Straws like tame lightnings" creates the image of the sharp crooked nature of lightning reflected in a less extreme, "tame", way by the straw. • The second simile, "green as glass", is a strange one as one would not normally consider glass to be green. However MacCaig's use of this phrase vivifies the idea that the water is still and calm without having to say so.
• "Having bypassed the objective reality of the world around him, the subject is now caught up in the contemplation of himself." The use of the subjective pronoun "I" in the latter part of the poem changes to the objective "me". MacCaig ends up "naming and pinpointing himself at the cost of losing his own truth" in an attempt to gain an illusive image of himself. "For the subject cannot (or must not) be objectified nor be studied in an objective way"
• The "I" in the poem rhyming with the "eye" in the second stanza indicating that it is the conscious viewing "me" the object that MacCaig is trying to "see" which is also a rhyme.
Related Topics