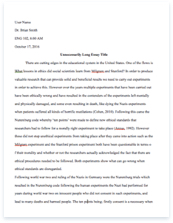 The whole doc is available only for registered users
A limited time offer! Get a custom sample essay written according to your requirements urgent 3h delivery guaranteed
Order Now
Funder shows that the victims of the Stasi were never fully healed following the collapse of the East German regime. When we go through a traumatic event, none of us ever truly heal. Anna Funder demonstrates this right through Stasiland showing the reader that the victims of the Stasi were never fully healed following the collapse of the East German regime. She does this by sharing stories of 'human courage' with the reader, showing that some of the people involved, such as Herr Winz want to return to the German Demographic Republic, whereas others, Such as Julia would never want to return to the GDR due to the traumatic and damaging things that happened. During her interviews, Anna Funder uncovers victims who were never fully healed because they cannot "destroy their past, nor what it does to them." This really applies to Julia, who still continues to struggle with her past, and didn't really want to leave the GDR as she was shocked with what happened on the other side of the wall, believing that the GRD was some sort of 'security blanket' protecting her from such things as drugs, prostitution and homelessness that happened in the 'real world' outside of the GDR.
However, once her security blanket is taken away when the GDR falls, Julia crumbles. She feels betrayed as she reflects on her time as she shuts herself off from the outside world with Anna Funder telling her readers 'She is a hermit crab, all soft-fleshed with friends but ready to whisk back into its shell at the slightest sign of contact.', the total opposite of when her life and her romance with her Italian Boyfriend where constantly being watched and criticised by the Stasi. After the Stasi discovered the Julia was in a relationship with an outsider, they immediately thought that she was going to try and flee the GDR to move to Italy. Because of this, the Stasi ruined Julia's future, denying her to complete her education, thus ruining her chances of ever getting a job, even though "There is no unemployment in the GDR."
Funder sympathises with those for whom the past remains "close, and hard" – those who have been left "psychologically damaged". Frau Paul is still broken by her past. She was shaped by the Stasi as a criminal and finds it difficult to let go of what the Stasi has shaped her as. Frau Paul is portrayed by Funder as a "lonely, teary guilt-wrecked wreck." Frau Paul is filled with guilt and regret from being separated from her child Torsten. She often attempted to flee from the East side of Germany and ended up being involved with people smuggling. Funder sees Frau Paul as a hero and her actions were bold and selfless and that she should be proud. However, Frau Paul is too humble and "not your classic resistance fighter." Julia although was treated unfairly by the GDR and was sexually assaulted in an elevator. Funder relates herself to Julia, "[she] looks at Julia and she reminds [her] of [herself] stating that they are living in parallel universes.
Funder often likes to sympathise with Julia as she is portrayed to be a victim opposed to a survivor. Funder realises that her broken things are paralleled with her own brokenness. But Stasiland also reveals that those who worked for and were subsequently victimised by the Stasi are either unable or unwilling to escape the past because it "defines them." Hagen Koch seems to be unable to escape his past. He was severely manipulated and brainwashed by The Stasi from a young age as he thought it was "orthodox at the time." Koch is regretful and shows hatred towards the Stasi for how he manipulated him to do their work and therefore break up his family. He shows how he is keen to show his past through his collection photographs and he doesn't want to forget his past. He wants to be acknowledged. Herr Christian was also heavily involved with the Stasi.
He represented those in the Stasi who was fully aware of their actions. Herr Christian knew it was immoral, and only continued because of his own benefit. He had very little choice. However he did not want to be punished for his affair with his son's teacher. Herr Christian is still dwelling on his past has he wanted to become a professional boxer but he was in a car accident.
However, amid her "adventures in Stasiland", Funder finds that some victims achieved "internal victory" and have fared better accordingly. Klaus Renft was a rebellious rock star with The Stasi. Klaus shows character of how he approaches the topic. He seems to have moved on and accept it happened. In his chapter he gives the thought of 'you can't cry over spilt milk." Funder presents him as a survivor and "he seems incapable of regret, and anger evaporates him like sweat." Renft shows a wide understanding about what has happened under the Stasi's surveillance. He believes that 'the Stasi have been punished enough" and it should be seen as a victory. Funder portrays Klaus as a character who does not dwell on the past and learns from it.
Stasiland seeks to acknowledge that "history is made of personal stories". Through these "stories" Funder shows that many individuals victimised by the Stasi were never completely healed, particularly Miriam and Julia, who are both left with "strange little tics" and move "fettered, into [the] future". Likewise, Frau Paul is left "a lonely, teary guiltwracked wreck" as a result of her "principles". Moreover, some victims have been permanently scarred by their victimisation: Hagen Koch is unable to "let it go" because "the wall is what defined him", Herr Christian will not undertake "marriage work" because his infidelity saw him demoted, and Herr Bohnsack has "fallen between two stools", ostracised by former colleagues and east Germans alike. On the other hand, Funder's portraits of Klaus Renft and Torsten reveal victims whose "victory" lies in their refusal to be "bound to the past", "carrying it around like a wound." At best, Stasiland shows that the victims of the Stasi have reached an uneasy truce with their victimisation in the past and the "picture" they have of themselves in the present. Mitchell Chudleigh
Related Topics