Sales Presentation Role-Play Script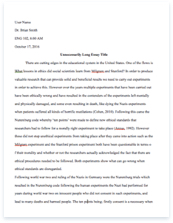 The whole doc is available only for registered users
Pages: 3
Word count: 563
Category: Play
A limited time offer! Get a custom sample essay written according to your requirements urgent 3h delivery guaranteed
Order Now
ME:Hello! I'm Ajay, one of the associates here, how are you? CX:Good. I'm Alex, nice to meet you.
ME:Is there anything I can help you with? Are you looking for anything in particular? CX:Just looking at some of the Canada Goose jackets you guys have out. ME:Well you've got great taste! Let me ask you, why Canada Goose specifically? CX:Some buddies and me were planning on going ice fishing next week. ME:Oh no kidding! Where you guys headed?
CX:A cottage all the way up in Innisfil.
ME:You do a lot of ice fishing?
CX:No this is my first time. I heard the weather gets brutal. ME:Yeah but you'll love it! I used to go every winter with my family to Lake Simcoe. It's really invigorating; you get a real rush from it! Do you do any fishing at all? CX:Just some lake fishing in the summer.
ME:Ah nice. Well you know why fish are so smart right?
CX:Why?
ME:They swim in schools!
ME:No but seriously, wearing one of the highest quality down-filled jackets will definitely be more convenient in those areas. You won't get that same peace of mind from any other brand. CX:That's what I hear.
ME:Yeah you seem to like it a lot, what size do you wear?
CX:Large
ME:OK, well you seem to like it a lot so let me take this over to the counter so I can take care of you. CX:Well hold on now…I'm not quite convinced.
ME:Oh. What exactly is it that you're not convinced about? CX:It's a big investment. I just need to be sure I get the perfect jacket. ME:Well based on what you told me, this jacket is fits the role. It has 750 fill power of Hutterite duck that will keep you warm in some of the coldest conditions. It has 3M reflective tape around sleeve cuffs for increased visibility that will keep you safe and secure in the wilderness. And since you're going to be fishing, it has elbow articulation for greater movement. CX:Yeah but $600 is asking for a lot. That wasn't really in my budget. ME:Well what was your budget?
CX:I was thinking of something closer to $400.
ME:Oh OK. We have plenty of jackets in that price range.
CX:Yeah but not with those features you just mentioned.
ME:Well let me ask you this, how often do you buy jackets?
CX:Maybe every other year, depending on the occasion and where I'm going. ME:OK well, Canada Goose contains some of the most premium Down to keep you warm. So it's definitely something you would wear for extremely cold temperatures and outdoor wilderness right? CX:Yeah that's the idea.
ME:Would you say it's a classy enough jacket to wear out to dinner in the city? CX:Definitely!
ME:It's a good all around jacket convenient to wear for a lot of different occasions right? CX:Of course.
ME:Well just so you know, customer uses this jacket for an average of 12 – 15 years. So when you actually spread that price out, you're paying a max of $50 per year for a jacket you can wear pretty much anywhere for any occasion. Does that seem like a sensible investment? CX:Well when you put it like that…
ME:So let's you save you some time and money every year by getting you the jacket you deserve and could actually use for a long time. What do you say? CX:Sounds good!
Related Topics