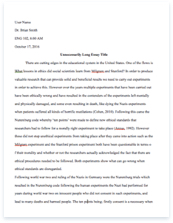 The whole doc is available only for registered users
A limited time offer! Get a custom sample essay written according to your requirements urgent 3h delivery guaranteed
Order Now
During the Renaissance time period, each man and woman needed to strive to meet the "ideal" image that was expected by society. If this image was not met, the person would be judged by society. Both males and females had different goals that they needed to meet in education, as well as in their lives. While there was an "ideal" image, some people disagreed with them. There was always a distinct role for both women and men, but within those roles, there could be controversy. The most controversy could occur over the education that the males and females were getting, there were clear roles and ideals for men and women in the beginning of the Renaissance time period, but as time went on, people became more skeptical of the education system.
In Renaissance time, both men and women had different social expectations, both expected to be educated, but they were to be educated in different ways. Men were expected to go through school and be well educated. They needed to know how to think and to write properly so that they could recognize the educated people around them. This education would help them to be well-rounded in life, as well as find a good woman. Castiglione believed all people needed to strive for this in order to be successful.
(3) While the men were pressured to study hard and become independent thinkers, women were not encouraged in the same way. Women should be taught, but they should be taught different things and they should be taught in a different manner. Their teaching should focus primarily on the classics. Women were not taught so that they could think, but it was said books have one purpose for women, "…let the books teach her good manners…"
(5) Women needed to focus on the classics and not over-analyze them because that was not their role in society. They should have a basic knowledge so they can make the men look good, but they should not be thinking and creating new ideas. (5) Ideally, they would learn basics, and then do household chores and teach their children how to properly do them. (9) Women were primarily expected to make their husbands look good, and the intelligence would be up to the men.
As time progressed, people became more critical of the roles of the men in society based on the education that they were receiving. In the beginning, their education was considered mandatory, and it was looked down upon if one did not strictly study in school. (3) However, as time went on, people realized that not only was education in the classroom important, but proper etiquette and life skills were required to have a successful life. Men needed to know how to do common place things in order to succeed and have a full rounded life. If men did not know how to "…ride, play, dance and sing, and dress well…" then they would not have even a background for how to live.
(6) Going along with knowing these other common skills, a man would have to know how to apply what he learned in a classroom to his real life. Men needed to be taught more about their morals, and the classics of life, not simply memorization. If they only memorized, then they had to wait until college to put what they learned into place. By waiting to have people apply the skills they learned, they are put at a great disadvantage because true learning comes from an application of the skills learned. (8, 13) The feelings toward the educational system had drastically changed and people were becoming much more skeptical of what they were learning.
Not only were people becoming more skeptical of the educational system as time went on, but they were also questioning the need of all people to have an education. Baldassare Castiglione stressed that if a man wanted to be successful, the only way to achieve this would be get a proper education. He said that this would lead to a good wife, as well as a good life. Ideally, this should have been all men's goals. (3) Castiglione looked at people from a higher level in society and looked down on the rest of the people and the way that they acted. He explicitly stated that the people needed to "…be passably learned in the Humanities…" (3).
There were certain aspects of learning that he emphasized more than the others. Not only did he focus on major works that the people should know but also on "…writing in verse and prose…" (3) Castiglione had the ideal image in his mind of exactly what people needed to be and the way they should act. When he said this, it was greatly respected because of his writing of his well-known conduct book. However, people began to veer away from this ideal of a needed education; it became a major change for society.
Later on, in the Letter to the Parlement of Dijon concerning the reopening of a French Jesuit school, it was explicitly said that all men do not need an education. Some men need to do work that is not based off of education; they need to do the basics that make society properly function. "The study of literature is appropriate only to a small minority of men."
This statement explicitly says that an education is not for everyone, boldly going against Castiglione. (11) This was a bold statement to make, because it showed a drastic change in people's point of view of a proper man. Along with saying not all people needed to be educated, there was also the vast criticism of the school system and the way it was teaching. The concepts being learned in school needed to be more readily applied into real life situations, and this did not seem to be the true goal. (8)
While there was vast change in the view of the education of men, there was not a recognizably big change in the view of the education of women. Their primary goal in life was to make their husbands look good. If they did want to make themselves educated, it should only be in the classics and there should not be anything new that they attempt to inquire. (5) The ideal woman would know how to do house hold chores and have a basic knowledge in education. Women were expected to know explicit things, such as "…embroidery, reading, writing, and dancing…" (9) They should not simply know these things, but they should pass them on to their daughters so they can be better taught as well. (9) Women primarily kept the same role in society throughout these years.
Throughout time, people disagreed over the education of males and females, changing the ideals of what needed to be taught and focused on, but through all of this, there remained distinct roles for the men and women. The ideals of society began to change when people became more skeptical of the way they had been learning and living.
When men realized that they did not know how to fully apply skills they learned until they were at an older age, it made them question the system of education. Once people had begun to think on their own about their society it raised problems and controversy. Women were never taught to think about the things around them, they simply accepted them and did what would make them "ideal". Throughout time, when people question society, there will normally be a change, but the depth of the change depends on how much the people think about it.
Related Topics