Pygmalion as a Shavian play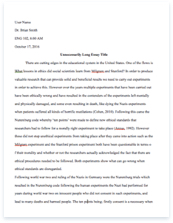 The whole doc is available only for registered users
A limited time offer! Get a custom sample essay written according to your requirements urgent 3h delivery guaranteed
Order Now
Pygmalion is a classic Shavian play in as far as it shows his feelings about the falsity of the class system and his belief that all humans are essentially equal and privilege should play no part in life. Higgins is also a very Shavian character with his inspired logic and bombastic deliver. Like all great Shavian drama Pygmalion is a richly complex play. It combines a central story of the transformation of a young woman with elements of myth, fairy tale, and romance. It also combines an interesting plot with an exploration of social identity and relations between men and women among other issues. The ability to change, to move from one layer of society to another is also explored. Thematically and stylistically Shavian, then and worth noting that it contains elements of socialist theory, if that is the reading we choose. Shaw is delighted to make his audience feel uncomfortable by bringing out the contradictions, the silliness, or the plain viciousness of the beliefs and practices of society.
One of the chief ideas present in most of his plays is that artificiality and false values prevent men and women from learning and spiritual growth. Shaw seldom preaches his ideas in the plays. He merely shows his sympathetic characters behaving in accordance with his ideas as if it were the most natural thing in the world and as if those who behaved according to convention were ridiculous and pompous. His essential interest is not in telling a story or mirroring life but in basic relationship between human beings. The plots of his plays are picturesque and quite frequently improbable.
When Shaw began to write his plays he believed that plays, whatever their plots, had to be discussion plays. Watching them, the audience were to become more interested in the inward drama and discussion than in outward action. The discussion had to contain important and new ideas; it had to be convincing or at least disturbing if the audience were to learn. Shaw saw that the woman of his day was most falsely romantic, the most conventional and had the most to learn and to grow up. This growing-up occurs in all of Shaw's female characters which is most emphatically shown in Eliza.
Related Topics