Psychographic Profile Of Atlanta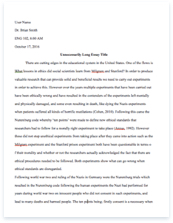 The whole doc is available only for registered users
A limited time offer! Get a custom sample essay written according to your requirements urgent 3h delivery guaranteed
Order Now
Atlanta, Georgia the South's capital. Atlanta is the way of the south and many people feel like many things are started here too. It is the seventh largest populated city in the country and his home of many true individual consumers. One though may ask what does make up this consumer here in this city of Atlanta and many possible answers may follow.
One certain thing is how they perceive life. Atlanta is rush, fast , paced society in the eyes of today's world. It is always on the move never stop and that is how the people here in Atlanta are too. Most do not have time to do even to think but hey that is life to them. This life is for the few chosen ones who can stand to keep up with this rushed life. As with the movement of the society as a whole the peoples minds are always going 100 mph too. People must be always on the look out and ready for new adventures learning new ways to survive always on their toes. New things are being built around them constantly and never stopping, always crazy. Well with all this going around them they must be able to keep their cool and be able to go with the flow. It is a rush, rush world their and the people are always on the go.
As it being rushed many do not have the time to enjoy certain things every day so we must get them on their time too. Make them feel wanted and needed try to reach them in soothing words and not harsh things. Try to calm their spirits s they travel to their jobs and homes. Make them feel like they are on cloud nine and they got the world on a string. This can be easily done. They may be uptight and a little angry with the world since it is so fast paced there so we must calm them, sooth them Another thing is how the feel as being individuals. In a big metro city as Atlanta one may not be as criticized as smaller community member maybe. One does not have to stand out, there is a place to belong there for everyone. Evry town has its crazy people so does Atlanta, but its more of a connection with your fellow being too. On the contrary though you may be more in connection but they also may be pushed out more too.
This is a weird way because even though one can blend in they may also be not seen. This can hurt their mentality and look on life. Even though you are accepted as the whole one may not get the attention in Atlanta that may get form somewhere else, a smaller town. Even though they may not be looked down upon in society's eyes, they be looking down on themselves. It can be hard to know that you may not be appreciated for who you are. With so many people being here, its hard to get around to every individual and certain ones may be skipped and feel left out and with this even though they were not at first pushed aside they are later push out in another way, which can be more hurtful to their being then being pushed away at first.
So we must try our best to reach these individuals on a personnel basis. We must try to find the common ground that will make them feel like we are speaking to them and not to let anyone feel left out. We must make them feel like they are wanted and not cast aside anyone but bring them all together as one. We must find the common link that all individuals know, trust, and love. We must try to connect the average "Joe", who knows his in the society but may not feel like it.
The consumers of Atlanta also have more of insight of how it is, first and sooner then most. This means they are more on top of the latest trends and designs in the world today. They have more feeling for how they feel and may also see more into what they want too.
The people form Atlanta can belong to any of the many VAL types that are known but most may be brought down to Socially Conscious from the Inner-Directed and Belongers from the Outer-Driven sections of the VAL types. These two can be seen in how the society of Atlanta is really behaved. Socially Conscious people are the most educated, early middle aged adults, who have moved on form time to time growing through the countries changes. Also most make comfortable wages to help out with the money issue and have influential jobs. A lot of the society here in Atlanta is just like this. They are many influential jobs and most are held by the middle aged adults. The Belongers of Atlanta are the solid middle class of society 40% of the country is form this VAL group and that does include Atlanta too. They value security , and group identification (as mentioned earlier) and do not really like to be too flashy.
People form Atlanta though are more who of what they are for what they have in their home town. It is the 7th largest city in the country so there is more to do there. More adventures to take in and to have, more fun time ( if they get it). It does not mean necessary that they are more happy go lucky but they do have that outreach to go to. If it gets to hasty or blah for them they are able to go somewhere close for the day and just have a good time. They do not have to drive to far but can just really stay close to home to relax and get back in touch with themselves and this also gives them the peace of mind.
They may have more ups but they also have a lot of downs. They have more to think about maybe but also some ways the average American does not have to take them away for maybe short period. So yes with all that goes on there all the rush and go, all the striving to be ones self but still accepted (or vise versa), or what VAL system they are form they are like many Americans but still different due to all the factors that i have just mentioned.
Related Topics