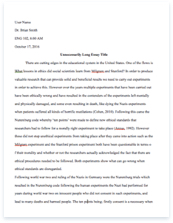 The whole doc is available only for registered users
A limited time offer! Get a custom sample essay written according to your requirements urgent 3h delivery guaranteed
Order Now
Proposition 47 claims it will improve public safety, when in reality it will not. Californian voters should not allow Proposition 47 to pass because it poses a threat to public safety. Among the many reasons why the proposition should not pass are, early release of dangerous felons, the lowering of felony charges to misdemeanor charges, and over-crowded jails and courtrooms. We would not want dangerous felons terrorizing our neighborhoods. As the saying goes, ''if you do the crime, you do the time.'' Under Proposition 47, thousands of dangerous felons are eligible for early release from state prison. According to The San Diego Union-Tribune newspaper's website, an independent analyst said that many of the felons have violent criminal histories.
This concept would pose a threat to our neighborhoods. Releasing these felons out into society is a mistake. Proposition 47 states it will reduce some charges, which is like giving these felons a slap on the hand. Any offender with a non-violent history will be able to have their convictions reduced. Proposition 47 will reduce certain crimes from felony charges to misdemeanor charges. Proposition 47 will eliminate automatic felony prosecution for a criminal who steals a gun. For example, under current law, stealing a gun is a felony charge; Proposition 47 would redefine the theft of a firearm to misdemeanor charge. This will be considered a felony if the value of the gun is greater than $950.
Criminals do not steal guns just to steal; they steal guns to hurt people or commit crimes, this will put an excessive load to the judicial system. Proposition 47 will overwhelm the county jails and California courtrooms. Prosecutors already have current criminal cases that they can barely handle. Cops and county workers will be overworked. For example, this proposition will fill up county jails with dangerous inmates, who should be in state prison, and jam courtrooms with hearings from felons applying for their "Get out of jail free card.'' This will result in more crimes and less safety. Proposition 47 is a bad idea. Proposition 47 is misleading and it deceives the voters. Californians should reject this dangerous measure. This proposition will just bring problems with the early release of criminals, reduction of felony charges to misdemeanor charges, and will overcrowd county jails and California courtrooms. Proposition 47 will make California a more dangerous place to live. Please vote "no'' on Proposition 47, and keep our neighborhoods safe.
.
Related Topics